Liqcreate offers a resin cleaner, which is an excellent, effective non-toxic cleaning solution for 3D printing.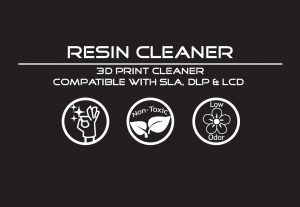 After a MSLA, LCD, DLP or Laser based 3d-print process, the printed parts have resin on the outside. It is necessary to clean the product, followed by drying and UV-post curing. There are plenty of methods to clean a resin 3D-print. Usually >70% (Bio)Ethanol or Isopropylalcohol (IPA) is used, >95% purity is even preferred. The parts are often soaked for up to 10 minutes in the part, or an agitator is used, like the Formlabs Wash or the Anycubic wash. The best way to clean the parts is with an ultrasonic cleaner. Often the combination of flammable solvents like Ethanol and IPA are not recommended to use in an ultrasonic cleaner.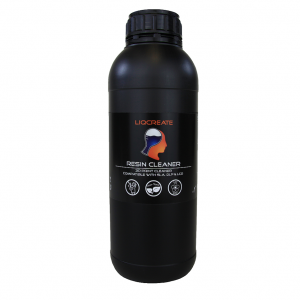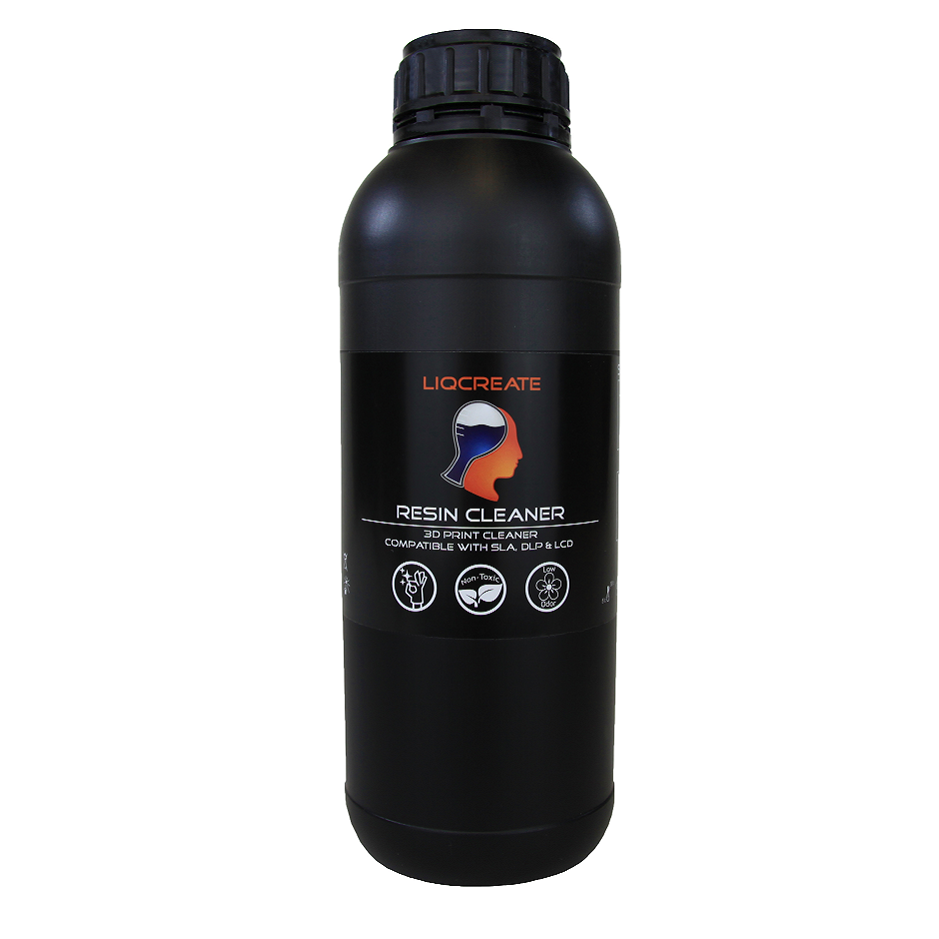 Liqcreate offers a resin cleaner, which is an excellent, effective non-toxic cleaning solution for 3D printing. It is a safe, highly effective, cleans faster than other cleaner liquids based on IPA, bio-ethanol and other chemicals. Liqcreate Resin Cleaner is not a dangerous good, non-flammable and has less odor. The cleaning liquid can clean SLA, DLP and LCD printed objects, platforms, instruments and surfaces. It can be used with ultrasonic cleaners and the liquid can be used several times without refilling or filtering the Liqcreate Resin Cleaner.
Liqcreate Resin Cleaner key advantages
– Excellent and effective cleaning
– Minimal odor
– Non-toxic, non-hazardous and non-flammable
– Biodegradable
– Ultrasonic cleaner compatible
– Not leaving residue, cracks or white haze
To get the best cleaning results the following steps are advised: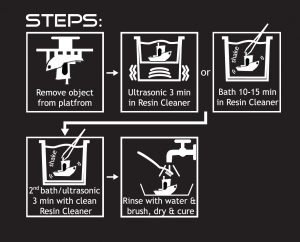 Liqcreate Resin Cleaner is not only an excellent, environmental friendly cleaner for Liqcreate resins, but also most other resins like Formlabs, Anycubic, Elegoo, Wanhao, Monocure, Envisiontec, Prusa, Zortrax, Photocentric, and many other 385-405 / 385 – 420 nm resins.
Tips when using Liqcreate Resin Cleaner
– Do not dilute Liqcreate Resin Cleaner with water.
– For best results, pre-wash in a separate container to remove excess resin.
– In case of skin contact: wash off with soap and water.
– Store below 30°C in closed container.
– When using two different ultrasonic cleaners, one for the first wash(with used resin cleaner) and the second for the final wash (with fresh resin cleaner) you will achieve better results and use less Resin Cleaner.
– Although Liqcreate Resin Cleaner is not classified as toxic and harmful for the environment, most resins are, therefore used resin cleaner residue (washing solvent and contaminated papers included) should be treated as chemical waste and disposed as such.
– Due to the high boiling point of Liqcreate Resin Cleaner, the cleaner won't evaporate from surfaces like ethanol or IPA.

– Liqcreate Resin Cleaner is not compatible with ABS or Polystyrene tools / surfaces. Using Resin Cleaner on that type of polymers, the surface will become softer or brittle. Please check the outer box of the ultrasonic bath. For example, if the exterior of the ultrasonic cleaner is made of ABS polymer, the use of Resin Cleaner inside the ultrasonic bath is not recommended.
Liqcreate Resin Cleaner is available in 1 kg packaging and in 5 kg jerrycan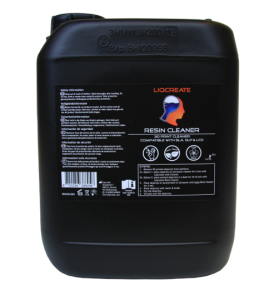 You can find Liqcreate Resin Cleaner and all our other products in our Shop.
Liqcreate Resin Cleaner
Liqcreate Resin Cleaner is an excellent, effective non-toxic post-print cleaning solution for 3D printing. It is a safe, highly effective cleans faster than other cleaner liquids based on IPA, bio-ethanol and other chemicals. Liqcreate Resin Cleaner is not a dangerous good, non-flammable and has no unpleasant odor. The cleaning liquid can clean SLA, DLP and LCD printed objects, platforms, instruments and Surfaces (if not made of ABS or polystyrene polymer). It can be used with ultrasonic cleaners and the liquid can be used several times without refilling or filtering the Liqcreate Resin Cleaner. *Not Compatible with Polystyrene and ABS plastic parts (Ultrasonic cleaner handles etc.)
| | |
| --- | --- |
| Key benefits | Resin compatibility |
| ·        Excellent and effective cleaning | ·        Liqcreate resin compatible |
| ·        Minimal odor cleaner | ·        DLP Resin compatible |
| ·        Non-Toxic, non-hazardous | ·        SLA resin compatible |
| ·        Biodegradable | ·        MSLA / LCD resin compatible |
| ·        Non-flammable | ·        More information about this product |