Since the invention of 3D-printing more than 30 years ago, a lot has changes. From just one type of large laser based stereolithography printers, now there are an enormous amount of different printing technologies and resin available. If we look at the printing technology that uses resin, you can reduce it to 'just' these:
– SLA
– DLP
– Jetting
– MSLA
Of course there are others and perhaps in some time Xolography, BCN3D's viscous lithography (VLM), Cubicures hot lithography will get mainstream.
Is MSLA the same as DLP?
The answer to the question if MSLA is the same as DLP can be very short, no it is not the same. However, there are plenty of similarities between these techniques. For instance most of these printers have a light source on the bottom exposing the pattern through a transparent window. And of course a build plate that moves up (although some top-down DLP systems are available.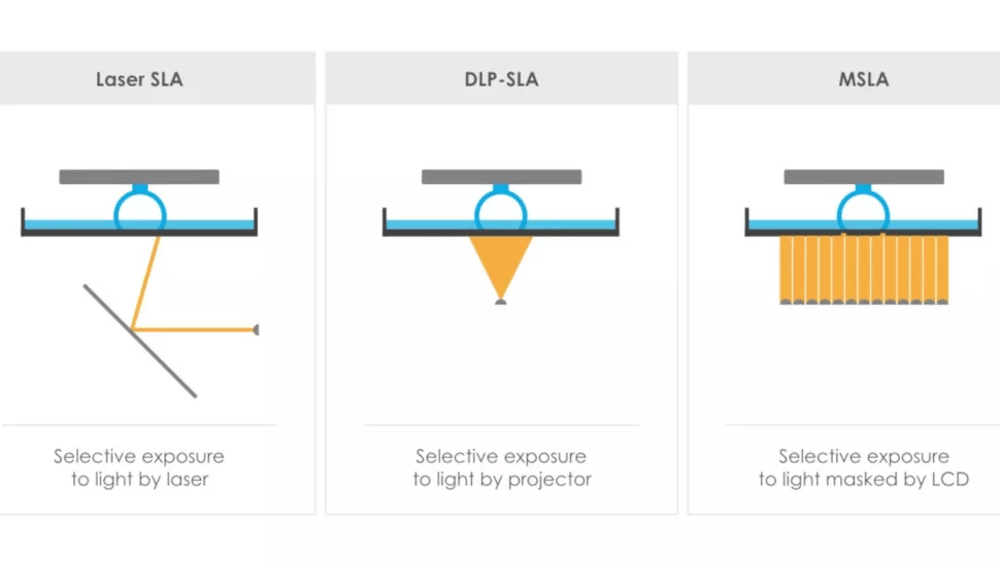 Image by All3DP.com and Formlabs: the three mainstream vat polymerization 3D-printing techniques
What is the difference between MSLA and DLP resin 3D-printers?
The main difference is in how the image gets projected to the transparent window that holds the resin. A DLP printer will project it from one single point and the image gets created by a DMD micromirror chip (read more about that tech here). This can be seen as projector that you also can use for movies. It is modified and it will only expose in black and white. White being the light from the LED's behind (commonly 405 or 385nm and in some exotic models even 365nm). The benefit of this is that the projector can be focused at the layer were the resin is present. Also the different types of wavelength can be beneficial. On the downside, these projectors are usually more expensive compared to MSLA parts and the pixel resolution is limited. With some printers you can actually see the projector. Most other printers uses DLP modulus specially developed for 3D-printing by now. Although the basics stay the same.
Image by Reify3D and their solus DLP printer.
MSLA is quite similar in most ways, only it uses an LCD screen and many different LED's all over the build plate (instead of a few at 1 point in DLP). The benefits are that it is easier to build and alignment of the light paths is not as difficult as with DLP. And also all parts are much easier available and at a competitive price. With projectors the manufacturers are mostly at the 4K resolution, while in LCD screens there are plenty of 8K resin MSLA printers available. On the downside, the LCD is quite sharp at the surface, but it will need a few millimeters to reach the resin. So in basics you will loose some accuracy.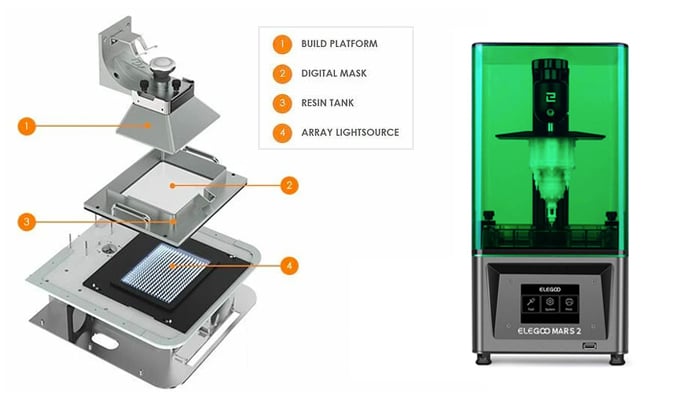 What is an MSLA printer made of by 3DNatives.
DLP and MSLA compatible resins for 3D-printing
At Liqcreate we are offering a wide range of resins that can work on DLP, MSLA or even laser based printers in the wavelength of 405, 385nm and even lower on request. Perhaps your printer is already listed with prepared resin 3D-printing settings in this link. If not, reach out to us at info@liqcreate.com and we can assist.
Support
Do you need any help with 3D printing our SLA, DLP or LCD resins? We can help you! Just look for the question you have below. If you can't find it, let us know by contacting us!