Everyone owning a 3D-printing must have heard about Lithophanes by now. 3D-printed images that will turn into beautiful pictures when placing in front of a lamp or light. From the earlier days, FDM 3D-printer owners could only benefit from this amazing form of art. Since the desktop SLA / MSLA printers are getting more affordable, basically everybody can make a lithophane in high detail / high resolution. All3DP media has published a great article on making your own lithophane here.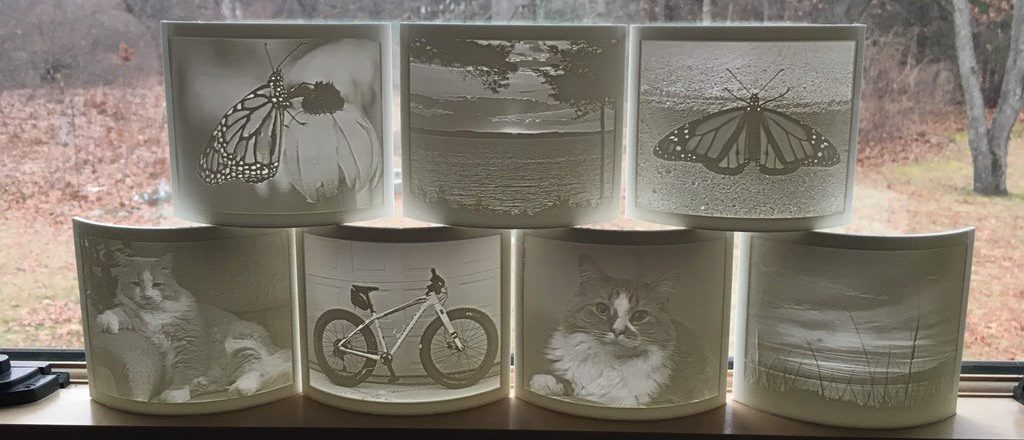 Image: a collection of 3D-printed lithophanes by a Reddit user.
A lithophane looks very strange when not placed in front of a light. After placing back-light behind the lithophane, it clearly shows the image. Originally lithophanes were made with white PLA with FDM technology. The sharpness was missing due to the low resolution of FDM 3D-printing technology. With the availability of accurate SLA, DLP and MSLA 3D-printers, a high quality lithophane can be manufactured. An opaque white resin, like Liqcreate Premium White is preferred.
Photo 3D-printer
The first step when you are looking for a Photo 3D-printer or lithophane printer, is to choose the technology to produce your lithophane. The two main technologies used as a photo 3d-printer are FDM and resin 3D-printing. Initially a lot of consumers chose FDM technology due to the low prices and clean post-processing. However, often a higher quality lithophane is wanted and resin 3D-printing is one of the few other options. Resin 3D-printers have dropped in price, only the post-processing is more excessive compared to FDM.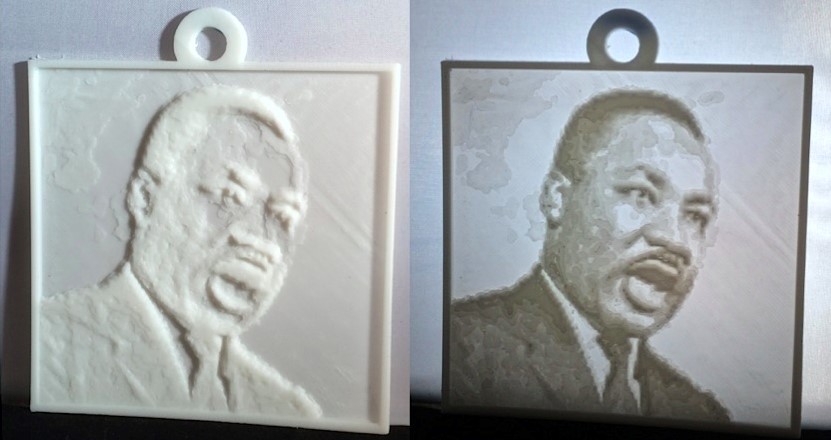 Image: Lithophane design by Design Make Teach, printed with FDM technology.
lithophane generators & Lithophane creator
To turn your 2D image to a lithophane, you have to run it through lithophane software. There are plenty of lithophane software packages online. Lithophanes can easily be created with the online lithophane maker tool by Lithophanemaker.com. For lithophanemaker.com, the standard thickness settings work pretty good in combination with Liqcreate Premium White resin. Next to lithophanemaker.com there are several other open source lithophane software packages available:
Some lithophane software runs online while for others you have to download the lithophane maker software. After generating the software, send the stl file to your slicing program. Lithophane 3D-printing settings are available on our website for a wide range of 3D-printers. Find the settings for your 3D-printer here or an e-mail to info@liqcreate.com if your lithophane 3D-printer is not listed.
lithophane lamp
When adding several 3D lithophanes together, one can create a lithophane box or 3D-printed lithophane lamp share. Several options (with your own images) are available via etsy.com. If you want to make your own in resin or filament, a good read is this article by instructables.com or visit lithophane maker website Lithophanemaker.com. by mounting three of four lithophanes together, a lithophane box or lithophane lamp shade is created. With the lamp as a center point, the 3D-printed lithophanes in the lamp share are visible from every side.
How to 3d print lithophane?
Several articles are available online for instructions on 3D-printing lithophanes in thermoplastic filament on an FDM 3D-printer. As lithophanes are more difficult to print in filament,  lithophane infill and lithophane settings are very crucial. For resin 3D-printing, lithophanes are very easy to print. Just place the lithophane on the platform on a flat side, and search your 3D-printing settings here here. After post-processing your lithophane is ready to be used.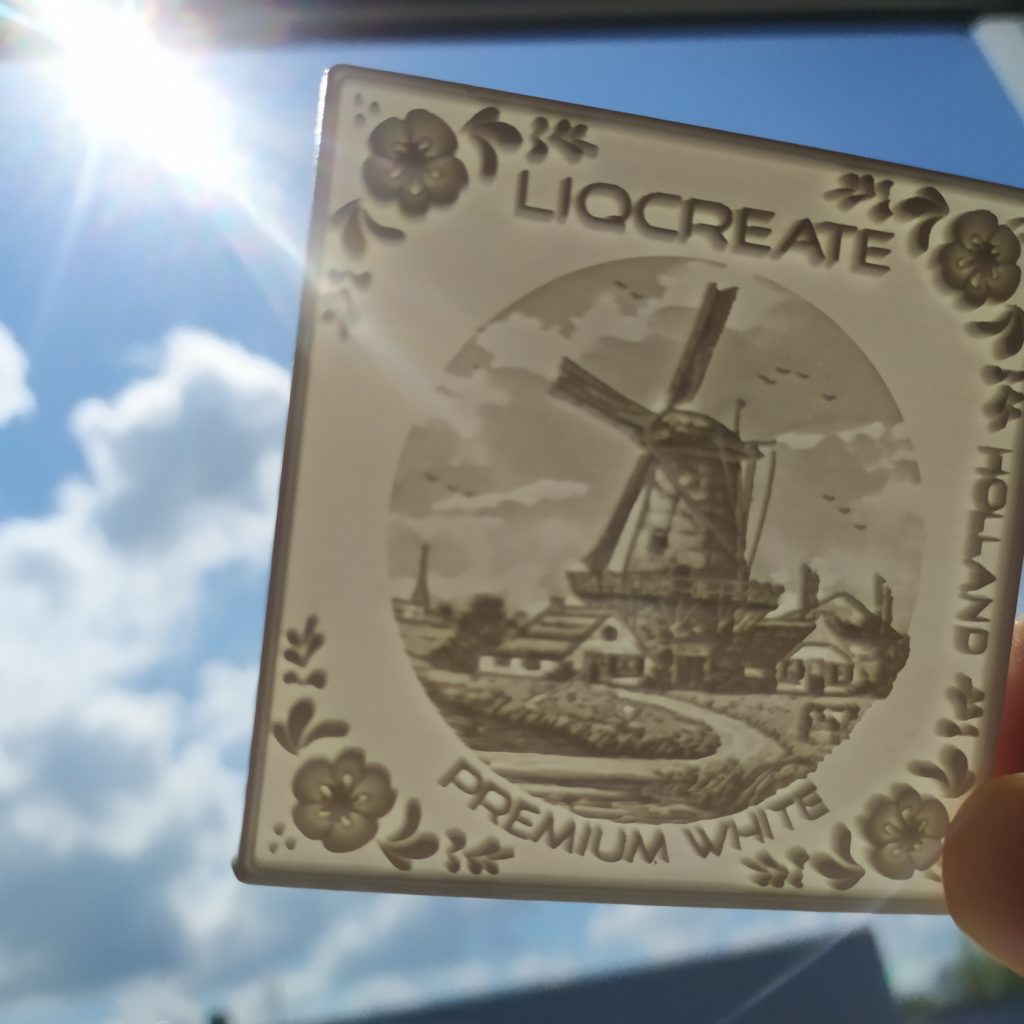 3D-printing colored lithophanes
Lithophane are usually 3D-printed with PLA filament or white resin. This results in a 3D Lithophane that is always white in color. When a light is put behind the lithophane a monochromic image will come out of the 3D printed plastic lithophane. The thickness different in the 3D-printed lithophane is responsible how different intensities will show up, always in white-grey tones. According to ItsLitho" To add color in the lithophane, the light of the light source must be colored to the image as well. This can be done by printing the image on a piece of paper, or transparent paper. However, your original picture will not work. The lithophane has intensity (brightness) information in it, due to the varying thickness of the lithophane. Therefore, if you were to use the original picture, then the lithophane will look weird. ItsLitho will automatically convert your image to a tailor-made image you can put behind your lithophane. The intensity levels in the picture are removed, which does look very different on paper. But looks amazing when you put it behind your lithophane!". More information about colored lithophanes can be fond on the ItsLitho website.
Next level 4D lithophane
Next to personal use, 3D-printing lithophanes can also be used as marketing tools or for design prototyping. Find some examples of cans/bottles with custom labeling below.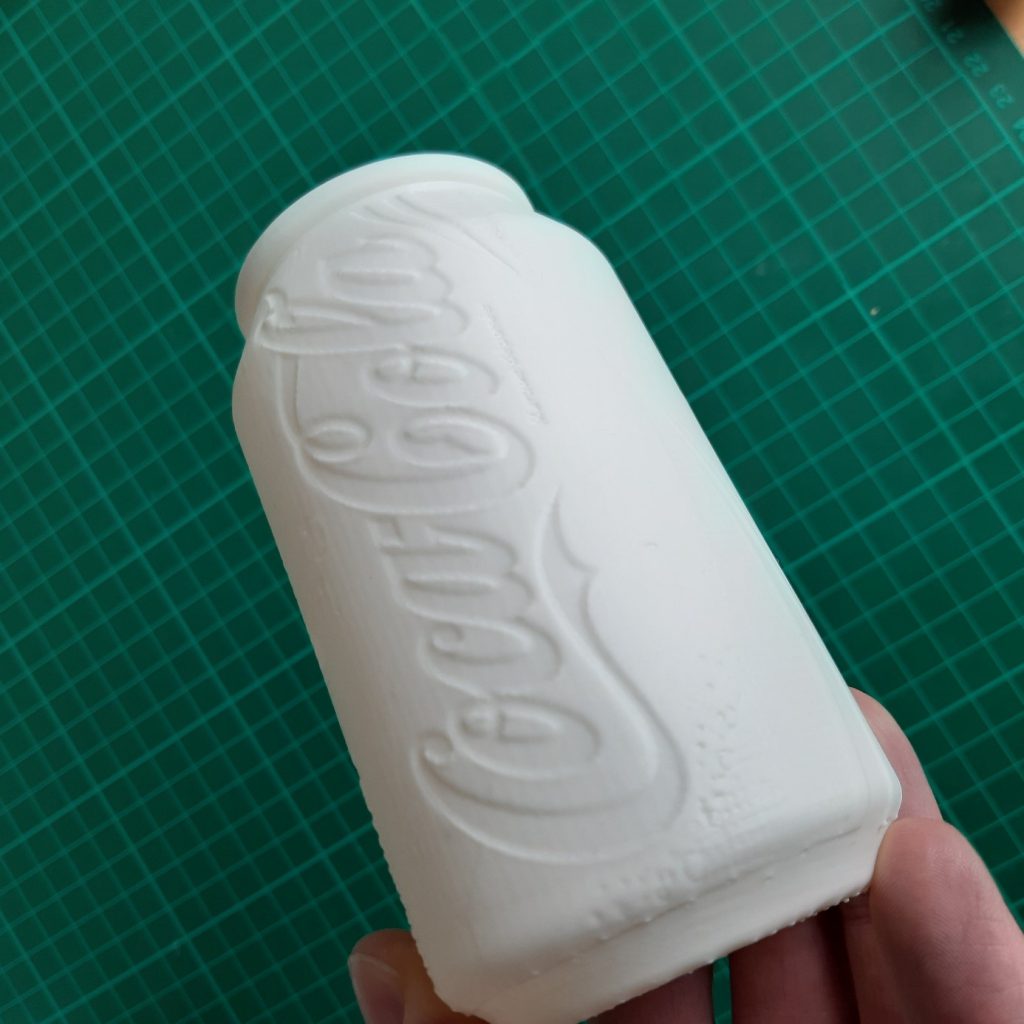 With background light it looks even more spectacular.
Of course we couldn't stay behind with designing our own 4D-lithophane bottle of Premium White resin. For higher quality designs, a stronger processer is necessary, as the 4D lithophanes take a while to process and are eventually over 350MB in size.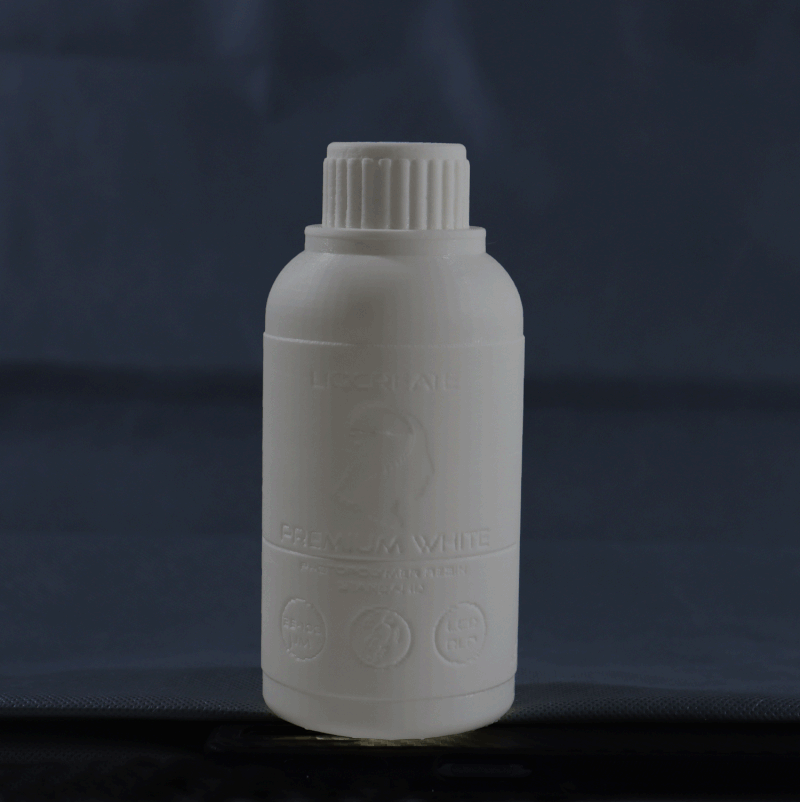 Team Liqcreate wish you happy printing. If there are any questions or remarks, feel free to contact us at info@liqcreate.com any time.
Support
Do you need any help with 3D printing our SLA, DLP or LCD resins? We can help you! Just look for the question you have below. If you can't find it, let us know by contacting us!
Liqcreate Premium White
Liqcreate Premium White is the most opaque white resin available. This white photopolymer  has excellent UV-stability, with almost no yellowing upon exposure. Due to its rigidity and high stability it is ideal for the manufacturing of medical models, lithophanes and architectural models.
Key benefit

·        Opaque White, ideal for lithophanes

·        Non-yellowing

·        Low odor

·        Low shrinkage

3D-Printer compatibility

·        UnionTech Cute300

·        Phrozen Series

·        Elegoo & Photon series