Hazard Glow is the first 3D-Printing material in our Creative resin portfolio. It is the first ever glow in the dark resin available for 3D-printing. In the FDM printing community, plenty of glow in the dark PLA or ABS filaments are present. With the availability of a 3D-printing glow resin, high detailed glow parts and a brighter glow effect is available for open 3D-printers. Find Liqcreate Hazard Glow reviews here.
About Liqcreate Hazard Glow Resin
Liqcreate Hazard Glow is the first ever glow in the dark resin for SLA and DLP technologies in a range of 385 – 405nm. This material is optimized in having the highest possible glow-effect while remaining processable in DLP, MSLA and SLA 3D-printers.
Parts 3D-printed with Liqcreate Hazard Glow can be activated with almost every light source. It especially has a high glow effect when illuminated by a high amount of UV-light, like UV-curing units or direct sunlight, but can even be activated by a smartphone flashlight. Its beautiful glowing effects makes this material perfectly suitable to 3D-print a high variety of creations that deserve to be seen when the darkness strikes.
Key benefits

·        Upto 4 hours glow effect
·        Rechargable in any light
·        ideal for outdoor applications
·        Smooth surface finish
·        Low odor

3D-Printer compatibility

·        Atum3D DLP Station 5
·        Formlabs Form2
·        Sprintray Moonray S & D
·        Cubicon Lux HD
 ·        And many more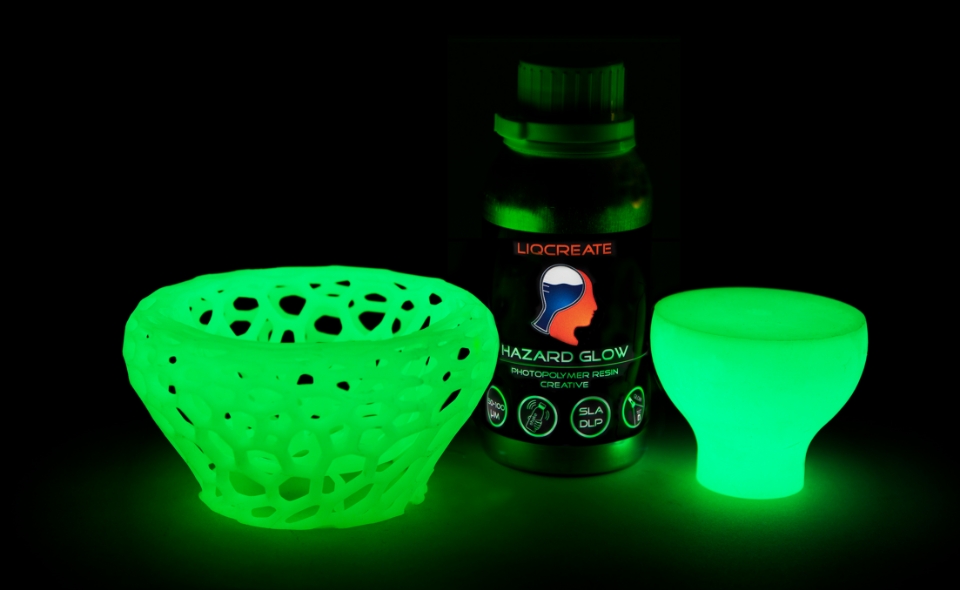 How does a glow in the dark 3D-printing resin work?
Liqcreate Hazard Glow is a combination of a resin combined with small particle size, chemical modified glow in the dark powder. The Glow in the dark powder has an phosphorescence effect. Similar glow techniques are used in the filament and thermoplastic industry when combining polymers with glow in the dark powder. Phosphorescence is a type of photoluminescence. When exposed to light (radiation) of a shorter wavelength, a phosphorescent substance will glow, absorbing the light and reemitting it at a longer wavelength. Unlike fluorescence, a phosphorescent material does not immediately reemit the radiation it absorbs. Instead, a phosphorescent material absorbs some of the radiation energy and reemits it for a much longer time after the radiation source is removed.
How to print with glow in the dark resin?
Liqcreate Hazard Glow is compatible with SLA, MSLA and DLP 3D-printers with a wavelength of 385 – 405 nm. The correct activation wavelength of the glow in the dark powder in combination with the wavelength of the light source of the printer, is the key to successfully 3D-print with glow in the dark resin. Meaning that the glow in the dark powder should not absorb too much light from the 3D-printer. Otherwise the activation of the photopolymerization reaction gets disturbed and 3D-printing is not possible.  Find your 3D-printing settings here.
During the development of this product, a lot of standard epoxy glow in the dark powders were tested in developmental resins and during 3D-printing. The glow effect of each glow in the dark powder pigment was inspected, printing behavior and stability was monitored. During this development phase, it was clear that standard glow in the dark powders would not work. A small particle size distribution and chemical modified surface was necessary to get the best results. When taking an off-the shelf glow in the dark powder online and mix it in standard resin, it might not work properly, as the glow powder might not be compatible with resin or the activation wavelength might overlap too much with the wavelength of the printer.
Is Liqcreate Hazard Glow 3D-printing resin toxic?
Despite its name, Liqcreate Hazard Glow 3D-printing resin is similar in safety and toxicity compared to regular 3D-printing resins. With every resin there are health and safety precautions to be aware of. Consult an up-to-date safety data sheet (SDS) to learn about the product.
How long will the glow effect of Hazard Glow resin last?
The glow effect was measured in a completely dark room with light sensitive equipment. The glow effect will decrease over time and will need to be recharged when it is almost not visible anymore. Over the first hour the glow effect is very strong. In a very dark area, a glowing part with 15% remaining glow effect is still clearly visible.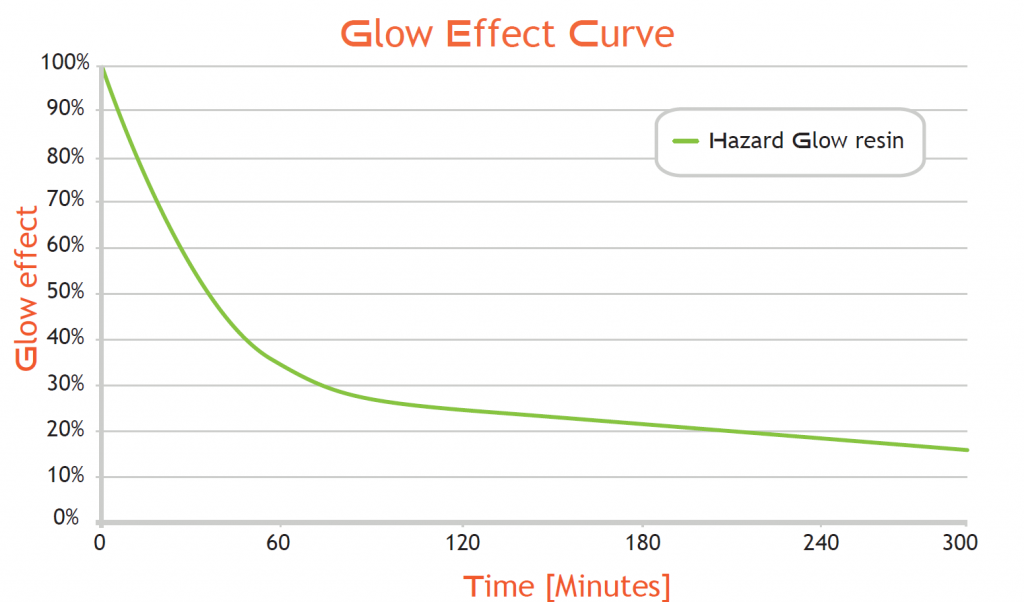 Parts printed with Liqcreate Hazard Glow, Glow in the dark resin are opaque green when not activated, see picture on the left. When activated with UV/sunlight, a strong green glow effect will be visible.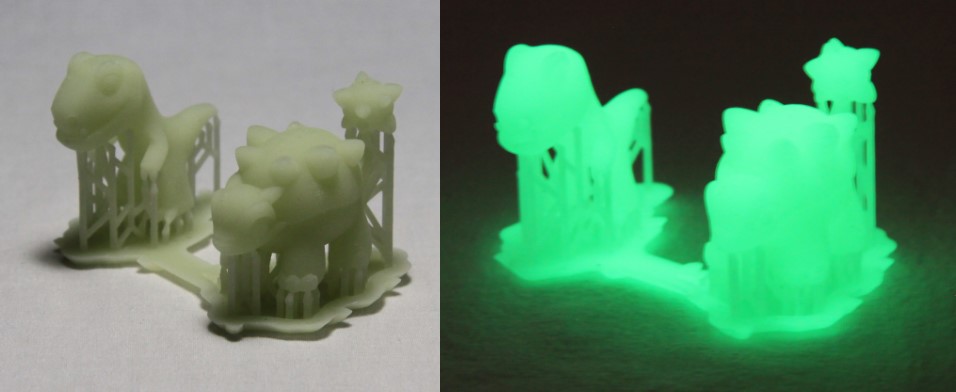 This glow effect will fade away over time, but remains visible after hours in a very dark environment.
3D-printer compatibility
Liqcreate Hazard Glow is compatible with many 3D-printing platforms. It is compatible on Formlabs Form 2, Sprintray Moonray and many others. Print settings for many types of 3D-printers are published here. Please send us an email at info@liqcreate.com if your printer is not listed.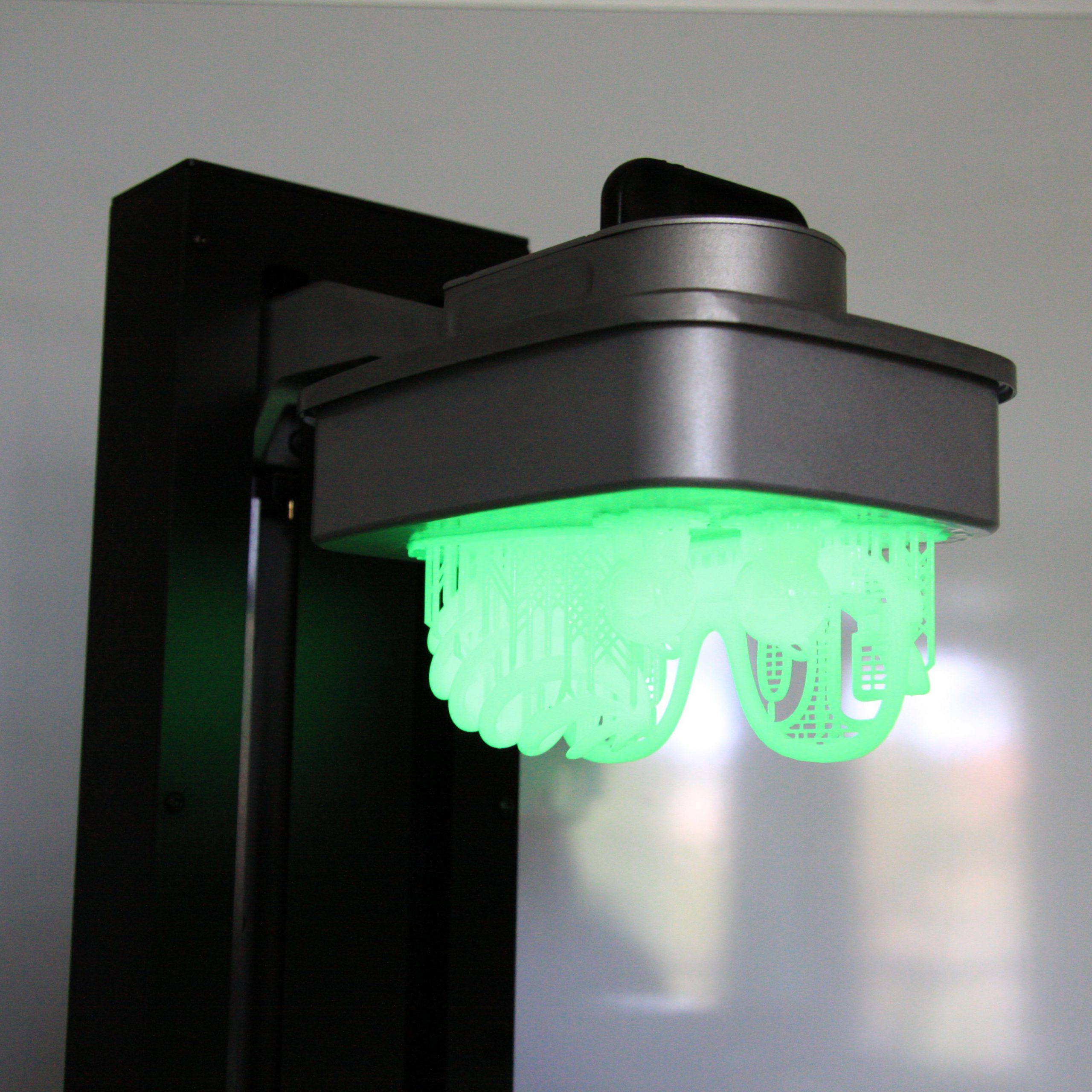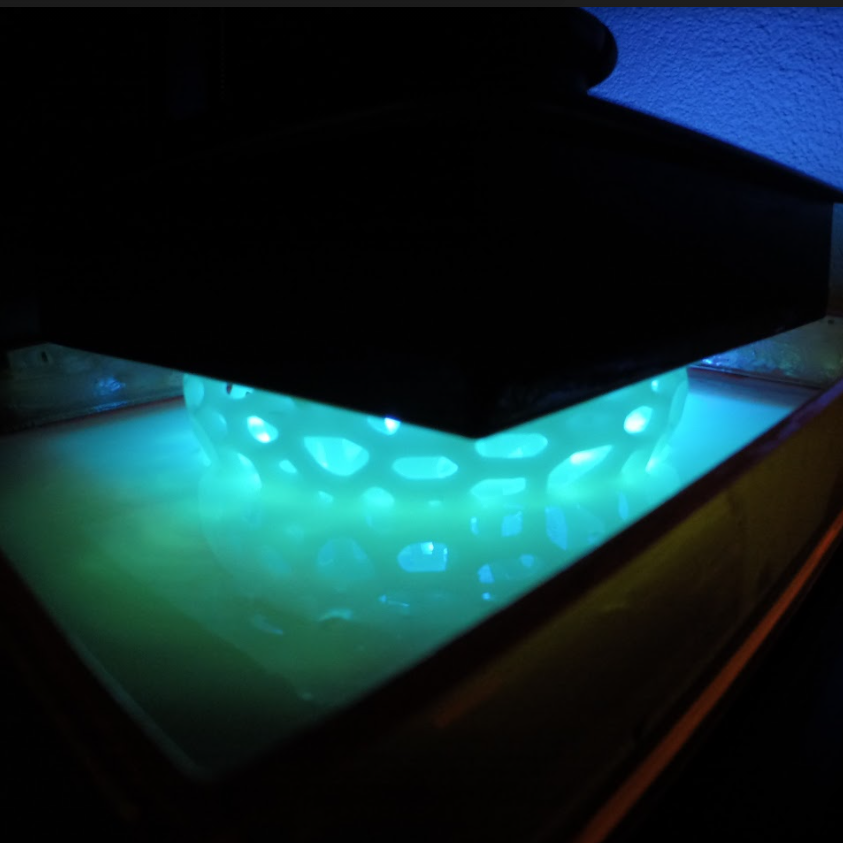 Tips and tricks for working with Liqcreate Hazard Glow resin
We advise to print only in 0,1mm layer thickness. There are two reasons to do this. The first one is due to the glow effect during printing. The laser / DLP / LCD light will already activate the resin and will start to glow during printing. This glow will give some side-cure so the super fine details will be gone, meaning that with 0,1mm layer thickness, you will get most out of the resin and there is not much benefit of going lower. The second reason has to do with the glow particles in the resin. These particles are heavy and have the tendency to sag during long print jobs and overnight. Shortening the print job by printing in 0,1mm layers would be beneficial.
Coming back to the sagging of the glow particles over time. It will form a layer of solid agglomerated particles. Before a new print job or before pouring the resin back in the resin tank, it is important to mix the resin thoroughly with a soft plastic spatula. Mix until a homogeneous resin is obtained. If the resin is in the resin tank overnight or longer, it will need more effort to get the solid layer scraped off the bottom and mix in the resin homogeneously.
Due to the pigment sagging, it is important to shake the bottle properly before using. It will take more energy to mix the resin compared to standard resins. If not shaken properly, the print won't fail, but just hasn't got all the glow particles which makes the parts so amazing! Shake thoroughly by hand for 1 minute, put the bottle upside down for a minute, and repeat this 5 times. An easier way would be by the use of an mechanical stirrer or roller unit.
Another thing to keep in mind is that the glow in the dark pigment can have an abrasive effect on the FEP or bottom of the resin tank. Resin tanks can look dull after one-time usage. From our tests this will not influence printing behavior much and the resin tank can still be used.
Additionally, leftovers of the glow in the dark powder will be left in the resin tank if you use it for another resin. These particles will also be present in the washing station. It is advised to either clean the resin tank and washing station properly before using it with other materials, or keep one resin tank / washing tank especially for glow in the dark resin. It can happen that small glowing particles are present on other parts if the resin tanks and washing tanks are used for different resins without proper cleaning.
Team Liqcreate wish you happy printing. If there are any questions or remarks, feel free to contact us at info@liqcreate.com any time.
Manufactured parts with Liqcreate Hazard Glow resin on the Formlabs Form 2, SprintRay Moonray and other resin 3D-printers: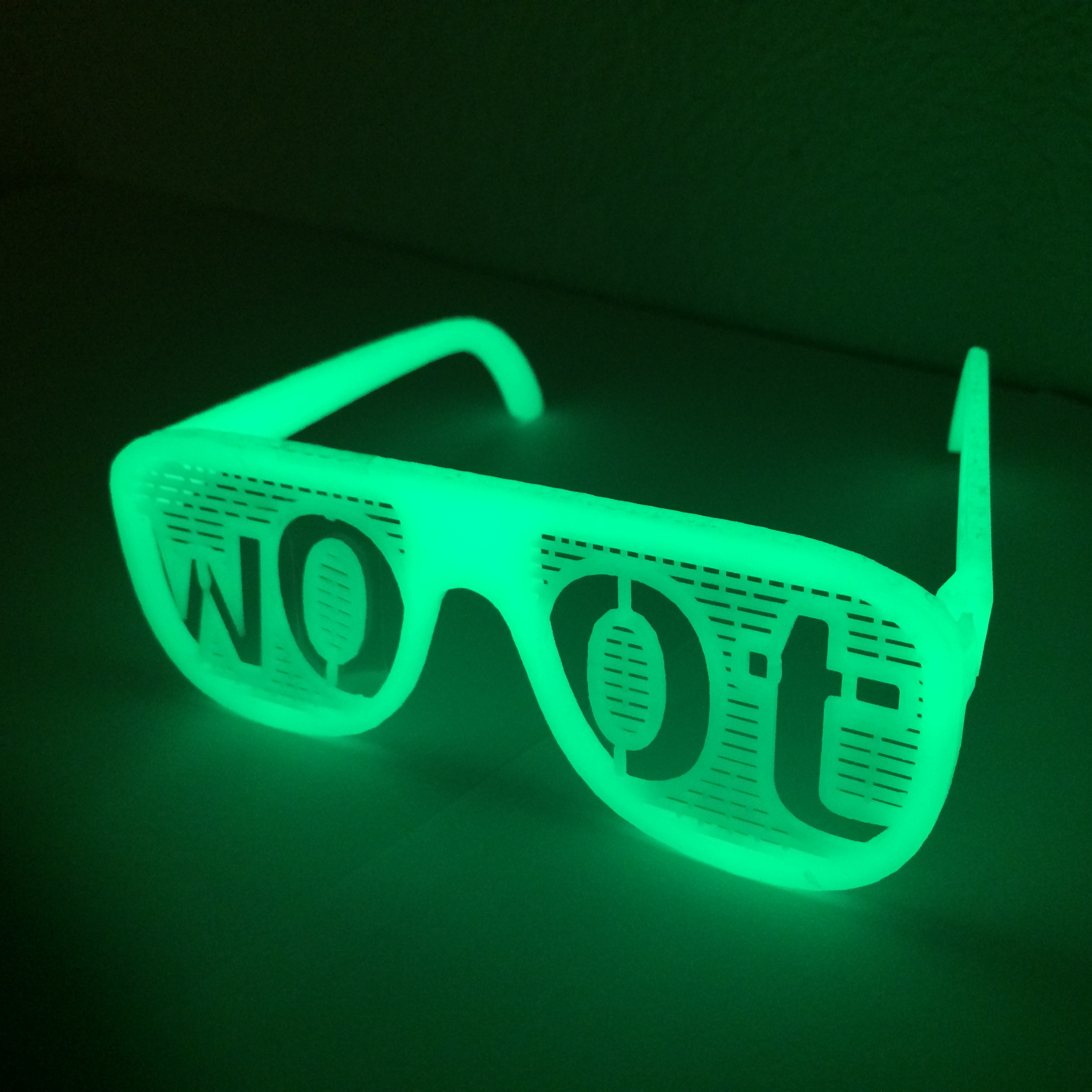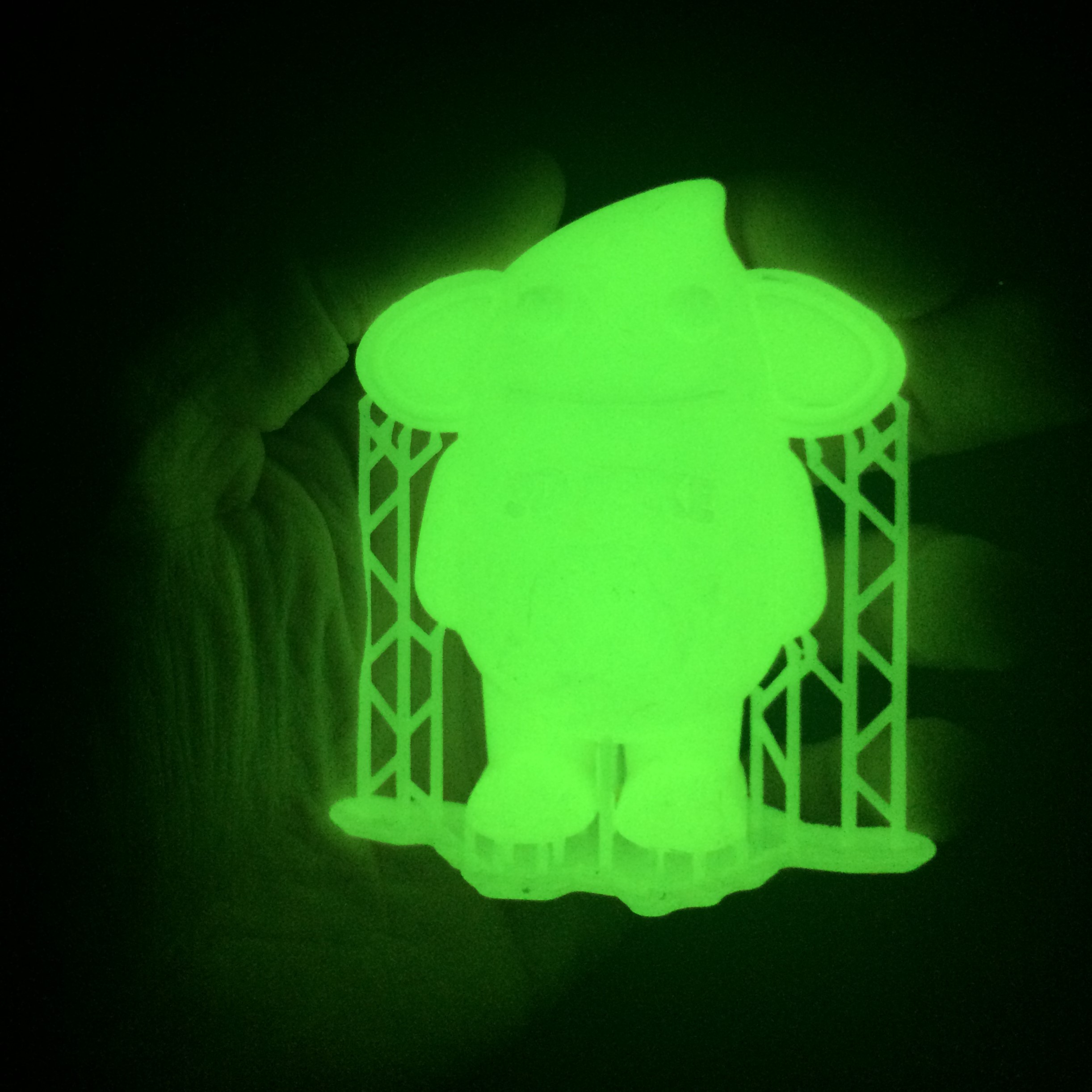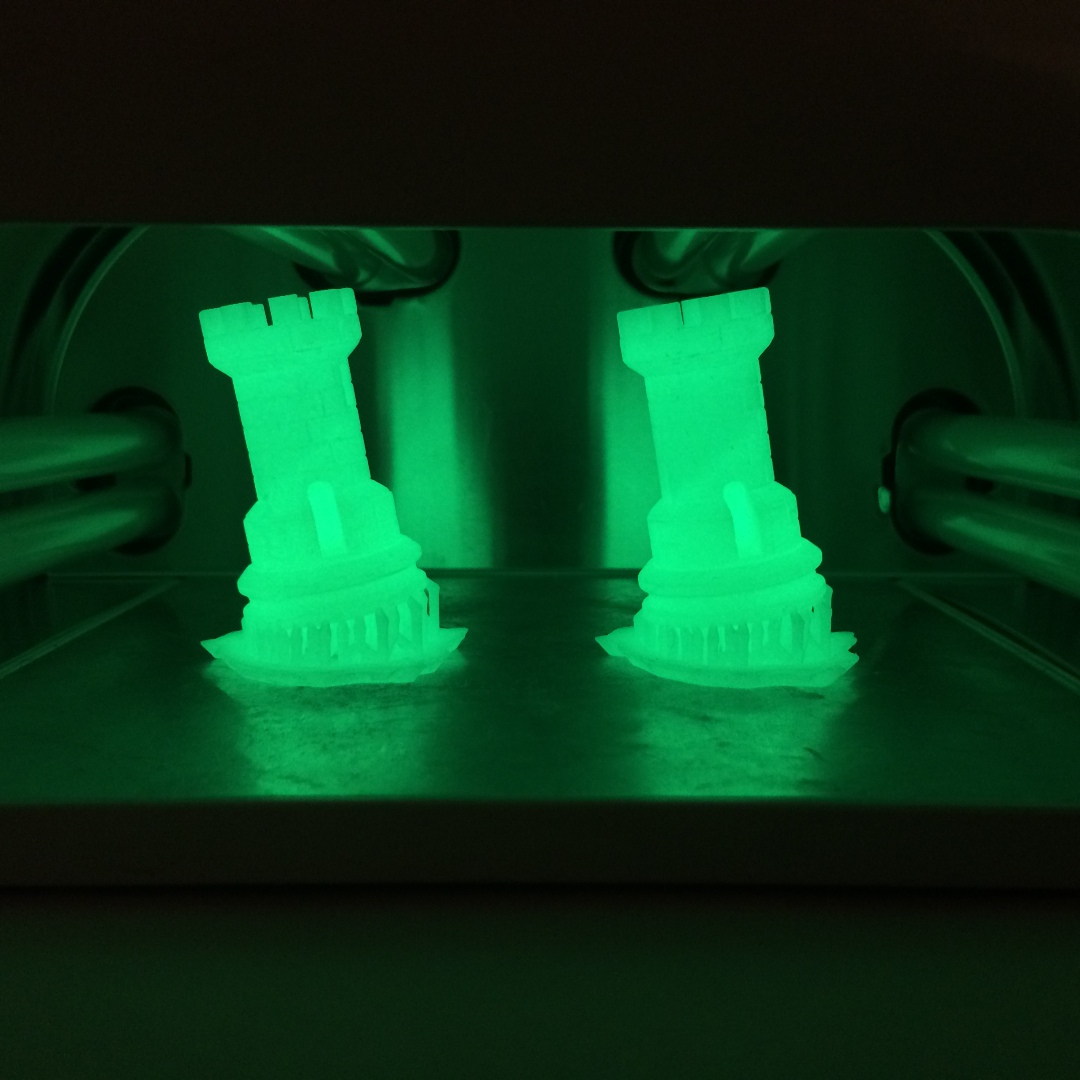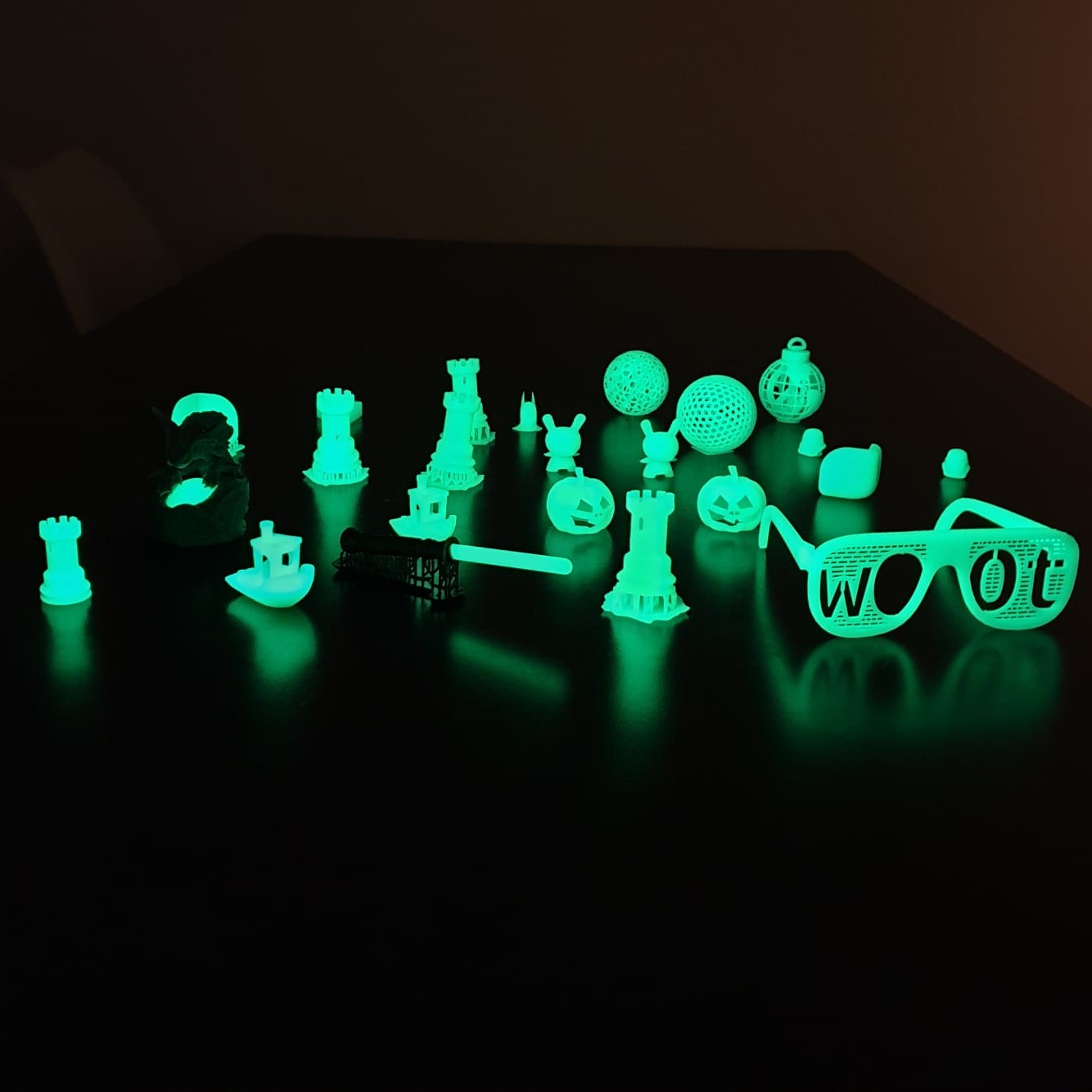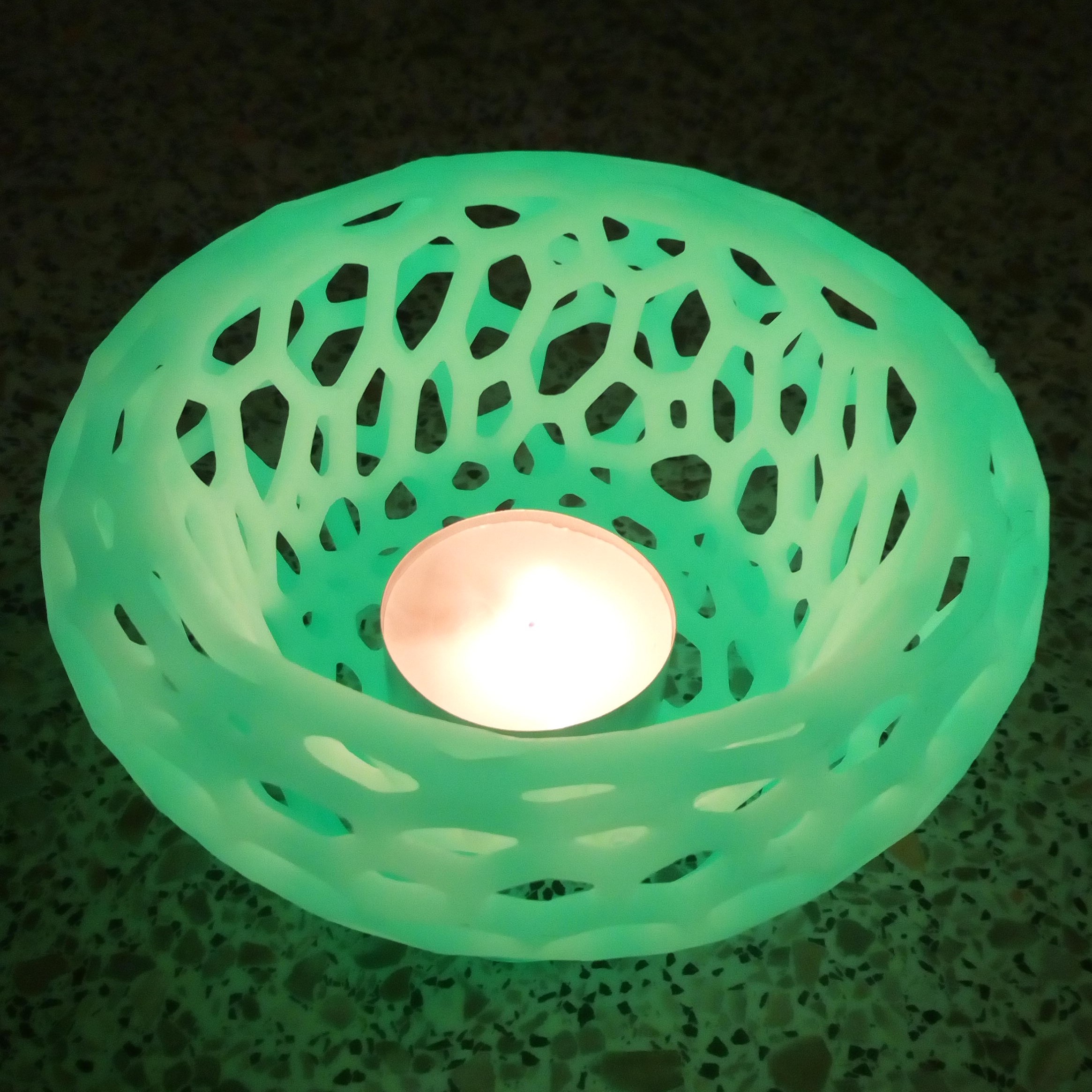 Support
Do you need any help with 3D printing our SLA, DLP or LCD resins? We can help you! Just look for the question you have below. If you can't find it, let us know by contacting us!