Creality is adding new resin 3D-printers to its growing portfolio of Creality Halot printers. Earlier the Halot-One, Halot-Sky and Halot-Max were already introduced to replace its LD-coded resin series likt the LD-006. The new printers are named Creality Halot-One Plus and Creality Halot-One Pro and are an improvement on the Halot-One. Here you can find the Creality Halot resin 3D-printer comparison.
Video by Creality: The new Creality Halot-One Plus and Halot-One Pro resin 3D-printers.
Creality Halot-One Pro and Halot-One Plus resin 3D-printer specifications
The Creality team wrote an article with All3DP about their new technology saying "Creality's new resin 3D printers, HALOT-ONE PRO & HALOT-ONE PLUS, feature a larger LCD, intelligence functions and higher precision – bringing creativity and capability to the next level. The HALOT-ONE PRO & HALOT-ONE PLUS were introduced this year. The primary difference between the PRO and PLUS models are the size of the build volume and LCD screen. HALOT-ONE PLUS comes with a 7.9-inch mono LCD screen with 4K HD resolution. The 172 x 102 x 160 mm build volume is 73% larger than the model with the 6-inch LCD, enabling customers to print large models or small models with ease. Getting larger-scale 3D models printed with vivid details you envisioned is no longer an unattainable goal.At the heart of the HALOT-ONE PRO & PLUS is Integral Light Source, a new type of resin 3D printing technology developed by Creality. Different from the well-known Parallel Emission, Integral Light Source's working principle is based on reflection and refraction. This process assures higher precision 3D printing by improving the lighting evenness and reducing the negative impact of broken or malfunctioning LED units. If you need to print a highly-detailed model, whether it be a large of small design, HALOT-ONE PLUS is right there to ensure the job gets done."
Table 1: Specifications of the new Creality Halot-One Pro & Plus printers compared to the earlier released Creality resin printers.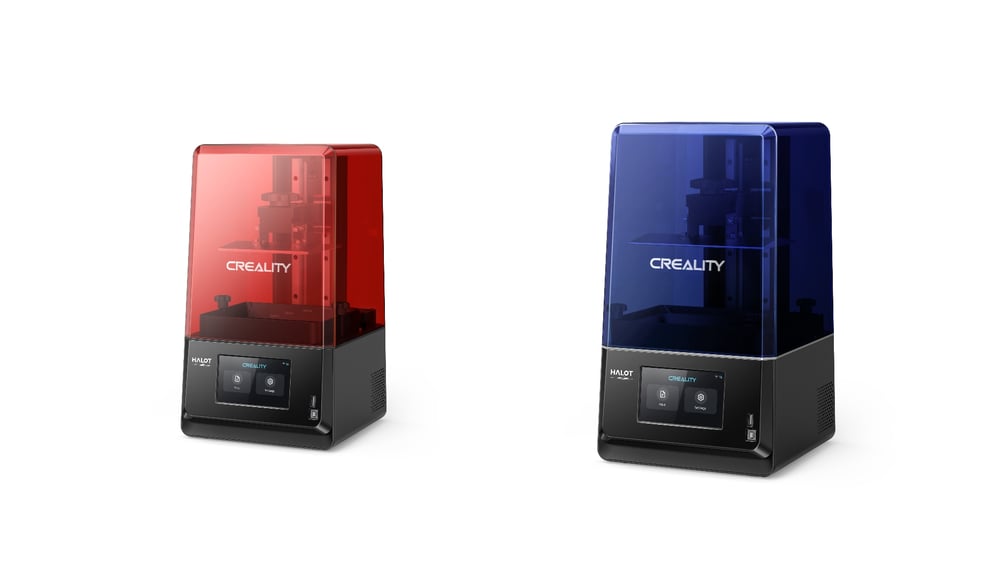 Image by Creality: The new Creality Halot-One Pro and Halot-One Plus resin 3D-printers.
Creality Halot-One Pro & Plus compatible 3D-printing resins
As the machines are not launched, it is difficult to judge which resins are available for this printer. It is expected that the Creality Halot-One Pro & Plus are open for 3rd party materials. Both machines have upgraded monochrome LCD screens with 405nm light engine like its predecessors. It is expected that all Liqcreate resins can run on this machine as well. At the moment of writing we do not have tested nor have settings for both machines. If you happen to have a Creality Halot-One Pro or Plus, a good starting point in settings are the one from the Halot-One, published here.  Reach out to us at info@liqcreate.com and our experts will help with advise on dialing in our photopolymer resins.
Support
Do you need any help with 3D printing our SLA, DLP or LCD resins? We can help you! Just look for the question you have below. If you can't find it, let us know by contacting us!