During Formnext 2021 there were plenty of new resin based 3D-printing technologies and announcements. New 3D-pritners from Nexa3D, Shining3D, Axtra3D, Genera3D, Xolo3D, Azul3D, Cubicure, Origin from Stratasys, 3DWare, Sharebot, UnionTech, Rapidshape, Luxcreo, Carima and many more. Here you can find the most significant technological advancements from all the brands mentioned above.
Nexa3D announced new XiP resin 3D-printer
Nexa3D a manufacturer of high-speed resin 3D printers, has announced the launch of its first desktop-based system, the XiP. Based on the firm's LSPc technology, the XiP combines a small footprint with high throughput for production-grade applications in automotive, medical, engineering machinery, and even aerospace. Nexa3D's product portfolio already includes the flagship NXE400, a versatile 16L industrial 3D printer with a 275 x 155 x 400mm build chamber. The latest released Nexa3D XiP, scales LSPc down to the desktop range for the very first time. The 3D printer offers a build volume of 190 x 110 x 170mm combined with a 9.3" 4K Monochrome LCD screen, delivering a pixel size of 52 microns. The Nexa3D XiP is expected for delivery in Q2 2022.
Shining3D launches new AccuFab-L4K and L4D resin 3D-printer for engineering and dental applications.
At Formnext 2021, Shining3D launched its new AccuFab-L4D for dental applications and AccuFab-L4K for engineering customers. Both Shining3D AccuFab printers are equipped with a 4K monochrome LCD screen. The 4K resolution of 3840×2400 pixels is covering a build size of 192 * 120 mm, resulting in a 0,05mm pixel size. The Shining3D AccuFab-L4D and AccuFab-L4K stand out with the large printing platform in relation to its compact body structure and ultra-light weight. With AccuFab-L4D you can easily get started in the efficient manufacturing of all kinds of 3D prints at large scale for dental applications. Both printers are powered by 405nm LED's of 3 mw/cm2 , resulting in a good print speed. Liqcreate engineers are currently working to get all resins optimized on the Shining3D AccuFab-L4K and AccuFab-L4D. Parameters will be published here.
Axtra3D debuts Hybrid Photosynthesis (HPS) process and Lumia 3D printer
Axtra3D developed a new type of resin 3D-printing strategy, named Hybrid Photosynthesis (HPS). Axtra3D is bringing together the benefits of 4K DLP and laser based techniques in one resin based 3D-Printer, the Lumia. Axtra3D promises a large build area, continuous printing, high-resolution, speed, surface quality, and isotropic part performance. This marriage of processes means part layers are cured via a projector while at the same time, the part edges are cured with a laser. This way the DLP projector is scaled with big pixels, while the sharp pixel edges are smoothened by a laser. This results in a build volume of 265 x 150 x 600 mm (X * Y * Z) and XY resolution of 40 microns! A print speed of up to 9 mm/minute is possible with this patented technology.
Stratasys backed companies Genera3D and Origin  revealed their resin 3D-printing solutions
During Formnext, Genera3D announced a significant investment from 3D-printing giant Stratasys. Genera is an emerging and innovative Austrian company founded with the mission of creating a fully-automated DLP 3D printing process for serial production. Genera3D developed a 3D-printer and post-processing machines to automate the whole process. According to Genera some steps in the 3D-printing cycle are very important and an automated workflow would benefit in getting parts that have always the same quality. At the core of its technology stands the G2 3D-printer, powered by a 4K DLP system. Operating at 385 nm wavelength and a LED power of up to 30mW/cm2 a fast print speed can be achieved. The printer comes in three different forms, where the pixel size and the XY build area vary. The options in pixel size are 40, 70 and 100 micron. At 100 micon its biggest platform size of 384 x 216 x 320 mm (X * Y * Z) is achieved. The printer is designed with safety and ease of use in mind. With its F2 post-processing box of G3 full manufacturing solution. The resin always travels in sealed shuttles with RFID tags, so no contact with resin or resin soaked parts is necessary.
Next to the investment in Genera 3D, Stratasys also acquired resin 3D-printer manufacturers RPS and Origin. Similar to Genera, Origin works with 385nm DLP technology and controls almost the whole process with sensors everywhere. It is evident that Origin uses a 4K DLP unit as their build volume is 192 x 108 x 350mm (L * B * H) and a 50 micron pixel size.
Video by Stratasys and Origin: Origin's systems can be chained together using its proprietary cloud-based software to create DLP production lines.
Volumetric 3D-printing by XOLO 3D
Xolo3D announced its new printer at Formnext, the Xolo Xube. The printer is a big cube of resin and cures from a laser line and projector from the side. A 405nm diode laser is transformed to a laser line and collimated through lenses to generate a thin homogeneous light sheet. The thickness of the light sheet determines the z-resolution. A video of slice images obtained from the 3D model to be created is displayed and focused into the light sheet. The projector emits visible light and maintains the focus while the container moves away from the projector. The resolution in x and y direction is determined by the projector resolution and desired object size. Crossing light beams (x) generate entire objects (holos), called that xolography.  A light sheet of a specific wavelength activates a thin layer of photoinitiator inside the resin. An orthogonally arranged projector beams sectional images of a 3D model into the light sheet. Only the initiator molecules absorb the light and start to polymerize.  The projection is synchronized with the moving resin volume and the desired object will turn into a solid plastic polymer part.
Azul3D debuts its LAKE 3D-printer, powered by HARP technology
Azul 3D is a leading-edge 3D printing company, transforming manufacturing with proprietary High Area Rapid Printing (HARP) technology. The printer is based on a 385nm DLP projector. With its build volume of 254 x 305 x 610mm and 72 micron pixel size, it is either utilizing a projector with >4K resolution. Although Azul 3D explains that these pixels are created without the need for shifting pixels. An build size of 254 x 305 at 72 micron pizel size is not possible with a 4K projector, unless pixel shifting is enabled or multiple projectors are used. Currently no information is available yet which kind of materials will run on the system. Technically Liqcreate resins can be processed, if the system is open for 3rd party 3D-printing resins.
Image by Azul3D: their new LAKE resin 3D-printer, powered by HARP technology.
Cubicure launched their second hot lithography 3D-printer, the Cerion® at Formnext
The patented Hot Lithography technology from Cubicure enables the processing of highly viscous resins. A special heating and coating mechanism produces particularly tough and temperature-resistant polymers. At this technology's core lies a specially developed, patented heating and coating mechanism. This mechanism is capable of safely processing even highly viscous resins and pastes at working temperatures of up to 120 °C with the utmost precision.
Caligma®
Cerion®
The Caligma 3D printing system quickly and precisely produces prototypes and small series made from polymers without the need for tools. Thanks to Hot Lithography, the system processes highly viscous resins, enabling the production of particularly tough and temperature-resistant polymer components.
The Cerion production plant enables industrial series printing of polymer parts. With its completely novel printing head, the 3D printing system toollessly builds components in a scalable manner. Each layer is created in less than 90 seconds, regardless of the complexity and number of components.
Build volume 200 x 100 x 285 mm³
Build volume 1000 x 280 x 300 mm³
Exposure system Laser Scanning System

405 nm

Exposure system Dynamic DLP

405 nm

Laser spot size 20 µm
Pixel size of 50 x 50 µm²
3D-printer manufacturer 3DWare presents two resin based 3D-printers
Headquartered in Mumbai, 3DWare  develops and manufactures industrial Additive Manufacturing Systems primarily for the jewelry, dental  and hearing aid verticals. Collaborating with strong market partners likes of TITAN Company Limited, Manipal University, Jaipur, GN Resound Denmark, their machines have redefined the way production of master patterns are done with blistering build speeds of over 100mm/hour! With two different 3D-printers available, the Zeta top-down DLP and a regular DLP called the Alpha. The 3DWare Zeta has the possibility to print high viscous resins, unlocking the option for true elastomeric and rubber parts. Find the specifications below.
| | |
| --- | --- |
| 3DWare Zeta | 3DWare Alpha |
| Build Speeds 30mm Per Hour | Build Speeds 100mm Per Hour |
| X-Y Resolution +/-38 Microns | X-Y Resolution 57 Microns |
| Platform Size 144 * 81 * 120 mm | Platform Size 110 * 62 * 150 mm |
| Uses 1080P HD Projector | Uses 1080P HD Projector |
UnionTech enters DLP 3D-printing market with 4K industrial DLP 3D-printer the Cute 300
UnionTech has nearly 20 years of proven leadership in globally sourced stereolithography and resin 3D printing systems. The UnionTech brand brings a fresh dimension of SL equipment supply to international markets. With nearly 50% of UnionTech's large and growing professional team dedicated to research and product development, there is a strong focus on new product and resin development. This focus on product development lead to the development of new, industrial grade DLP 3D-printers. With the introduction of UnionTech's  Cute300 3D-printer and more printers and resins to come. Liqcreate resins are compatible with the UnionTech Cute 300 4K DLP 3D-printer. Settings and technical specifications can be found here.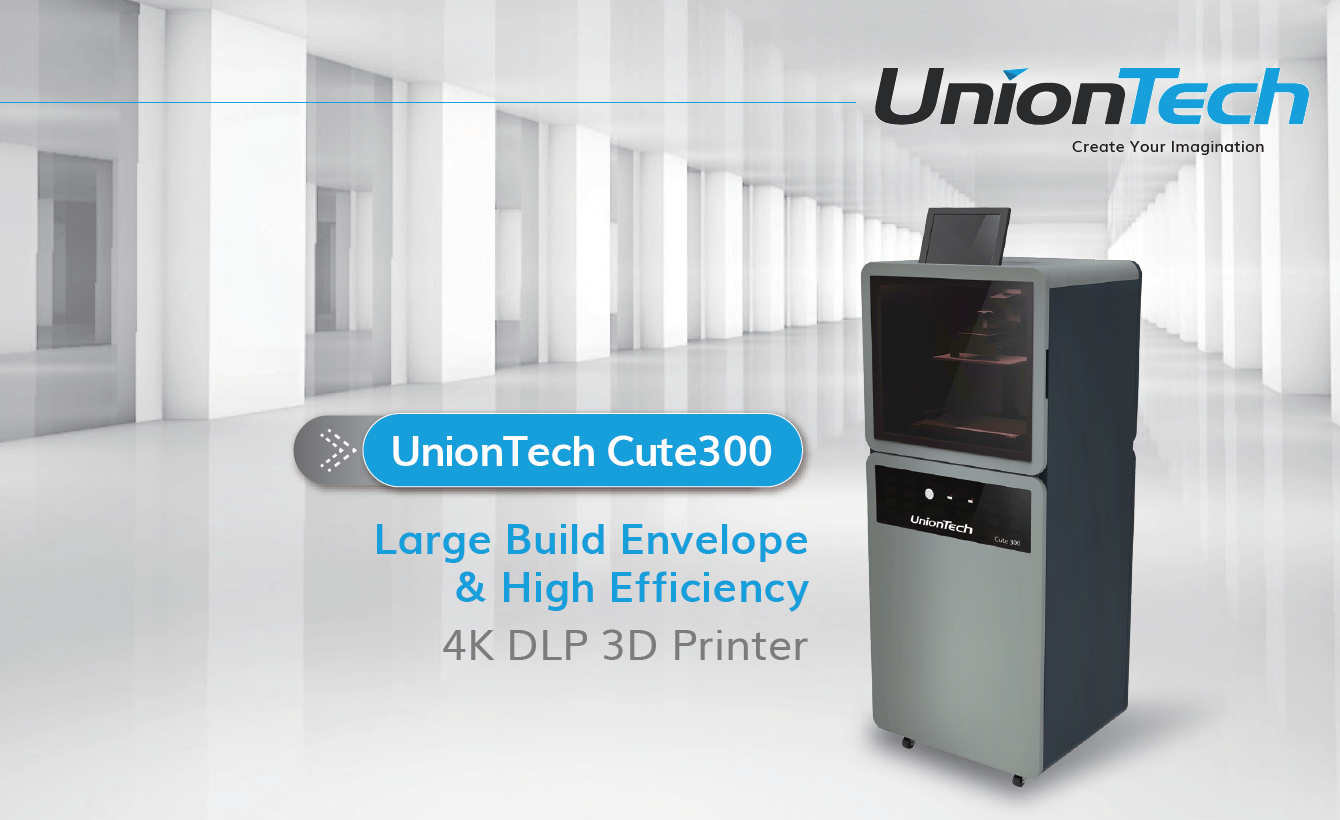 Image by UnionTech, their Cute 300 industrial 4K DLP resin 3D-printer
Sharebot introduced its LCD baser resin 3D-printers, the Sharebot BIG and the Sharebot Viking
Known from their FDM 3D-printers, Sharebot keeps innovating and is now offering 3D-printers with FDM, SLS, Metal and resin based technology. Two of Sharebots resin 3D-printers are the Sharebot Big and the Sharebot Viking.
| | |
| --- | --- |
| Sharebot Big | Sharebot Viking |
| LCD technology | LCD technologu |
| 137 micron pixel size | 75 micron pixel size |
| Platform Size 475 * 242 * 340 mm | Platform Size 190 * 120 * 200 mm |
| > 400 nm LED wavelength | 405 nm LED wavelength |
With its huge platform, the Sharebot Big is one of the biggest resin 3D-printers on the market. Competing with Photocentric and Peopoly Phenom resin 3D-printers. Unfortunately at this time more information about pricing and resin compatibility is not available.
Rapidshape offers industrial grade 3D-printers for the dental, jewelry, hearing aid and engineering industries
Rapid Shape is a south Germany technology company in the field of generative rapid prototyping and rapid manufacturing systems. Rapid Shape brings a new and patented generative technology to the market that is setting a new benchmark in speed and accuracy in the field of 3D manufacturing. Research and development of the new technology and corresponding resins started already several years back. A well-founded innovation network with one of the world most important research institutes in generative production as well as multiple leading high tech and chemical companies have cooperated to come to this result. Rapid Shape is active in the jewelry, dental, hearing aids and industrial market.
For the dental resin 3D-printing market, Rapid Shape offers various printers all with a 385nm DLP technology. The smallest machine, the D10+ has a 720P projector, while the bigger D20+ and D30+ run on an HD projector. Its biggest resin 3D-printers, the D50+, D70+ and D90+ are build around a 4K DLP system. For its biggest printers, RapidShape also offers a complete automated factory solution with various print stations, automated part collection, automated resin regenerating system, including washing and post-curing.
Image by Rapid Shape on 3DPrint.com: the automated Dental Inline from Rapid Shape
For the jewelry market, RapidShape offers similar printers with 405nm DLP systems, named the S20+, S30+ and S30Speed as desktop resin 3D-printers. For industrial jewelry resin 3D-printing, the industrial S90 standalone and S90 cabinet are available. The hearing aid and industrial resin 3D-printers are quite similar than the dental printers when comparing specifications. A long of small to big printers with 385nm light source. Resin compatibility with Liqcreate resins might be available soon. Contact us for more information.
Image by Rapidshape on 3D-printing media network: The workflow of 3D-printing in digital dental labs. From scan, to software, to printing and post-processing.
Luxcreo debuts its new resin 3D-printer, the  iLux on Formnext
LuxCreo is committed to innovation, product excellence, and customer success within the resin 3D-printing market. Providing fully integrated solutions – cloud connected 3D printers, AI-enabled printing software, and advanced materials, LuxCreo is transforming the way businesses design and manufacture products in consumer, medical, dental, and industrial industries. Before Formnext, only larger resin 3D-printers with the LuxCreo Lux 3+ and Lux 3L+.  Recently the smaller LuxCreo iLux and iLux pro was released which makes it easier for smal and medium companies to enter into resin 3D-printing. Find the specifications below.
Specifications
iLux Printer
iLux Pro Printer
Build Area
192*120*200mm

(7.5"x4.7"x7.9")

192*120*200mm

(7.5"x4.7"x7.9")

Resolution
50μm
50μm
Release Membrane
FEP
FEP
Layer Thickness
0.020-0.15mm
0.020-0.15mm
Stereolithography
LCD 4K
LCD 4K
Array
3840 x 2400
3840 x 2400
LED Wavelength
LED 405nm
LED 405nm
Carima launches the C-CAT; continues and ultra fast resin 3D-printing
Carima is a predecessor of the CK industry, which manufactured photolithography machines, and was founded in the year of 2000 with the idea of "carry + imagine" for a 3D printer. C-CAT stands for Carima Continuous Additive Technology, allowing DLP 3D printers to print fast, continuous layers. C-CAT was first revealed in 2015, and the new C-CAT has unveiled in 2020. The new C-CAT has been newly improved and developed to print faster, accurate continuous layers.
The existing continuous layer method uses an oxygen layer to release force causing the layer to become thinner or disappear due to the inflow of resin. In order to minimize the dissipation, our technology dramatically improved the disjunctive surface technology so that it can be less than 1/100th lower than the existing film. We have not only improved the dissipation but also increased the option to choose output layer thickness. Due to its weak release force, continuous molding is possible during printing, allowing to print output up to 60cm per hour. The technology is compatible with Carima's industrial materials as well as photopolymers from other companies. Compatibility with Liqcreate resins is yet to be determined.
Support
Do you need any help with 3D printing our SLA, DLP or LCD resins? We can help you! Just look for the question you have below. If you can't find it, let us know by contacting us!