This year Phrozen 3D already launched two new 8K resin 3D-printers, named the Phrozen Sonic Mini 8K and the Phrozen Sonic Mega 8K. The medium sized model (Phrozen Sonic Mighty 4K) is 'only' available at 4K resolution. So it is no surprise that Phrozen upgraded the Sonic Mighty to 8K resolution in todays announcement.
Video by Phrozen: The new Phrozen Sonic Mighty 8K resin 3D-printer 
Phrozen Sonic Mighty 8K resin 3D-printer specifications
The Phrozen Sonic Mighty has an 8K monochrome LCD screen which is similar to the Mega 8K and Mini 8K. Its pixel size is with 28 microns right in the middle of the 8K range. Compared to 22 microns for the Mini 8K and 43 micron pixel size for the Mega 8K. With all specifications quite in the middle of the Mini 8K and the Mega 8K, the price is also in the middle.
Table 1: Specifications of the new Phrozen Sonic Mighty 8K printer compared to the other Phrozen 3D-printers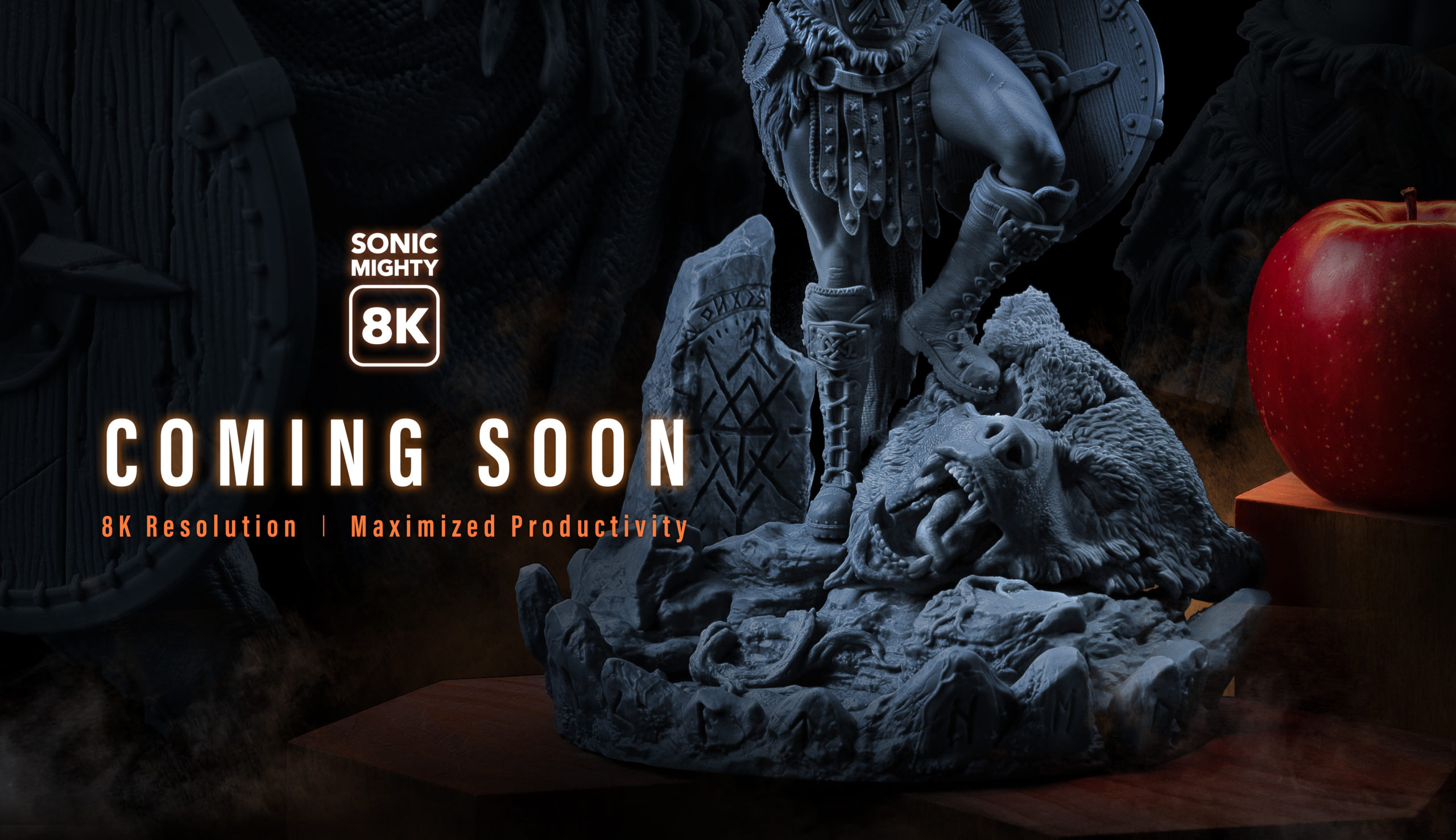 Image by Phrozen: The new Phrozen Sonic Mighty 8K resin 3D-printer 
– Print Big and More in 8K Resolution: 

Printing big and more models doesn't mean you have to sacrifice the details. Sonic Mighty 8K's 

incredible 28 micron resolution enables everyone to create crisp and sharp prints effortlessly.

– 10" X 23.5cm, Maximized Productivity:

Designed with mighty specs! The unit's 10" LCD paired with 23.5cm dual linear rails will seriously boost your work efficiency.

– High Productivity, Streamlined Design

: 

Despite its powerful specs, the Sonic Mighty 8K has a footprint similar to other regular compact printers, and is easy to store virtually anywhere. This frees up room for any other equipment you may need in your workspace. 

– Enhanced Success Rate & LCD Lifetime:

Sonic Mighty 8K also comes with a Frosted Laser Cut Building Plate that allows models to attach firmly onto the building plate. The Mono-LCD has a long lifespan and is more durable.

– Extra Effort to Help you Print Better:

Linear Projection LED Module provides consistent UV projection that cures the resin evenly. Sonic Mighty 8K also comes with Solid Dual Linear Rails and a Thick T-Plate to reduce wobbling and annoying layer lines.
Phrozen Sonic Mighty 8K compatible 3D-printing resins?
Currently Liqcreate resins have not been tested on the Phrozen Sonic Mighty 8K. The Phrozen Sonic Mighty 8K is open for 3rd party materials and runs on a monochrome LCD with 405nm light engine like its predecessors. In that case it is expected that all Liqcreate resins can run on this machine as well. If you happen to have a Phrozen Sonic Mighty 8K printer and are looking for engineering resins, reach out to us at info@liqcreate.com and we will help with advise on dialing in our photopolymer resins.
Support
Do you need any help with 3D printing our SLA, DLP or LCD resins? We can help you! Just look for the question you have below. If you can't find it, let us know by contacting us!