After Phrozen's recent released Sonic Mega 8K large-format printer, it now brings another 8K 3D-printer to the market. This time it shrunk the 8K LCD screen  down to the size of the company's Sonic Mini series. This high resolution in a small build are of just 16,5 x 7,2 x 18 cm (L x W x H) means that it is printing at an XY resolution of just 22 microns! With the 8K resolution it has more than half the pixel size of its near competitor, the Elegoo Mars 3 desktop resin 3D printer.
Phrozen Sonic Mini 8K specifications
Looking at the specifications and the first revealed images of the Phrozen Sonic Mini 8K resin 3D-printer, it looks like there are some major upgrades compared to its earlier released Sonic Mini 4K printer. As the product name revealed, the 4K LCD screen is upgraded to an 8K screen, doubling on the print resolution. Next to that the first images reveal that the LED moduls is slightly different compared to other models. The LED module seems to be build in a 90 degree angle, exposing on a mirror before the light reaches the LCD screen. Similar setups have been widely used in DLP 3D-printing, although the LCD screen and DMD / DLP chip are still two very different exposure techniques.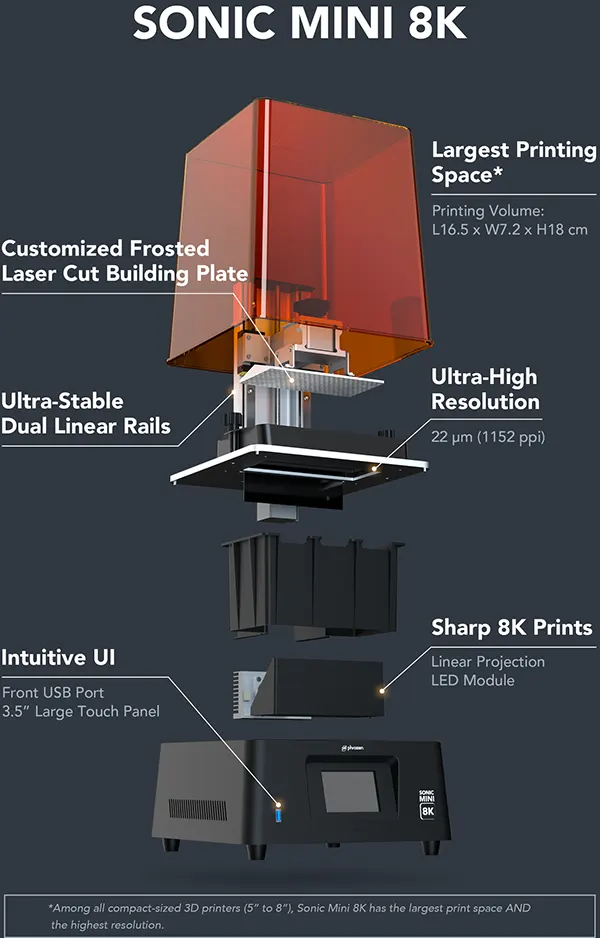 Detailed resin 3d-printing with 8K resolution of the Phrozen Sonic Mini 8K
The first pictures of the printed parts look astonishing. Phrozen displays that the XY pixilation seen in models, are nearly invisible due to the high resolution. Yet real testing needs to reveal how this will actually look. Next to the 3D-printer specifications and hardware, also resin and settings are of major importance to get the best results.
Price of the Phrozen Sonic Mini 8K resin 3D-printer
Currently ythe Phrozen Sonic Mini 8K is offerd at a pre-release discount at $349,99. It is expected by 3Dprintingindustry that the price will increase to $599,99 after the release.
Compatible resins for the Phrozen Sonic Mini 8K resin 3D-printer
Some Liqcreate resins are already optimized for Phrozen Sonic Mini 8K. Find Phrozen Sonic Mini 8K parameters in the link. It is expected that all Liqcreate resins can work on the Phrozen Sonic Mini 8K. With Liqcreate's experience with previous Phrozen products and other 405nm MSLA and LCD 3D-printers, it is likely that almost the whole Liqcreate resin range will be available and compatible on the new Phrozen Sonic Mini 8K resin 3D-printer. More information is available once the product is widely availeble. Send an e-mail to info@liqcreate.com if you want to be informed on resin compatibility.
Team Liqcreate wish you happy printing for the lucky people who get their hands on an Phrozen Sonic Mini 8K first. If there are any questions or remarks, feel free to contact us at info@liqcreate.com any time.
Support
Do you need any help with 3D printing our SLA, DLP or LCD resins? We can help you! Just look for the question you have below. If you can't find it, let us know by contacting us!