In 2011 Asiga launched the world's first LED based DLP 3D printer and started the affordable desktop stereolithography revolution which changed digital manufacturing forever. Asiga won the MJSA's 2012 Thinking Ahead award for best new technology and gained international recognition for the innovations contained within the Pico, MAX and PRO 4K platforms that continue to lead their respective categories to this day. In this article you can find settings developed by Liqcreate partners for the Asiga Freeform PICO 3D-printer. If you are looking for other asiga settings, have a look here.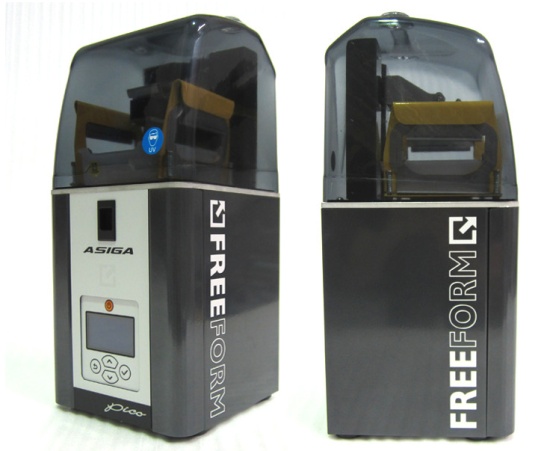 Image by 3DNatives and Asiga: The Asiga Freeform Pico resin 3D-printer.
Asiga Freeform PICO compatible Liqcreate resins
At the time of writing only one parameter is avaiable for the Asiga Freeform PICO for Liqcreate Composite-X. The .ini file to import all parameters in the Asiga composer is available, send us an e-mail at info@liqcreate.com to request this parameter file. Technically most other Liqcreate resins can also work on the Asiga Pico printer, but have not been optimized. If you have an Asiga Freeform PICO and want to work with a non-optimized resin, feel free to contact us at info@liqcreate.com and we can guide you through optimization.
About the Asiga Freeform PICO resin 3D-printer
Freeform Pico / PicoPlus Highest resolution resin 3D-printer with real XY resolution up to 27 microns and a quarter micron (250 nanometers ) Z-resolution, Pico is one of the  highest resolution resin 3D-printer when released.
Model

Pico

Pico Plus 39

Pico Plus 33

Pico Plus 27


Build size

XYZ in

 mm

40x30x76

50 

x 3 

1.2 

x 76

4 

2.5 

x 

26.5 

x 76

35 

x 

21.8 

x 76

XY 

pixel size in microns

39

39

33

27

Accuracy

0.5 pixels/cm

Layer thickness in 

Z

Adjustable in 1 µm steps

Light source

UV LED

File Format

. 

STL.SLC

Printer program

Composer (PC, Mac, Linux) 

as a gift for 

Asiga customers

Connection

10/100 

Ethernet

Printer Size / Weight

22 x 22.5 x 50.5 cm / 10 kg

Size / Package Weight

32 x 32 x 70 cm / 15 kg
Contact us if you have any questions or when you need help with settings for the Asiga Freeform PICO DLP 3D-printing or other resin based 3D-printers.
Support
Do you need any help with 3D printing our SLA, DLP or LCD resins? We can help you! Just look for the question you have below. If you can't find it, let us know by contacting us!