Elegoo is manufacturing and developing resin-based 3D-printers since 2017. With the release of the Elegoo Mars it was competing for the entry-level resin 3D-printing market with competitors like Anycubic, Phrozen3D, and many others. After the first appearance of LCD based resin printers by Wanhao and Anycubic, pricing was set around $550 for a 2K RGB printer. With Elegoo pushing the prices further down and has entry models like the Elegoo Mars C even below $200. Today it has expanded its offering with monochrome 2K & 4K LCD screens and bigger build plates, like the Elegoo Saturn. The Saturn was released 6th of June 2020, but is still having availability issues as we speak (February 2021).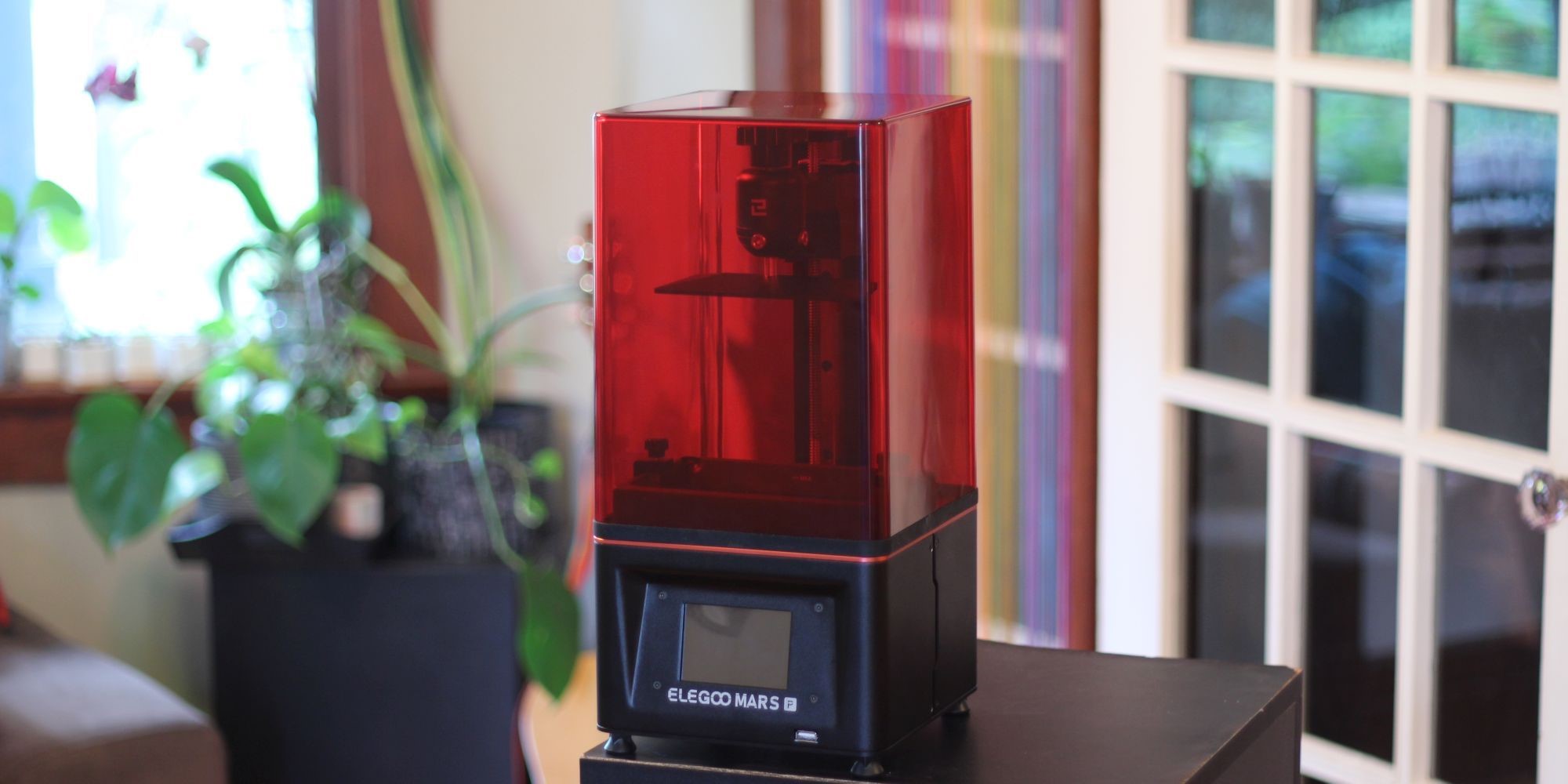 Source picture:  Astro Panama Elegoo Mars Pro review.
There are plenty of written and video reviews about the Elegoo resin 3D-printer product line. For instance by 3D-printing news website All3dp.com wrote a lot of interesting articles about these Elegoo 3D-printers; Elegoo Saturn Review: Hands On and many more.
What are the differences between the different Elegoo resin 3D-printers?
There are some differences between the 3D-printers of Elegoo. To start with, their Mars and Mars Pro printers are from the first generation and are equipped with a 2K RGB screen, meaning that the print speed is slower. The Mars 2, Mars 2 Pro and Saturn have a new Monochrone LCD screen, increasing the print speed by factor 2-4 and also increasing the lifetime of the LCD screen. When purchasing a new entry-model resin based 3D-printer, we would always advise to choose a 3dprinter with a monochrome LCD screen. It is quite difficult to find big differences between the Mars 2 and the Mars 2 Pro. Both have the same single guided z-axis and a 2K monochrome screen with similar pixel sizes, build area and print speed. Looking at their website and reviews, the two major differences would be that you will get a metal resin tank with the Pro version. And the Elegoo Mars 2 Pro version has an active carbon filter, reducing resin smell. Most of the Liqcreate resins have no odor, therefor we do not see the value of the Mars 2 Pro compared to the Mars 2. find the differences between the Elegoo 3D-printers in the table below:
Mars
Mars Pro
Mars 2
Mars 2 Pro
Saturn
Price*
$ 190
$250
$ 230
$ 329
$500
Platform size (XYZ mm)
115*65*

150

115*65*

150

129*80*

150

129*80*

160

192*120*

200

Resolution
2K
2K
2K
2K
4K
Pixel size
47 µm
47 µm
50 µm
50 µm
50 µm
Monochrome LCD
No
Yes
Yes
Yes
Yes
Print speed
22.5 mm/hour
n/a
30-50 mm/hour
30-50 mm/hour
30-40 mm/hour
3rd party resins
Yes
Yes
Yes
Yes
Yes
Wavelength
405 nm
405 nm
405 nm
405 nm
405 nm
Z-Axis guide
Single
Single
Single
Single
Double
Source: Elegoo Website. *Official prices from Elegoo website anno February 2021, price may vary over time or on your country.
The New Elegoo Saturn is competing with Anycubic's Flagship printer the Photon Mono X in build size, speed, price and basically all specifications. It has a 4K monochrome LCD screen and build size of 192 * 120 * 200mm while still maintaining its XY pixel size of 50 microns. In time, it should be seen what the prices of both machines will be, but at this moment the Elegoo is cheaper.
How to select which resin 3D-printers is best for my application?
Selecting a printer for your application is  depending on your needs and budget. If your budget is low, entry level $99 Photon Zero or Elegoo Mars C might be your best choice. A slightly higher budget might give the option to go for an Elegoo Mars 2. If you require a bigger platform size, the Elegoo Saturn/Phrozen3D Mighty/Anycubic Photon Mono X would be the best fit. If these printers are still too small for your application, it is good to wait for the Elegoo Jupiter, which is sneak previewed on Elegoo's socials, or go for the Peopoly Phenom Series. When buying a new LCD / MSLA printer we would always advise to purchase a printer with monochrome screen. Next to the longer lifetime and shorter exposure times, our Engineering Grade 3d-printing resins will be much easier to process. For instance on a regular RGB LCD Screen, Strong-X would need roughly 25 seconds exposure for 0,05mm layers, while this is reduced to 5 seconds on the Anycubic Photon Mono X. At the moment of writing there are no settings available yet for the Elegoo Saturn.
How to work with Liqcreate resins on the Elegoo Mars series and Saturn resin 3D-printers?
At Liqcreate we try to run our resins on as many 3D-printers possible. Our engineers are working to get all our resins to run smooth on the Elegoo 3D printers. For more information about 3D-printing parameters / settings on your printer, please visit our website or send an e-mail to info@liqcreate.com
Team Liqcreate wish you happy printing. If there are any questions or remarks, feel free to contact us at info@liqcreate.com any time.
Support
Do you need any help with 3D printing our SLA, DLP or LCD resins? We can help you! Just look for the question you have below. If you can't find it, let us know by contacting us!