In 2013, XYZ printing was founded as a spin-off from one of Taiwan's largest electronics companies, Kinpo Group. From the start XYZprinting was focused on FDM. Later XYZ expanded its product offering with SLS, color-jet FDM and resin 3D-printing technology. The resin 3D-printing portfolio consists of two product categories, Desktop SLA under its Nobel series and professional Stereolithography and DLP machines under its PartPro series. Recently, XYZprinting opened up its software to work with 3rd party resins on the Nobel 1.0A resin 3D-printer. To utilize 3rd party resins for the XYZ Nobal 1.0A, an Open Smart Tag is required. This tag is a one-time purchase to unlock printing parameters in the software. Find your XYZ Nobel 1.0A compatible resins here.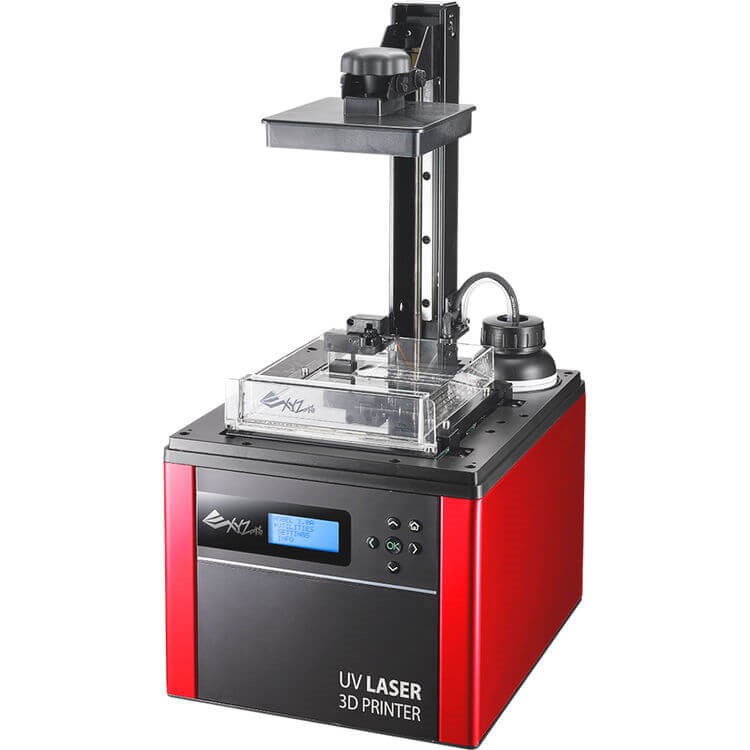 Source: pick3dprinter.com
Nobel 1.0A Specifications
Print Technology

SL (Stereolithography Apparatus)

Max. Build Area (W x D x H)

128 x 128 x 200 mm

X-Y Resolution

130 microns

Layer Resolution

25 / 50 / 100 microns

Light Source

UV Laser λ 405nm 100mW

Printing Software

XYZware Nobel
Specifications of the Nobel 1.0A according to XYZ website.
Comparing these printer specifications with the official specifications of the Formlabs Form2, the main differences are in the laser power and build area. The XY resolution or laser spot of both machines are quite identical with 130 and 140 microns. The build area of the Form 2 is slightly bigger with 145 x 145 x 175 mm (W x D x H) compared to the XYZ Nobel 1.0 A. Looking at the laser power, the Formlabs Form 2 laser power is 2,5x stronger, usually meaning it prints faster. Check out Chaos Core Tech's review on the XYZ Nobel 1.0A:
XYZprinting Nobel 1.0A compatible resins
After unlocking the Open Smart Tag on the Nobel 1.0A, it is possible to modify the parameters the printer and work with 3rd party resins. This will be a big added value due to the few resins tha tXYZ printing offers at this moment. A list of compatible materials and settings can be found here. Please note that due to the PDMS resin tank technology, our Premium resins will cloud the vat very fast. Therefore we advise to use Liqcreate SLA materials on this machine with the designated printing parameters.
Team Liqcreate wish you happy printing. If there are any questions or remarks, feel free to contact us at info@liqcreate.com any time.
Support
Do you need any help with 3D printing our SLA, DLP or LCD resins? We can help you! Just look for the question you have below. If you can't find it, let us know by contacting us!