Currently over 17 Liqcreate resins are commercially available. These high-end photopolymer resins are used in a wide range of industries including prototyping, industrial, entertainment, consumer goods, healthcare, dental, aerospace and automotive. Even though a lot of resins are available, we sometimes get questions about resins with slightly different properties, printing behavior or colors. For bigger volumes, we offer custom development, OEM, Private label and white label possibilities.
Although we do not stimulate customers to mix resins, sometimes there is no other solution. When you just need a couple kilogram resin, it is difficult to customize a product and take it in to production. Therefor some of our customers started asking questions about mixing resins. Mostly  to make Strong-X a bit tougher, or Tough-X a bit more rigid. This article will focus on the printing behavior, resin stability and mechanical properties when mixing Strong-X and Tough-X. If there are questions on different combinations later, please send us an e-mail and we will expand this article.
Warning when mixing 3D-printing resins
It should be noted that we at Liqcreate are not in favor that our customers are mixing resins. Although for very low volumes, it is not possible to develop or produce a formulation. If the volumes are increasing, contact us to see if we can manufacture the resin formulation in our factory. There are several reasons to have the resins mixed in a factory, and some points of attention if you decide to mix the resins yourself.
First of all, when working or mixing resins, always wear the right personal protection equipment. This information and more safety information can be found in the safety data sheet (SDS) of the resin. Also work in a well ventilated area. Before mixing resins, make sure that the original resin is mixed properly. This can be done by hand or by placing the bottle on a tumbler. If resin is not homogeneous before weighing, it is almost impossible to duplicate results. Next to this, make sure that the weighing instrument is calibrated and accurate.
Print speed for Strong-X and Tough-X mixtures
The pure Strong-X, Tough-X and four mixtures of these resins were prepared in the Liqcreate laboratory. Print speed was tested on an entry level MSLA Printer, the Anycubic Photon Mono.
When you are using a different printer, check what the printing time of the original resins is here and gradually increase the exposure time with the addition of more Tough-X. Send us an e-mail at info@liqcreate.com if you need help.
Table 1: Print speed of Liqcreate Strong-X, Tough-X and mixtures of these resins on the Anycubic Photon Mono, 405nm Monochrome MSLA 3D-printer
| | | |
| --- | --- | --- |
| Weight % Strong-X | Weight % | Exposure time monochrome 405nm LCD (Seconds) |
| 100 | 0 | 6.5 |
| 80 | 20 | 9.0 |
| 60 | 40 | 11.0 |
| 40 | 60 | 12.0 |
| 20 | 80 | 13.0 |
| 0 | 100 | 14.0 |
Resin stability and compatibility.
The original materials Strong-X and Tough-X are designed to be as stable as possible. When mixing different resins, there is always a chance that the stability will suffer. This is depending on the type of printer, geometry of the part, print speed and temperature of the resin and room. All mixtures were quite stable and it was easy to print a 8 hour print job without any de-mixing issues. As with all resins, it is advised to stir the resin with a soft plastic spatula when you start a new print. Some minor de-mixing patterns were visible.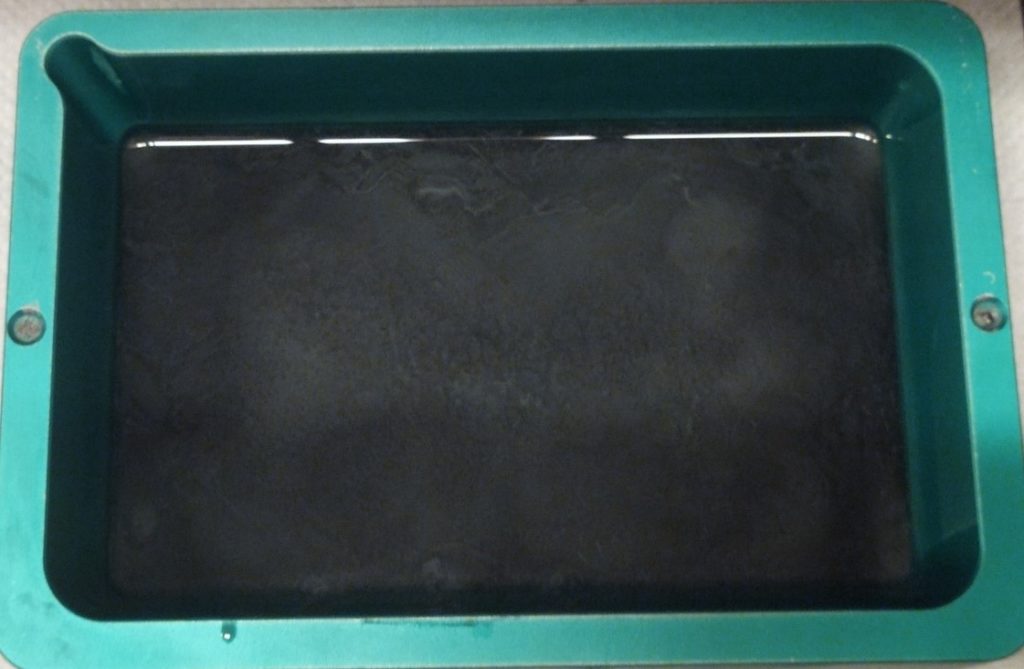 Image 1: Resin tank of 40% Tough-X with 60% Strong-X after a print job of 12 hours. Slight de-mixing.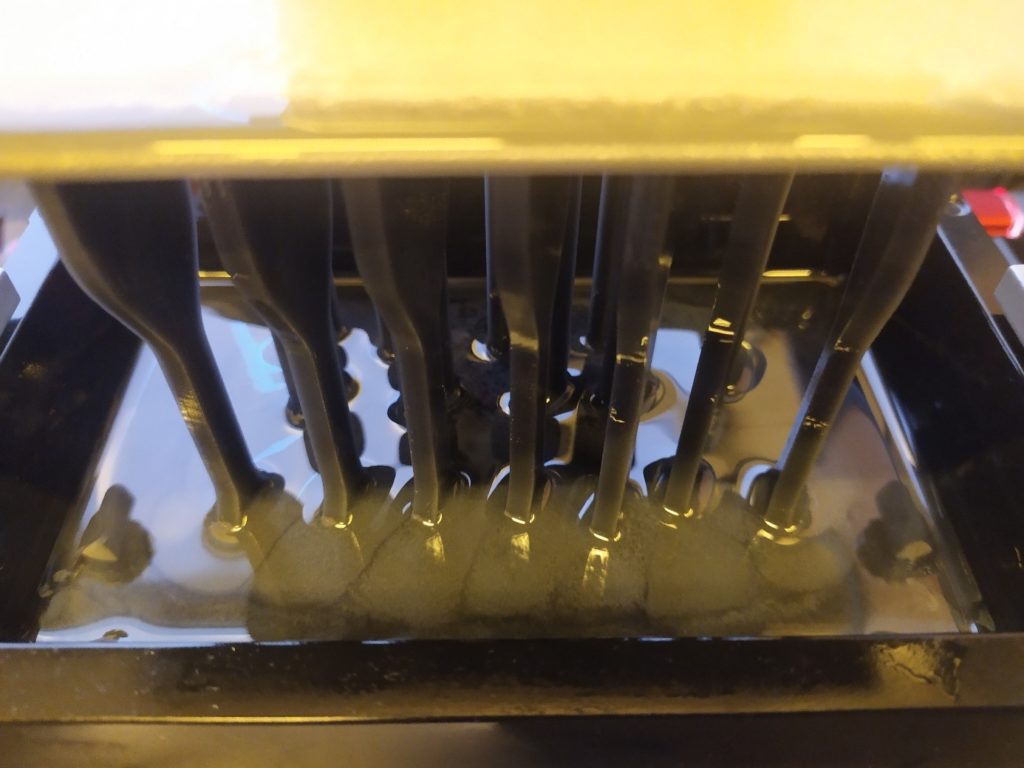 Image 2: Live printing after 6 hours, slight de-mixing is visible for the mixture containing 60% Tough-X and 40% Strong-X.
Color of the different resin mixtures.
As Strong-X is grey, and Tough-X is black, a gradient is expected when mixing these resins. The following color range can be expected when mixing these resins.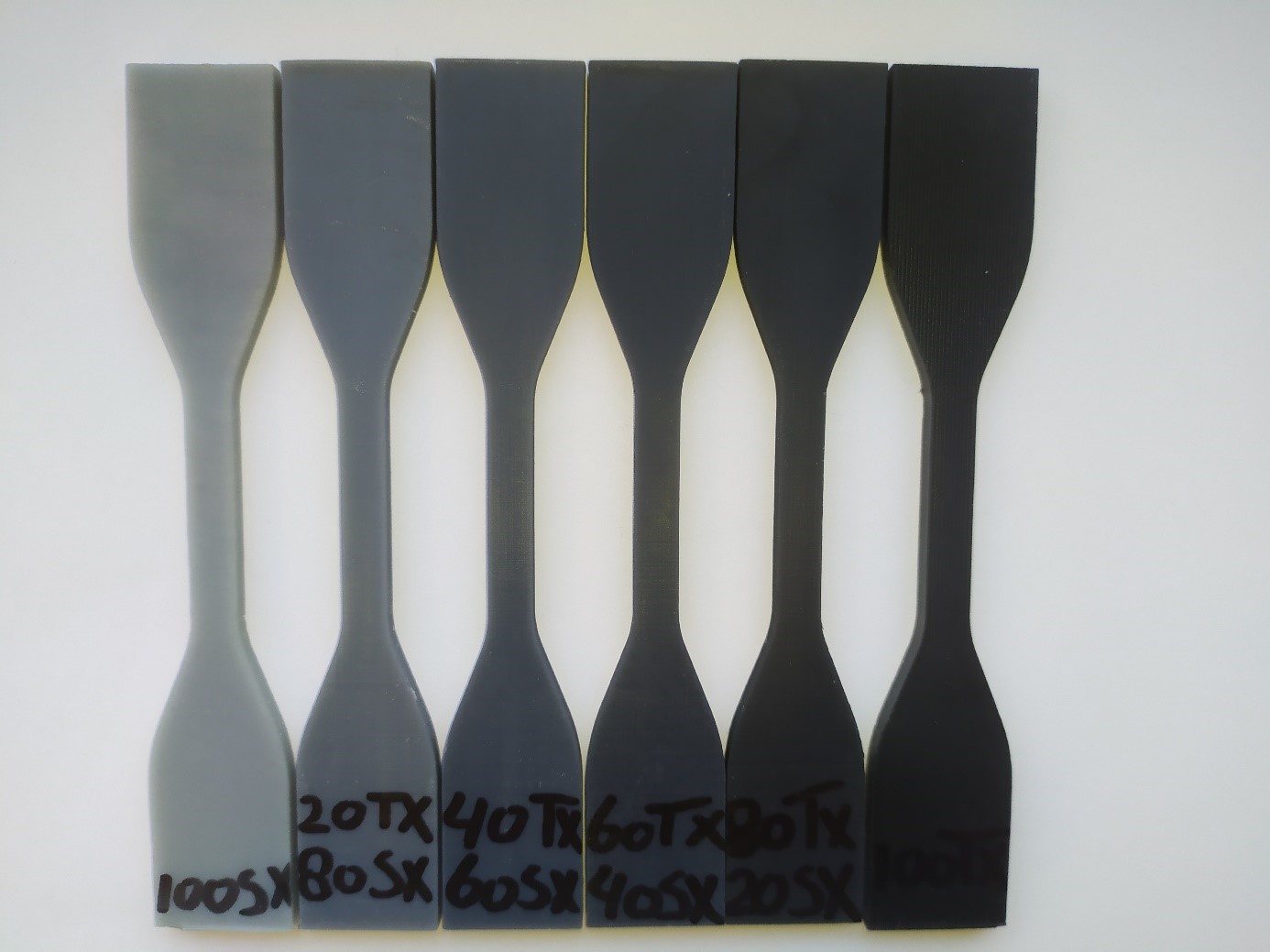 Image 3: Color differences when mixing Strong-X (left) with Tough-X (right)
Mechanical properties of resin mixtures
Most important topic is what the mechanical properties are when mixing Strong-X and Tough-X. All materials are post-cured identical in the Wicked Engineering Curebox for 30 minutes at 60°C. Find the values of our measurements below.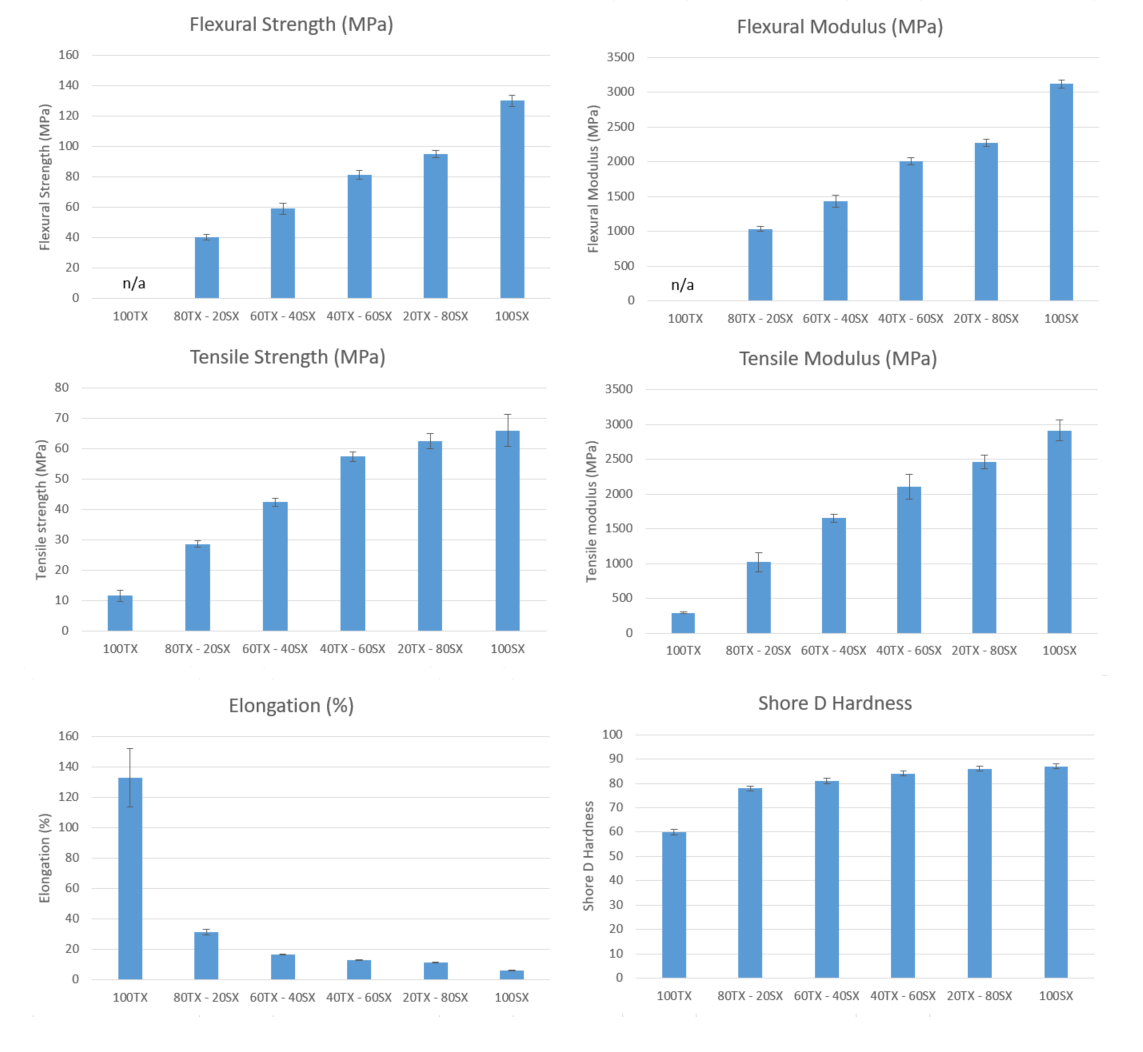 Image 3: Mechanical properties of Tough-X and Strong-X mixtures. From left to right there is 100% Tough-X. Every step is an addition of 20% Strong-X, until a 100% Strong-X polymer is displayed on the right.
Most properties behave in a linear way. When adding more Strong-X to the Tough-X polymer, all properties shift to a more rigid polymer. One of the properties is not responding in a linear way, the elongation. With the incorporation of 20% Strong-X to the Tough-X polymer, an extensive amount of cross-links are incorporated and the elongation will drop. If this effect is unwanted, a percentage of 5-10% will likely have a smaller effect on this property.
Hope this information was helpful. If you have any questions or comment, feel free to send us an e-mail at info@liqcreate.com. For now we wish you happy 3D-printing!
Support
Do you need any help with 3D printing our SLA, DLP or LCD resins? We can help you! Just look for the question you have below. If you can't find it, let us know by contacting us!
Start printing today with Liqcreate engineering resins
Strong-X
Liqcreate Strong-X is one of the strongest materials available in the market. Its flexural strength of 135MPa is comparable to industry's leading dual-cure cyanate ester resins. Liqcreate Strong-X is easy to use on all open source SLA and DLP 3D-printers in the range of 385 – 405nm and only requires UV post-curing. This material has excellent features like high strength, high stiffness and high temperature resistance which makes it ideal for injection molding and heavy duty applications.
| | |
| --- | --- |
| Key benefits | 3D-Printer compatibility |
| ·        High strength | ·        Epax3D Series |
| ·        High temperature resistance | ·        Formlabs Form2 |
| ·        Low odor | ·        Asiga & Anycubic series |
| ·        Low shrinkage | ·        And many more |
Tough-X
Liqcreate Tough-X is an opaque black photopolymer. 3D-printed parts from this material have exceptional durability. Liqcreate Tough-X is easy to use on all open source DLP, LCD and SLA 3D-printers in the range of 385 – 420nm. This material has excellent properties like high impact strength and up to 150% elongation, making it perfect for the production of industrial spare parts and functional tough and hard-rubber replacement products.
| | |
| --- | --- |
| Key benefits | 3D-Printer compatibility |
| ·        Exceptional Impact Strength | ·        Epax3D Series |
| ·        High Elongation | ·        Phrozen3D Series |
| ·        Rigid rubber properties | ·        Elegoo & Anycubic Series |
| ·        Heavy Duty | ·        And many more |