There are plenty of potential applications in the dental 3D-printing market. With the increasing amount of accurate 3D-printers and dental 3D-printing resins, this market is growing rapidly. More and more traditional laboratories see the major improvements and turn to digital manufacturing.
Contact us to discuss OEM or White label 3D-printing resins
Possibilities in dental resin 3D-Printing
Resin 3D-printing is ideal for dental applications due to the nature of dental parts. All parts are one-off custom parts. The parts are quite similar in shape and size, but still all of them are different. Most processess in the traditional dental industry are executed by craftmanship. With digital scanning and 3D-printing or milling, higher accuracy and better fitting dental appliences can be made. Resin 3D-printing is typically operating in the 10 – 100 micron accuracy (depending on 3D-printer, software and material combination), this is ideal for dental parts. Some example already used dental applications are: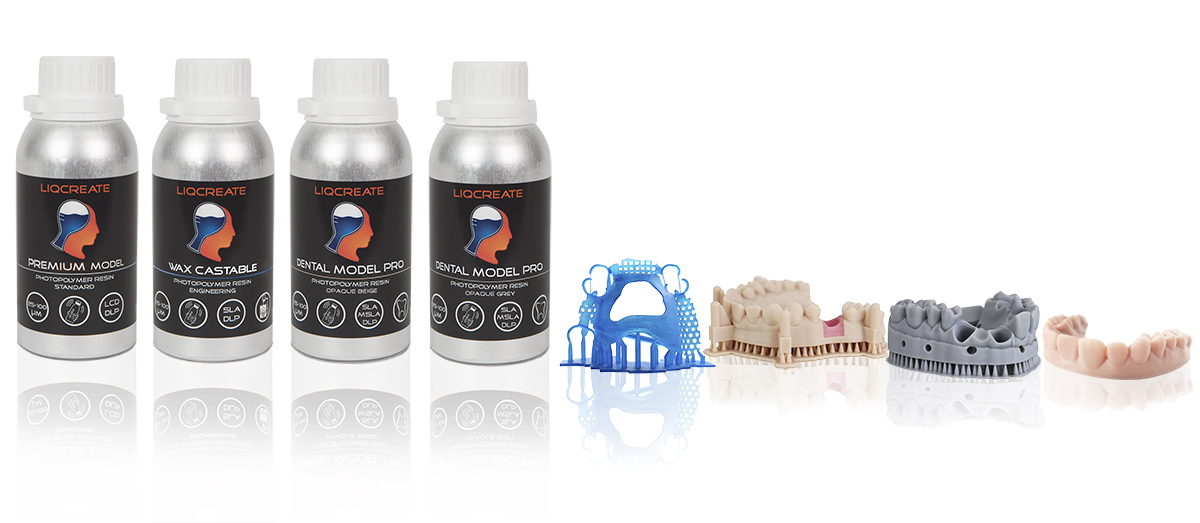 OEM and White label dental 3D-printing resin
Liqcreate offers solutions to re-brand our current product portfolio into any shape. This could be a turn-key solution to simply attach your own label on our products or we can provide our photopolymers in bulk volumes. Additionally we offer several possibilities to develop your own 3D resin. Our chemists can create photopolymers with diferent colors and diferent polymeric properties. In addition, we can support 3D-printer manufacturers with the development of photopolymers with specifc polymerization kinetics to work on any DLP or SLA 3D-printer. Contact us to talk about the possibilities.
Custom developing of dental 3D-printing resin
Next to white labelling an existing Liqcreate resin, it is also possible to custom develop a resin specifically for your needs. Think about an OEM 3D-printing resin for a new application. Or a modification to an existing resin to have a better match with your type of 3D-printer. Several custom OEM materials & colors have already been developed and are available uppon request.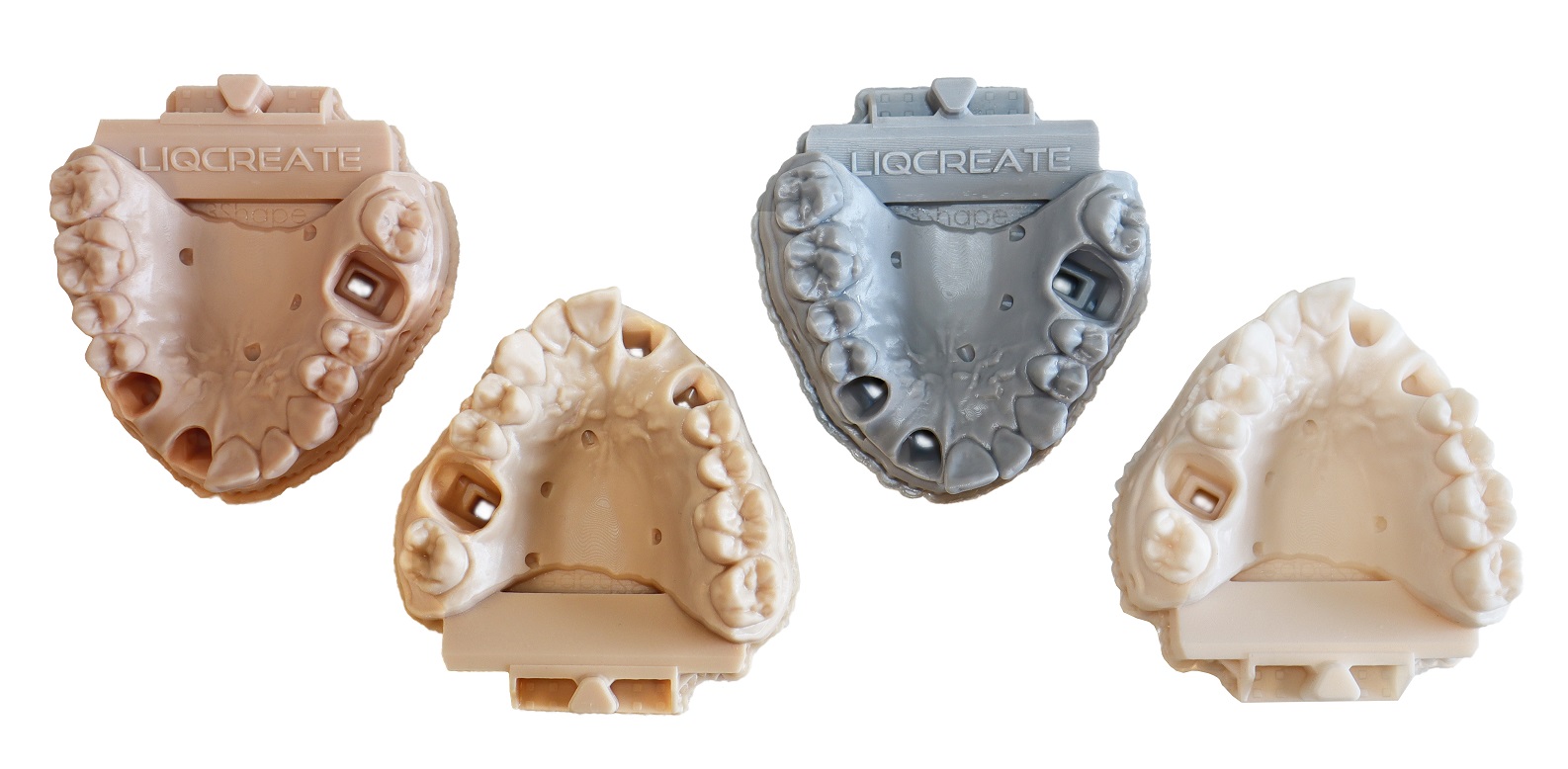 Image: a small overview of some dental model colors for OEM resin 3D-printing.
Support
Do you need any help with 3D printing our SLA, DLP or LCD resins? We can help you! Just look for the question you have below. If you can't find it, let us know by contacting us!
Resin 3D-printing is ideal for dental aligner production
In the production of clear dental aligners, a lot of dental models are needed to vacuum form the thermoplastic sheets on. For aligner models, accuracy, print speed and thermal stability are important factors. With the development of Premium Model and alternative dental OEM 3D-printing resin, all these needs are met. Premium Model is compatible with professional and entry model resin 3D-printers. Bigger machines like the UnionTech Evodent S300 or the Cute 300 and Asiga Pro 4K 3D-printer are ideal to locally manufacture 100's of aligner models each day.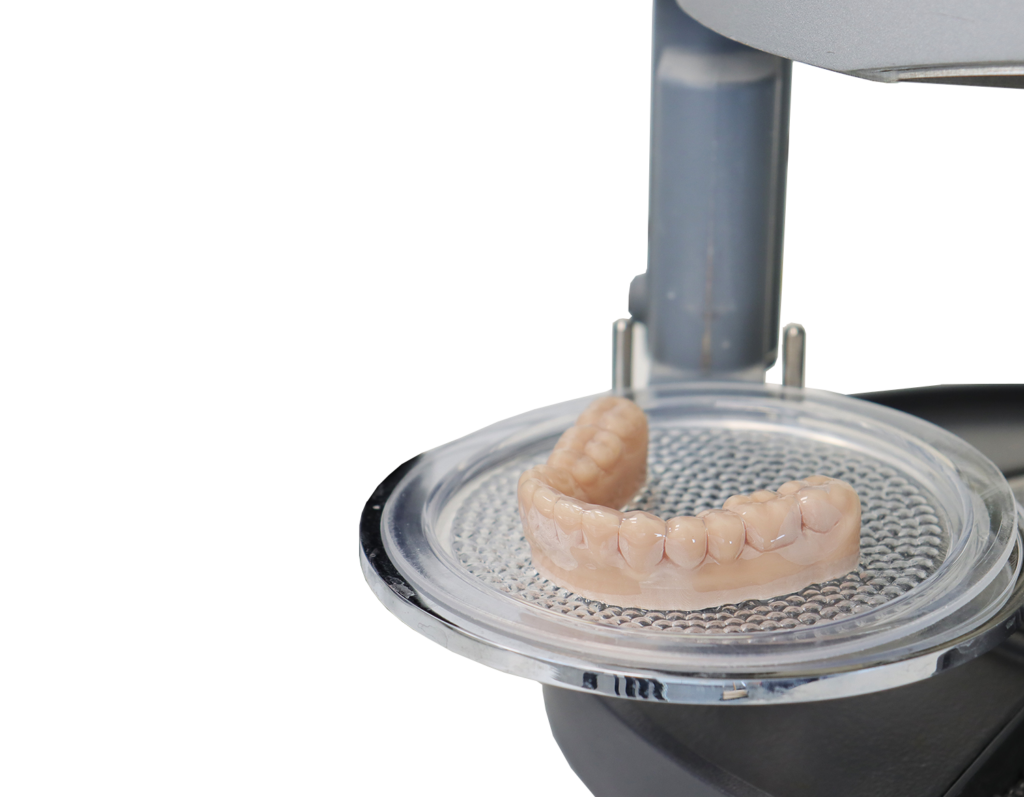 3D-printing Dental precision models with Liqcreate dental OEM resin
For instance, the large build area of the UnionTech Cute 300 and other large MSLA and DLP printers support the production of 6 full sized models with inserts and 4 quarter models on one platform. Multiple runs of high quality models can be 3D-printed within the same day. When positioning aligner models vertically, over 32 aligner models will fit, making mass production of dental OEM 3D-printing resin easy. With this incredible output, your complete aligner production can be started in-house with a few printers. Learn more about this resin here.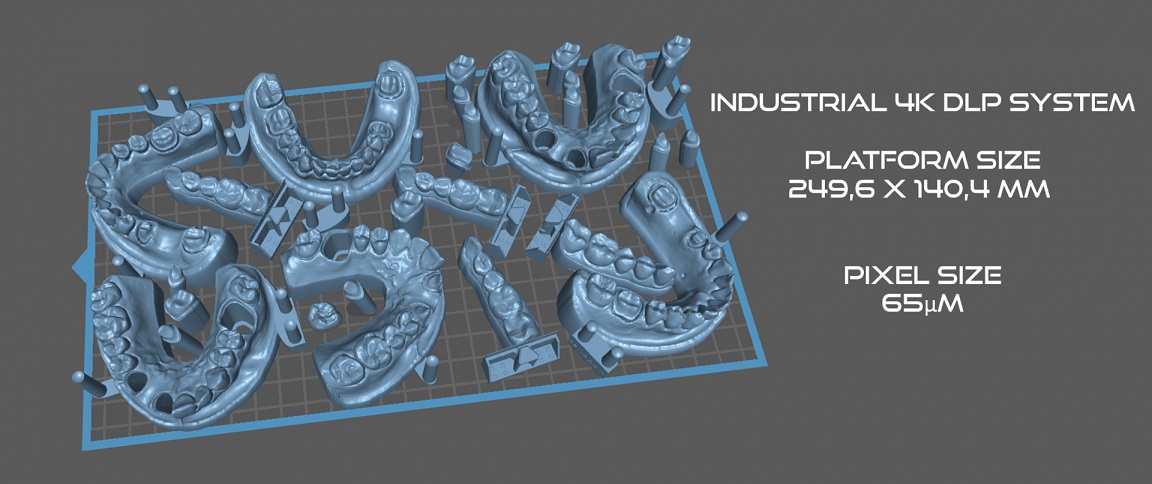 Both Dental Model Pro Beige and Grey are ideal for accurate dental models. Important to note is that a high quality resin 3D-printer is needed which is aligned with Liqcreate resins to yield the best accuracy and results.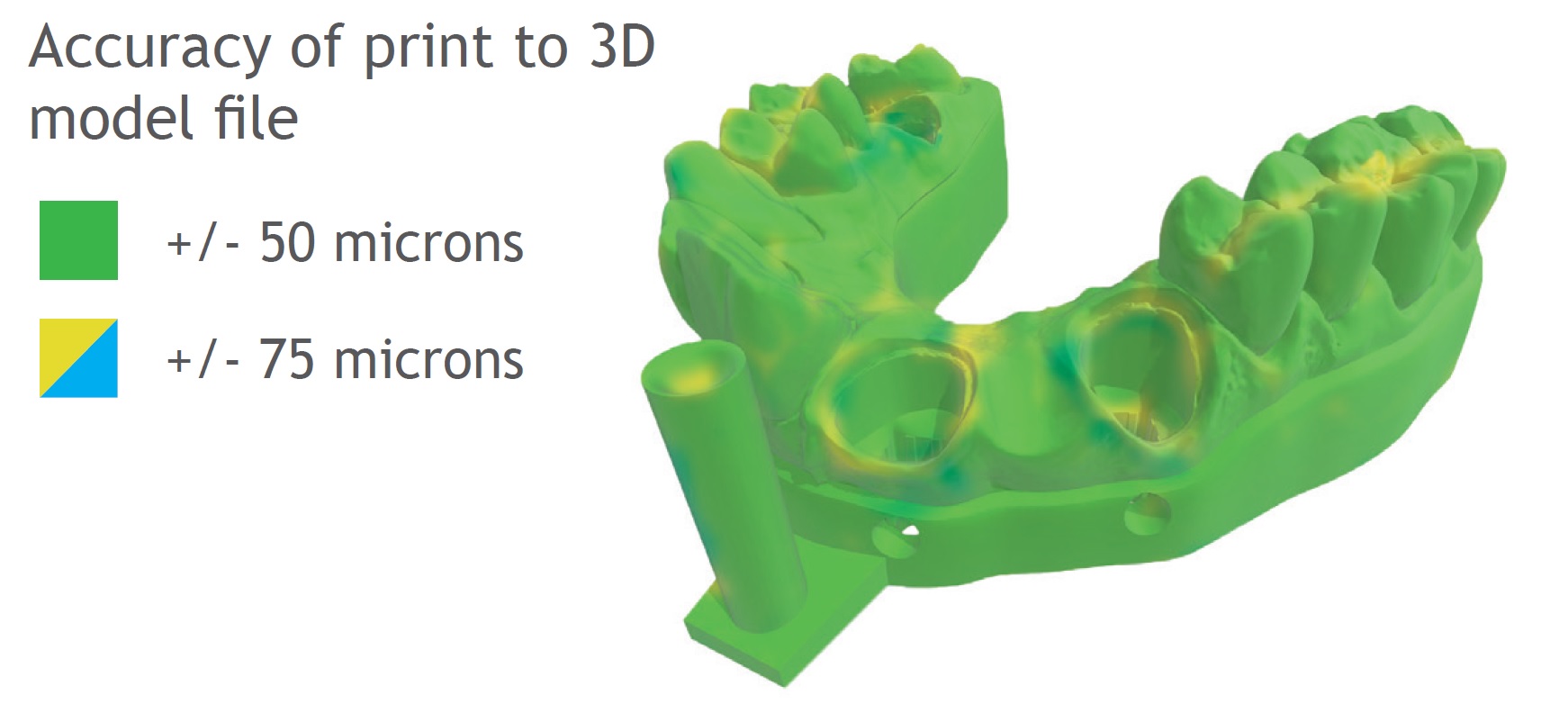 Soft gingiva mask part also available as White label dental 3D-printeding resin
Highly precise models for bridges and implant superstructures often require a soft 3D-printed gingiva mask part to fit the structure on the model before treatment. Liqcreate Gingiva Mask works seamlessly with accurate dental model resins Liqcreate Dental Model Pro Beige and Grey to support these use-cases. As this resin is compatible with specialized dental and entry model 3D-printers, it supports small and big size dental laboratories and practices. This Gingiva Mask resin is also available as white label or OEM dental 3D-printing resin with a small modificatin.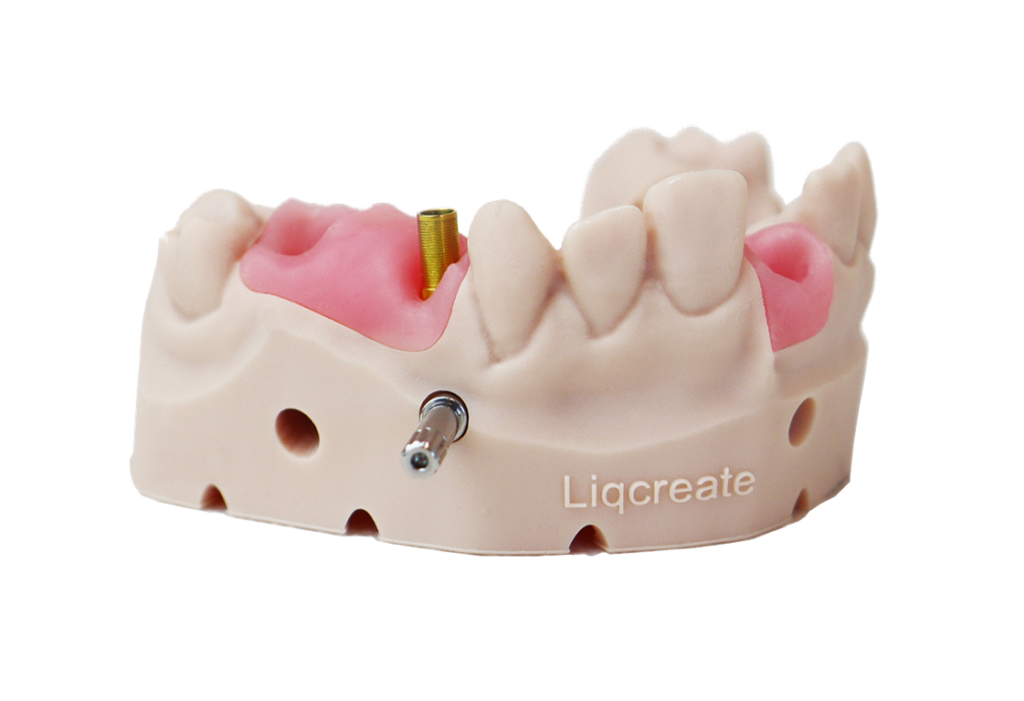 OEM or White label casting 3D-printing resin for dental applications
For the production of removable partial dentures (RPD), suprastructures and copings, Liqcreate Wax Castable is preferred by dental professionals. Its easy to use and works great with 3D-compatible investment materials and Chrome Cobalt.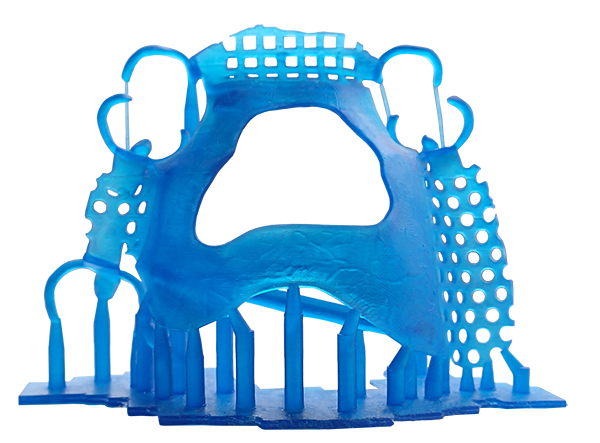 Dental software and compatible resin 3D-printers
Before digital manufacturing, either milling or 3D-printing these dental applications, a digital file is needed. Often scanners and software of 3Shape, Exocad, Planmeca, Medit or iTero are used. After converting the scan data to a workable file in the software, the design of the dental 3D-printing appliance can start. Almost every dental lab can work with Liqcreate resins as currently over 90 compatible resin 3D-printers are available. From professional brands like Asiga, RapidShape, UnionTech and Sprintray Moonray, also entry model machines are compatible. Learn more about compatible resin 3D-printers here. Contact us at info@liqcreate.com to discuss about OEM or white label dental 3D-printing resin for your application.