Electrostatic discharge (ESD) is known as static electricity" These discharges occur when an electric charge is built up and transferred to another object. Some parts are sensitive to this electrostatic discharge and need to be protected. ESD-safe resin reduces the discharge of static electricity and prevents damage to products. This is done by slowly dissipate the electric charge over a longer time-span, so it can't build-up. Liqcreate developed an ESD resin that can be used for MSLA, LCD, DLP and laser based printers. if you are looking for an OEM, white label or custom development for ESD 3D-printing resin, contact us at info@liqcreate.com.
Contact us to discuss OEM or White label 3D-printing resins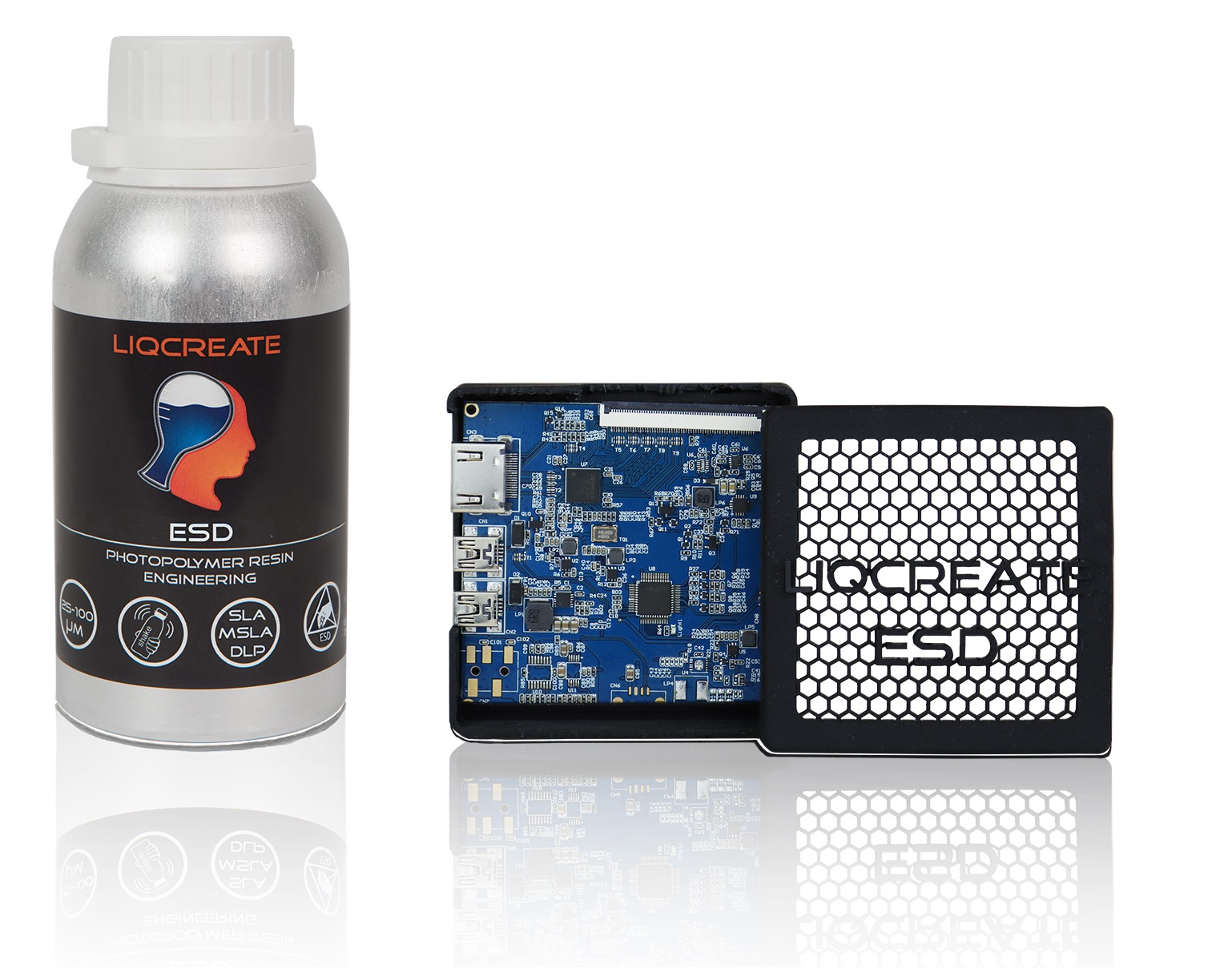 Image: Commercial 3D-printing resin named Liqcreate ESD.
ESD Masterbatches & Formulations for resin 3D-Printing
Resin 3D-printing is ideal for low volume production of ESD applications with the availability of an affordable ESD safe resins. When you are looking for final product, have a look at Liqcreate ESD 3D-printing resin. Below you can find the custom development alternatives and in some cases we can support parties with ESD Masterbatches to create their own material. Contact us at info@liqcreate.com to learn more about the possibilities.
OEM and White label ESD 3D-printing resins
Liqcreate offers solutions to re-brand our current product portfolio into any shape. This could be a turn-key solution to simply attach your own label on our products or we can provide our photopolymers in bulk volumes. Additionally we offer several possibilities to develop your own 3D resin. Our chemists can create photopolymers with diferent colors and diferent polymeric properties. In addition, we can support 3D-printer manufacturers with the development of photopolymers with specifc polymerization kinetics to work on any DLP or SLA 3D-printer.
When it comes to ESD resin, partners can request the formulation of materials with different properties. Think about elastomer or flexible ESD materials with a Shore A ranging from 45 to 95. Or high temperature ESD materials that can endure chip manufacturing cycles at elevated temperature. Once partners have started a custom material development project, Liqcreate's engineers work to develop a resin according to their specifications, and provide guidance on how to dial in their new resins for a given printer, preparing them for production. As an independent resin manufacturer with R&D facilities, the formulations can rapidly scale to production size of custom-made resins where needed. Contact us to talk about the possibilities.
Support
Do you need any help with 3D printing our SLA, DLP or LCD resins? We can help you! Just look for the question you have below. If you can't find it, let us know by contacting us!
Liqcreate ESD
Liqcreate ESD is an opaque black photopolymer resin and can be processed on most resin based 3D-printers. 3D-printed parts from this material exhibit electrostatic discharge properties needed for electronic manufacturing and parts for ESD-safe workplaces (EPA). Liqcreate ESD can be used on open DLP, LCD and SLA 3D-printers in the range of 385 – 420nm.
Due to the isotropic electrostatic dissipative properties, it is suitable for electronic devices and components that require ESD. Reduce risk and increase manufacturing capabilities by printing custom jigs, fixtures and tools to protect critical electronics components from static discharge.
| | |
| --- | --- |
| Key benefits | 3D-Printer compatibility |
| ·        Isotropic ESD properties | ·        Asiga series |
| ·        Well balanced rigidity and impact | ·        Shining3D Accufab-L4K |
| ·        Antistatic properties | ·        Elegoo & Anycubic series |
| ·        Easy to print | ·        And many more |