Since the invention of resin 3D-printing back in 1986, 3D-printing resin materials were mainly based on epoxy and acrylate chemistry from non-biobased sources. Recently the industry is focused on sustainable material feedstock and development of alternative eco- and bio-based 3D-printing resins. On this topic, 3D ADEPT Mag interviewed Liqcreate's Sales & Marketing Executive, Ruben Bosch. They discussed non-toxic materials and the different forms of toxicity and solutions explored to reduce toxicity in resin 3D-Printing.
Development of biobased and plant based eco uv resin for 3D-printing
In the field of material and resin development, additive manufacturing (AM) / 3D-pinting offers the possibility of producing a versatile range of customized materials and resins. From the work field, there is an increasing need for sustainable building blocks to develop biobased resin. Although thermosetting photopolymer resins are sustainable because of no environmental pollution, volatile organic solvents are used in the resin formulations, most of the raw materials are still from non-biobased sources. Therefor the thermosetting photopolymer resin formulations available on the market could be even more sustainable.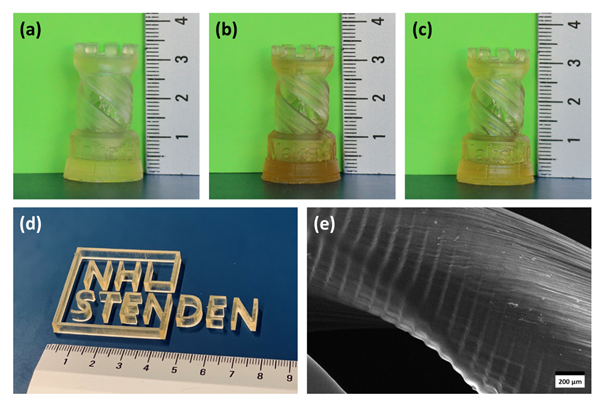 Image from eco plant-based resin developed by Liqcreate and NHL Stenden, published in ACS applied polymer materials.
The raw resin materials are mostly still of fossil origin and once cured, the 3D-printing objects are not recyclable or reprocessable into other objects. In this project, NHL Stenden and Liqcreate will work on developing bio-based photopolymer resins based on building blocks derived plants. Based on these building blocks, photopolymer resin formulations will be made and cured, after which the mechanical properties will be mapped. The best photopolymer resin formulations will be used for 3D-printing objects, the recyclability of which will be studied. The R&D team at Liqcreate is working closely together with the labs and researchers of the NHL Stenden University to develop a prototype resin formulation for 3D-printing. Next to our current product offering, new bio-based photopolymer resins are developed for commercial use. In the next phase of the project the best biobased resin technology and raw materials are scaled and properties of the resins are validated and optimized.
Mechanical properties of plant-based 3D-printing resin
The first phase of the study focused on the development of a plant-based, bio-based and eco 3D-printing resin. The main goal was to get a high biobased content (the actual percentage of material that has a bio source) in combination with interesting properties and good printing behavior. Multiple resin mixtures were made with biobased content from 70% up to 84%. The best resins are listed in table 1. The results of this study were published in the Journal of ACS applied polymer materials. Compared to the bio-based resins, the materials are softer and bendable. Future development will focus in increasing the rigidity and toughness of this plant-based resin while maintaining the biobased content.
Table 1. Characteristics of 3D printed products from biobased resins.
Resin
Tg

°C

Tensile modulus

MPa

Elongation at break

%

Tensile Strength

MPa

Biobased content
Sample-06
80.2
870 ± 44
18 ± 3
36.4 ± 0.4
76.0 %
Sample-09
96.9
1007 ± 30
10 ± 2
43.7 ± 0.3
77.5 %
Sample-10
78.1
727 ± 12
24 ± 3
28.3 ± 0.3
79.7 %
Difference between eco, bio-based and recyclable resins
Often mixed-up, bio-based and recyclable resins are two different classes of materials. Biobased means that the raw materials are sourced from a non-fossil origin. In almost all cases, a part of the raw material chemicals are sourced from plants. Often a percentage of biobased content is given. Recycling means that the material can be used again. With cross-linked resins it is often difficult to up-cycle or recycle. To give the polymer resin a second life and not use as energy in a power plant or use it in a low-end application.
Toxicity of eco, plant-based and bio-based 3D-printing resins
Some brands have launched a plant-based, bio-based or eco 3D-printing resin lately. Think about the eSUN eResin-PLA, the Anycubic Plant-based UV resin, the Elegoo Plant-based rapid resin and many more. Most resins are based on soybean oil which are chemically turned into acrylates to be used in 3D-printing resins. Unfortunately none of the plant-based resins available show any bio-based content so it is unknown how much these materials really help creating a world without reliability on fossil sources. Additionally these resins are often seen as low odor alternatives. The smell of a resin has not much to do with the bio-based nature of the product, but more with the choice of raw materials from the other resins. For instance most of our Liqcreate resins are also very low in odor.
Future developments in non-toxic, eco and plant-based 3D-printing resins.
As listed above, the current options in plant-based, eco and non-toxic SLA resins are confusing and limited to non-industrial use, there are quite some steps to improve. Liqcreate is working together with leading universities to develop plant-based eco resin with high biobased content which can be used for functional parts. With the current technology it is possible to create a material with very high bio-based content, however, the properties need to improve for industrial use. Liqcreate started several new studies together with the University of Groningen, Maastricht University and NHL Stenden University to develop 3D-printed resins that can be re-moulded and recycled after printing. Follow us on Instagram, Facebook or Linkedin to get the latest news about our plant-based eco resin development.
Support
Do you need any help with 3D printing our SLA, DLP or LCD resins? We can help you! Just look for the question you have below. If you can't find it, let us know by contacting us!