Just one year ago (23rd February 2023) we published this well-read article about 4K and 8K resin printers. At that time there were just two printers available with real 8K resolution, the Phrozen Sonic Mega 8K and Sonic Mini 8K. And of course the ETEC / EnvisionTEC Extreme 8K (DLP) which uses a 2x 4K projector (usually 4x 4K makes true 8K). At that time we saw the industry moving forward and almost all hardware manufacturers brought their flaggship products to 8K resolution. Now Anycubic started the new run on even higher resolution printers. Anycubic, one of the manufacturers of entry-level LCD resin 3D-printers just announced another leap in resin 3D-printing. Just when all the manufacturers are switching to the larger 8K resolution LCD screens, Anycubic now announced the first ever 12K resin 3D-printer named the Anycubic Photon Mono M5s.
With the release just announced and no full specifications available, it looks like the new 12K Anycubic Photon Mono M5s is a relatively small printer with incredible low pixel size of just 19 microns. For most larger parts a 50 micron pixel size is more then enough. In DLP printers, the developments from HD to 2K and 4K did take a huge amount of effort and cost per part went up drastically. with the LCD technology this is not the case. where will it end?
8K, 12K, 16K or even 20K monochrome LCD resolution?
If you look at the LCD market in general, that does not sound impossible. Sony launched an 16K LCD screen the other day for imaging purpose. As all novelties, to date it is an expensive pieve of technology. when making these screens in masses for the 3D-printing market, it is not impossible that by 2024 we see the forst 16 or 20K LCD 3D-printers.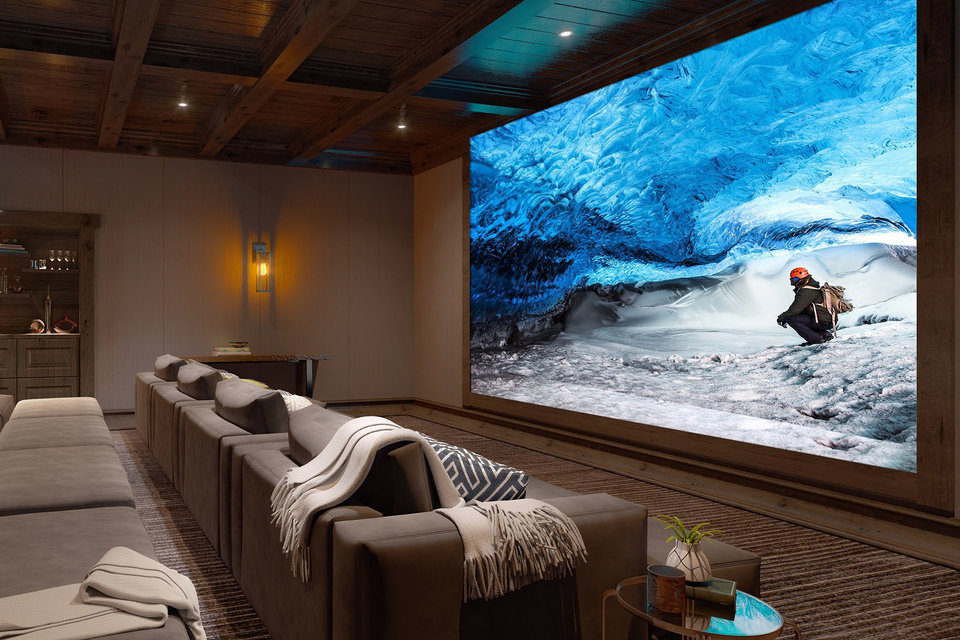 Image by Sony: A 16K LCD screen, now for home theatres or tradeshow screens.
Resin compatibility with the 8K, 12K, 16K or even 20K resin 3D-printer.
As explained in this article, the introduction of high resolution, 4K and 8K resin 3D-printers, their marketing also hits the resin market. if you look at for instance Phrozen is now offering 4K resin and an 8K resin. According to the company; "Phrozen Aqua 4K Resin was designed for high resolution and works best with the Sonic Mini 4K & Sonic Mighty 4K 3D Printers. With its special formula, Phrozen Aqua 4K Resin creates high-quality & extremely intricate 3D models with 4K resolution."
As a resin developer and manufacturer, we at Liqcreate understand that a resin specifically developed for a type of printer can give great quality. The power of the LED in the printer can be fine-tuned to work best for the resin and the resin can be modified to work well on this printer. However, this does not mean that if you run it on another 4K printers, you will get the same quality. The resolution comes from the hardware in combination with settings that work well with the resin. With any compatible resin you would be able to get similar resolution printed parts.
Liqcreate resins are universal resins, working with DLP, MSLA and sometimes even SLA. These resins work on 2K, 4K, 8K and anything in between. As long as the settings are dialed in properly. In this list you can find settings for a lot of printers, to get the best results when working with Liqcreate 3D-printing resin.
Please send us an e-mail at info@liqcreate.com if you have any questions or need help with printing with Liqcreate resins. We wish you happy printing!
Support
Do you need any help with 3D printing our SLA, DLP or LCD resins? We can help you! Just look for the question you have below. If you can't find it, let us know by contacting us!