When looking for a silicone or silicone-like photopolymer resin for SLA, DLP or MSLA 3D-printing, you will likely find out that there are limited options. Companies have been trying to process silicone materials in a 3D-printer for a long time. Silicone experts like Wacker even had a silicone 3D-printing service and tried to bring it to market, before cancelling the complete business unit. In this article you will learn the difference on true silicone vs silicone-like materials and the options when you want a solution for any budget.
What are the options in 3D-printing with silicones?
All3DP.com investigated this market and summarized a couple options. Some of the options you will find here and we have found a few other alternatives.
Spectroplast SAM – Silicone Additive Manufacturing
Spectroplast is a developed its own patented silicone additive manufacturing. Spectroplast used its own silicone 3D-printing technology operate only as a print-on-demand service in-house. In August 2022 launched its first silicone 3D printer for purchase. Spectroplast claims to prints with "true" 100% medical-grade ISO-certified silicones ensuring biocompatibility for use in prostheses, orthotics, hearing aids, and dental devices. By using a type of vat polymerization technology with UV cured silicone, Spectroplast claims that the process is very precise and materials with varying Shore Hardnesses from A20 to A60 can be printed. Rumors indicate the printer will be north of $100K targeting only professional users.
Liqcreate Elastomer-X
If you do not have the budget for a 'true' silicone printer, you can always look at the silicone-like materials. These have a different chemistry and some material behavior is also different. Although, if you are looking for an extremely soft elastic resin that does not have to operate in extreme warm or cold temperatures, then an elastomer 3D-printing resin like Liqcreate Elastomer-X can be an option. Compatible with a series of open 3D-printer, there is a match for any budget. The resin has a Shore A of 43, Elongation of upto 180% and tear strength of upto 12 kN/m. With these specifications, engineers can decide if this elastomeric photopolymer that is mimicking some silicone specifications, is a good replacement for their project.
Support
Do you need any help with 3D printing our SLA, DLP or LCD resins? We can help you! Just look for the question you have below. If you can't find it, let us know by contacting us!
Elastomer-X
Liqcreate Elastomer-X is a clear photopolymer resin and can be processed on MSLA (LCD), DLP and laser based 3D-printers. 3D-printed parts from this material are exceptionally soft with a Shore A of 43 and have great flexibility. The product can be used as received, or colored with almost any commercial available 3D-resin colorants. Liqcreate Elastomer-X is can be used on open DLP, LCD and SLA 3D-printers in the range of 385 – 420nm. Its properties simulate soft TPU and silicone which makes it perfect for the production digital lattice foams, soft end of arm tooling (EOAT) for robots, grommets, bellows and elastic industrial parts.
| | |
| --- | --- |
| Key benefits | 3D-Printer compatibility |
| ·        High Elongation | ·        Shining3D Accufab-L4K |
| ·        Mimics silicone and soft TPU | ·        Phrozen & Anycubic series |
| ·        Low Shore A hardness | ·        Elegoo & Creality series |
| ·        Ideal for soft digital lattice foams | ·        And many more |
Carbon3D SIL30 – silicone urethane elastomer
Carbon developed a silicone-like resin a couple years ago called SIL30. The chemistry of this resin is a hybrid between a silicone and an acrylate, giving properties somewhere in the middle. Meaning this technology will be in the silicone-like category. Similar to Elastomer-X, it could be well possible that the mechanical and thermal properties of this resin could work for your project.
Desktop Health EnvisionTec & InnovatiQ
Alternatively there are a few options that use extrusion based printing technologies to yield silicone parts. Companies like Desktop Health (& Envisiontec/ ETEC with their bioplotter) and InnovatiQ are some of the examples. These companies have an extrusion based process and instead of printing with a polymer, they use a silicone 'gel' which either cures instantly by 2 components, by light or by heat.
True silicone vs. silicone-like
Silicone materials are well known and used every day. These materials have a few interesting generic properties like: excellent thermal stability, water resistance, UV resistance, compression and shear resistance, flame retardancy, electrical insulation, biocompatibility, food safe and can be sterilized. It is important to know what properties your project needs in order to choose from a true silicone or a silicone-like material. True silicones are difficult to process and accuracy in 3D-printing is often debatable. On the other hand, if you are choosing for silicone-like materials like Liqcreate Elastomer-X or Carbon3D Sil30, you will not get all generic properties that silicones are famous for. If the set of properties provided by the manufacturers are good, it is much easier to process these silicone-like photopolymer resins compared to true silicones.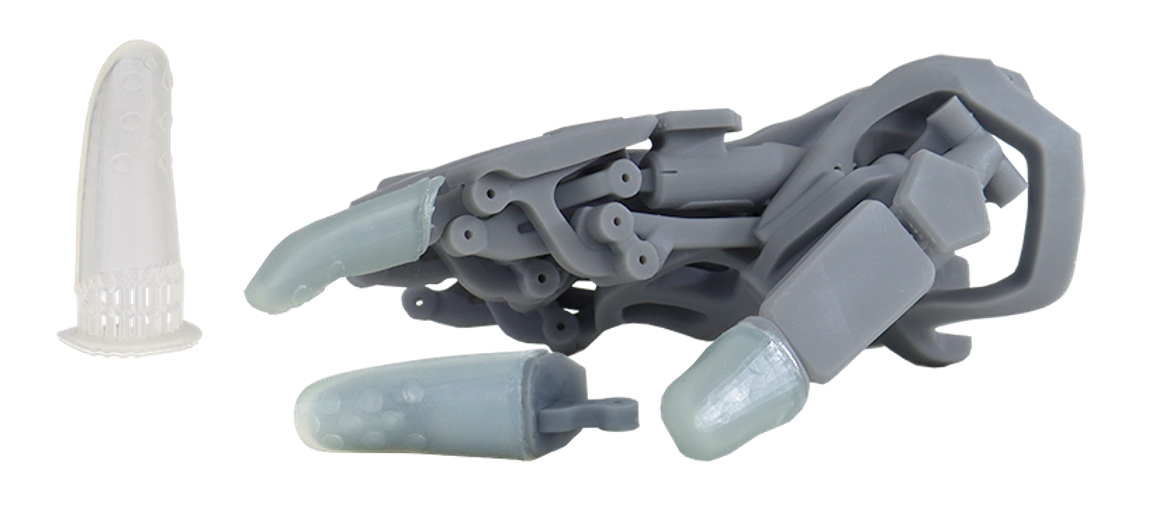 Soft TPU & silicone-like parts 3D-printed in Liqcreate Elastomer-X photopolymer 3D-printing resin.