Whilst the 3D-printing market grows rapidly, the demand for better 3D-printing materials grows with it. This leads to the development of a wide variety of materials. All new types of resins are finding their way into the market for specific applications. Earlier we wrote an article about the Strongest and Toughest materials available. One of which are the flexible 3D-printing resins often referred to as elastomer or rubber, rubber –like or TPU – like photopolymer resin.
What is a TPU and is there a TPU resin?
There are a lot of different types of TPU's available. So it is difficult to answer the question with a simple yes or no. to give a bit of background, it is interesting to read Huntsman technical paper on TPU's which can be found here. To dive straight in the technical details, a thermoplastic polyurethane (TPU) is a category of plastic created when a polyaddition reaction occurs between a diisocyanate and one or more diols. As you can see this category is quite broad as there are so many different types of diisocyanates and diols available, yielding an infinite amount of potential TPU's. If you look into the sub-categories of TPU's, you will find that there are three main chemical classes of TPU: polyester, polyether and a smaller class known as polycaprolactone.
Polyester TPU's are compatible with polar plastics. Offering value in the form of enhanced properties and excellent compatibility with oils and chemicals, excellent abrasion resistance, and offers a good balance of physical properties.
Polyether TPU's offer low temperature flexibility, good abrasion and tear resilience. Polyether TPU's provide excellent hydrolysis resistance (degradation in water) – making them suitable for applications where water is a consideration.
Polycaprolactone TPU's have the inherent toughness and good low-temperature performance with relatively high resistance to hydrolysis (degradation in water). They are an ideal raw material for hydraulic and pneumatic seals.
Looking at the chemistry of TPU's, you can see from the picture below that the TPU consist of a combination of polyols and diisocyanate giving soft and rigid blocks. Any variation in block length, block order, polyol length, diisocianate length or functionality will yield a different TPU with different properties, ranging from super soft to extremely rigid.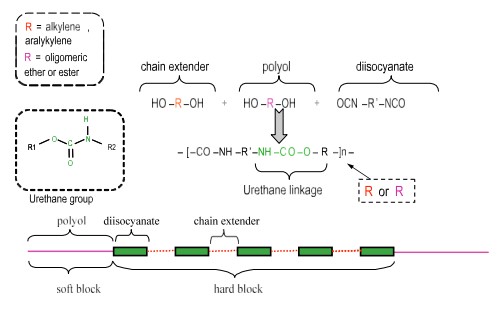 Image by Huntsman: A guide to thermoplastic polyurethanes (TPU)
What is the difference between a TPU and elastomer resin?
The basic different between a TPU and 3D-printing resins is the cross-links in the material. A TPU is a thermoplastic material and there are no chemical cross-links available in the material. While a material that is used for resin 3D-printing will cure by forming chemical cross-links like a thermoset rubber, changing the nature of the material.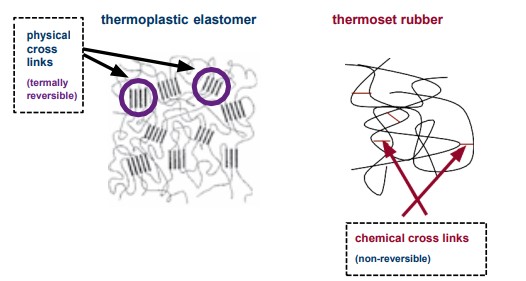 Image by Huntsman: A guide to thermoplastic polyurethanes (TPU)
Is there a TPU photopolymer resin?
As you can expect from reading the technical background, photopolymer 3D-printing resins are not similar to TPU's as they can not be melted and molded. But that does not mean that a photopolymer 3D-printing resin can't be used as a replacement for TPU's. For some of the properties will come quite close. If these differences are acceptable for your project, then a elastomer 3D-printing resin can be a good alternative to a TPU.
Support
Do you need any help with 3D printing our SLA, DLP or LCD resins? We can help you! Just look for the question you have below. If you can't find it, let us know by contacting us!
Elastomer-X
Liqcreate Elastomer-X is a clear photopolymer resin and can be processed on MSLA (LCD), DLP and laser based 3D-printers. 3D-printed parts from this material are exceptionally soft with a Shore A of 43 and have great flexibility. The product can be used as received, or colored with almost any commercial available 3D-resin colorants. Liqcreate Elastomer-X is can be used on open DLP, LCD and SLA 3D-printers in the range of 385 – 420nm. Its properties simulate soft TPU and silicone which makes it perfect for the production digital lattice foams, soft end of arm tooling (EOAT) for robots, grommets, bellows and elastic industrial parts.
| | |
| --- | --- |
| Key benefits | 3D-Printer compatibility |
| ·        High Elongation | ·        Shining3D Accufab-L4K |
| ·        Mimics silicone and soft TPU | ·        Phrozen & Anycubic series |
| ·        Low Shore A hardness | ·        Elegoo & Creality series |
| ·        Ideal for soft digital lattice foams | ·        And many more |
Flexible-X
Liqcreate Flexible-X is an opaque black photopolymer resin for open MSLA, DLP and laser based 3D-printers. 3D-printed parts from this material have exceptional flexibility and great rebound properties. Liqcreate Flexible-X is compatible with open DLP, LCD, MSLA and SLA 3D-printers in the range of 385 – 420nm. Its low hardness of 55 Shore A and elongation up to 160% makes it perfect for the manufacturing of soft touch and elastic parts for industrial use.
| | |
| --- | --- |
| Key benefits | 3D-Printer compatibility |
| ·        High Elongation | ·        Epax3D Series |
| ·        Excellent Rebound | ·        Phrozen & Anycubic series |
| ·        Good Tear Strength | ·        Shining3D AccuFAB-L4K |
| ·        Durable Soft Touch | ·        And many more |