The Technical University of Darmstadt contacted Liqcreate in 2020 with a question regarding compression strength of 3D-printed resin. The Institute for Printing Machines and Printing Processes at TU Darmstadt was looking into 3D-printed equipment for regular printing processes. The goal was to find a hard, abrasion resistant resin with high compression strength to be used in their 2D printing process development.
It is well known that thermosetting resins (which most 3D-printing resins are) have higher compression strength compared to their thermoplastic counterpart. After selecting the three rigid resins Liqcreate Deep Blue, Strong-X and Composite-X, sampling and testing started.
Results of 3D-printed resin compression test
All selected resins were measured without curing (uncured) and with their advised post-curing protocol.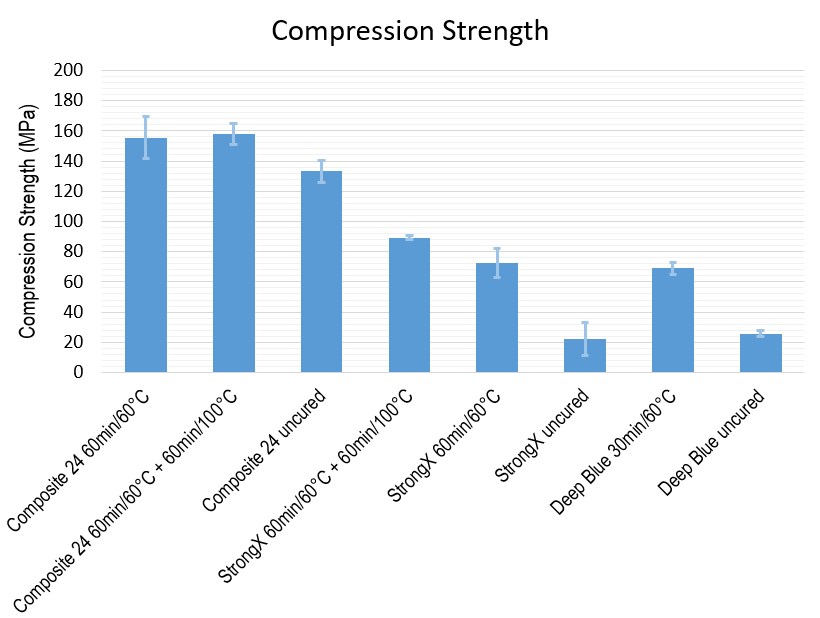 The rigid resins Strong-X and Deep Blue performed similar with a compression strength of around 68 to 72 MPa. The ceramic reinforced Composite-X outperformed all other resins with an impressive 158 MPa compression strength.
Team Liqcreate wishes you happy printing. If there are any questions or remarks, feel free to contact us at info@liqcreate.com any time.
Support
Do you need any help with 3D printing our SLA, DLP or LCD resins? We can help you! Just look for the question you have below. If you can't find it, let us know by contacting us!
Find your 3D-printing resin for compression applications
Liqcreate Composite-X
Liqcreate Composite-X is an extremely rigid and high performance reinforced nano-micro composite resin for SLA, DLP & LCD / MSLA in the range of 385 – 420nm. Perfect for rapid tooling, wind tunnel testing, medical modeling and industrial applications.
Liqcreate Composite-X is one of the stiffest and strongest material available in the market. It has a flexural modulus over 9000 MPa and a flexural strength of 150 – 170 MPa. The material can be used after UV-post curing, or the properties can be boosted with a thermal cure. This material has features like excellent chemical resistance, high strength and high stiffness.
| | |
| --- | --- |
| Key benefits | 3D-Printer compatibility |
| ·        High rigidity | ·        Phrozen3D Series |
| ·        High strength | ·        Atum3D DLP Station 5 |
| ·        Low odor | ·        Elegoo & Anycubic series |
| ·        Good chemical resistance | ·        And many more |
| ·        Extremely low shrinkage | |
Liqcreate Strong-X
Liqcreate Strong-X is one of the strongest materials available in the market. Its flexural strength of 135MPa is comparable to industry's leading dual-cure cyanate ester resins. Liqcreate Strong-X is easy to use on all open source SLA and DLP 3D-printers in the range of 385 – 405nm and only requires UV post-curing. This material has excellent features like high strength, high stiffness and high temperature resistance which makes it ideal for injection molding and heavy duty applications.
| | |
| --- | --- |
| Key benefits | 3D-Printer compatibility |
| ·        High strength | ·        Epax3D Series |
| ·        High temperature resistance | ·        Formlabs Form2 |
| ·        Low odor | ·        Asiga & Anycubic series |
| ·        Low shrinkage | ·        And many more |
Deep Blue
Liqcreate Deep Blue is a general purpose photopolymer for DLP and SLA technologies in the range of 385 – 405nm. Parts created with Liqcreate Deep Blue have a rigid character and its low shrinkage and high shape retention make this material perfect for the production of functional prototypes. The aesthetically pleasing blue color, low odor and overall properties make the material perfect for rapid manufacturing and prototyping in the prosumer market.
| | |
| --- | --- |
| Key benefits | 3D-Printer compatibility |
| ·        Smooth surface finish | ·        Atum3D DLP Station 5 |
| ·        High accuracy | ·        Formlabs Form2 |
| ·        Low odor | ·        Sprintray Moonray S & D |
| ·        Low shrinkage | ·        Cubicon Lux HD |
| ·        High translucency | ·        And many more |