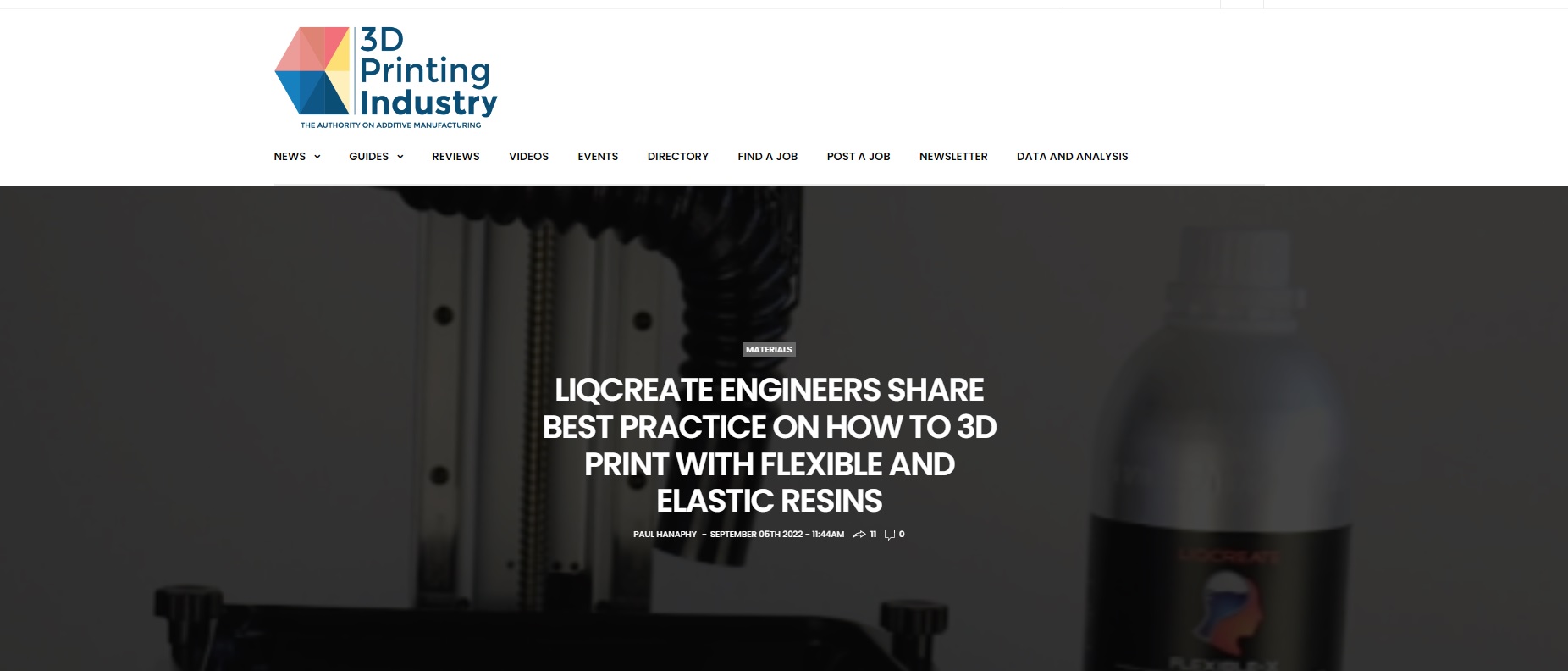 Liqcreate engineers collaborated with 3Dprintingindustry.com on an article about best practices with elastic and flexible 3D-printing photopolymer resins. As the 3D printing market continues to expand, the demand for 3D printing materials with advantageous properties has grown with it. This, in turn, has driven the development of a wide variety of new material categories, brought to market to address specific applications, one of which is flexible 3D printing resins.
For its part, Dutch photopolymer manufacturer Liqcreate specializes in developing high-quality resins for SLA, DLP & MSLA/LCD 3D printing in the range of 385 – 420 nm. In recent years, the firm has developed many engineering, jewelry, prototyping and dental materials, which continue to be enjoyed by its customers around the world.
Leveraging this accumulated expertise, Liqcreate's engineers have now put together the below guide, which seeks to advise users on their flexible resin options, and offer tips on the best way to improve both their technical knowledge and print quality.
Identifying the ideal TPU alternative 
Due to their rubber-like elasticity, as well as their high tear and abrasion resistance, TPUs are widely-used in areas like the production of insoles or automotive parts such as flexible gaskets or tubing. However, the materials can be challenging to process via FFF or laser sintering, and until recently, they remained impossible to process on masked stereolithography (MSLA) 3D printers.
In order to bring TPU's benefits to the users of these machines, material engineers have therefore begun developing flexible resins. According to Liqcreate's experts, the elongation and tear strength of traditional TPUs are still challenging to match, but through smart design, it's possible to print high-performance parts from flexible resins with similar benefits to TPU.
So, how best to choose which flexible resin for a given job? Well, Liqcreate engineers say users should take a look at a material's mechanical data first before buying. For applications in end-use scenarios, the team says it's worth focusing on materials with a decent tear strength, as those with a low tear strength would be only suited to prototyping.
A resin's elongation-at-break and Shore A hardness also tell us a lot about its flexible behavior, according to the team. While a high elongation and low Shore A indicate that prints will be soft and flexible, other (often cheaper) flexible materials actually possess a high Shore A and low elongation, thus making them rigid rather than flexible.
Additionally, printer compatibility is a vital parameter when selecting your flexible or elastic resin. Though closed system manufacturers develop processes and materials at the same time, in a way that sometimes yields resins with improved properties, users are then locked into using their products. Liqcreate, by contrast, develops materials for multiple systems, thus giving users the flexibility to combine different platforms, and the room to identify the resin and workflow that works best for them.
To demonstrate how this works in practice, Liqcreate has put together the below table of flexible materials from different manufacturers, with four important factors selected to indicate their performance. Compiled using the data released by resin suppliers themselves, and only in cases where full datasheets were available, the figures are meant for comparison purposes, not to indicate which is best.
| | | | | |
| --- | --- | --- | --- | --- |
| Materials:  | Tensile Strength [MPa] | Elongation [%] | Tear Strength [kN/m] | Shore A |
| Liqcreate Flexible-X | 2.4 | 148 | 15 | 55 |
| Liqcreate Premium Flex | 1.7 | 65 | 4.3 | 63 |
| Carbon EPU 41 * | 9 | 300 | 20 | 68 |
| Formlabs Elastic 50A * | 3.23 | 160 | 19.1 | 50 |
| 3D Systems Figure 4 RUBBER-65A BLK * | 5 | 126 | 8.5 | 65 |
| 3D Systems Figure 4 ELAST-BLK 10 * | 3.6 | 83 | 11 | 65 |
| Henkel LOCTITE® 3D 8195 | 3.28 | 81.3 | 14.5 | 60 |
| BASF Forward AM Ultracur3D FL60 | 4 | 84 | 13 | 73 |
| EnvisionTec E-Shore A 40 | 3.26 | 180 | 14.5 | 45 |
* materials for closed systems
Comparing Liqcreate's flexi-portfolio 
Currently, Liqcreate's own flexible resin portfolio includes the Premium Flex and Flexible-X materials, both of which have distinctly advantageous properties and print behaviors. While the Flexible-X offers a higher elongation, more stretch and a much higher tear strength, the Premium Flex can be 3D printed 2-3 times more quickly. As such, the former is said to be ideal for producing parts for demanding end-use applications, while the latter is likely best suited to the manufacture of prototypes.
In the near future, Liqcreate plans to introduce a new flexible resin, which will be softer and more elastic than Premium Flex and Flexible-X. When it comes to current flexible and elastic resins, the firm says they're more difficult to process than standard rigid ones. Mainly due to the peeling and low green strength of these materials, its engineers say changes have to be made for a successful, flexible print.
By increasing the width of support tips, Liqcreate's engineers advise that it's possible to create parts which are better able to "withstand peeling force," while smart orientation can reduce peeling and improve print processability.
The team also recommends that manufacturers adopt a specific post-processing set up to avoid sticky surfaces on flexible prints. By checking their print settings to ensure they're not over or undercuring, making sure parts are fully-dry before post-curing, and UV-curing printed parts immersed in water for the first 5 minutes of the post-cure, they say it's possible to significantly improve overall print results.
Liqcreate's full flexible resin 3D printing guide can be found via the company's support site.
The video below offers a glance of the print properties from Flexible-X.
Resin customization at Liqcreate
As well as its set portfolio, Liqcreate offers to develop custom resins for those clients seeking out a material that's designed specifically with their application in mind. Through the service, customers are able to request adjustments to a polymer's properties, such as its print speed, color, or mechanical qualities, to ensure that it prints perfectly using a given 3D printing technology.
This four-stage process starts with engineers helping clients create a product plan, continues with samples and print parameters that yield optimal results being developed, and ends with a fully-customized resin. Once formulated, these materials can either be rebranded as white label products via Liqcreate's in-house business development team, or used by customers directly in their own manufacturing exploits.
As an independent manufacturer, with its own sales, R&D and manufacturing facilities, the firm is also able to rapidly scale its production where needed. Consequently, Liqcreate often targets large-scale 3D printing bureaus and manufacturers, with the aim of helping partners bring resins to market as quickly as possible, in areas like industrial, jewelry, dental, healthcare and automotive, amongst others.
Interested in finding out more? The full lowdown on Liqcreate's custom 3D printing resin service is now available to view via the firm's dedicated website.
In order to continue building on its understanding of flexible resins, the company also encourages those with feedback to contact info@liqcreate.com, and potential customers to visit the Liqcreate webstore or reach out to a Liqcreate distributor.
To stay up to date with the latest 3D printing news, don't forget to subscribe to the 3D Printing Industry newsletter or follow us on Twitter or liking our page on Facebook.
Flexible-X resin
Liqcreate Flexible-X is an opaque black photopolymer resin for open MSLA, DLP and laser based 3D-printers. 3D-printed parts from this material have exceptional flexibility and great rebound properties. Liqcreate Flexible-X is compatible with open DLP, LCD, MSLA and SLA 3D-printers in the range of 385 – 420nm. Its low hardness of 55 Shore A and elongation up to 160% makes it perfect for the manufacturing of soft touch and elastic parts for industrial use.
| | |
| --- | --- |
| Key benefits | 3D-Printer compatibility |
| ·        High Elongation | ·        Epax3D Series |
| ·        Excellent Rebound | ·        Phrozen & Anycubic series |
| ·        Good Tear Strength | ·        Shining3D AccuFAB-L4K |
| ·        Durable Soft Touch | ·        And many more |
Premium Flex resin
Liqcreate Premium Flex is a translucent turquoise blue photopolymer with great processability and print speed on MSLA and DLP based 3D-printers. 3D-printed parts from this material have excellent flexibility and low surface hardness of 63 Shore A. Liqcreate Premium Flex can be used on open DLP, MSLA and LCD 3D-printers in the range of 385 – 420nm. Its high elongation and low Shore A hardness makes it perfect for diversity of soft touch and rubber-like prototypes.
| | |
| --- | --- |
| Key benefits | 3D-Printer compatibility |
| ·        High Elongation | ·        Anycubic Series |
| ·        Soft touch | ·        Elegoo Series |
| ·        Easy to print | ·        Phrozen Series |
| ·        High flexibility | ·        And many more |