Thanks to Paul Hanaphy and 3Dprintingindustry.com to write about our new product launch. Full article can be found here. Netherlands-based 3D printing material manufacturer Liqcreate has added a new ultra-rigid ceramic-reinforced composite resin to its photopolymer portfolio. Dutch 3D printing resinmanufacturer Liqcreate has announced the launch of two new dental-oriented photopolymer resins.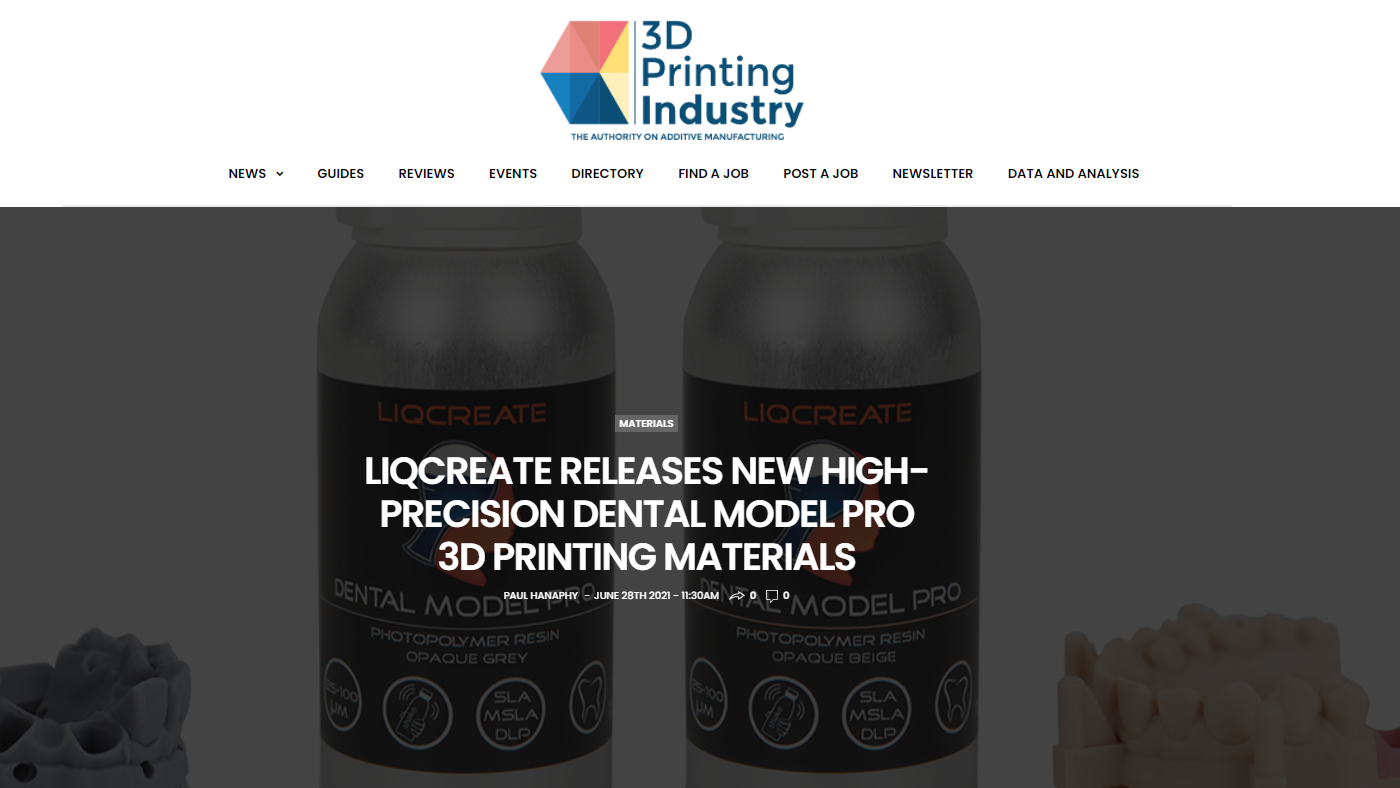 Developed in tandem with dental professionals, Liqcreate's Dental Model Pro Grey and Beige materials feature ultra-low shrinkage and a matte finish, making them ideal for producing detailed prosthodontic and orthodontic models. Designed for use with SLA, MSLA and DLP systems, the firm says that its new resins also possess "exceptional stability and dimensional accuracy," lending them potential within C&B, dental modelling and thereforming applications, as well as the creation of implant models and removable dies.
Liqcreate's growing dental resin portfolio 
Based in the Dutch city of Utrecht, Liqcreate's expertise lies in the formulation of SLA, MSLA, LCD and DLP resins for use within the industrial, consumer goods, medical and automotive industries. While the firm's offering already addresses the needs of a broad range of prototyping and engineering applications, over the last four years, it has begun to rapidly build on its product portfolio.
Just last year, the company launched its Premium Flex and Tough resins, which feature a high level of flexibility and impact strength, making them ideal for functional prototyping. Liqcreate has also targeted the dental sector in the past, with its peach-colored Premium Model material that's designed to yield aligner models, thus the new Dental Model Pro effectively supplements its existing offering.
Since the launch of its Premium resin category, the firm has stepped things up even further, introducing the high-end Flexible-X and Tough-X engineering resins, which feature a high level of tear strength and an IZOD impact resistance of over 70 J/M, before this year releasing the ceramic-infused Composite-X, an ultra-rigid material characterized by a flexural modulus of over 9000 MPa.
Now, just four months on, Liqcreate has opted to launch two new dental variants, that have been formulated to result in models which allow dentists to carry out ultra-precise orthodontic and prosthodontic procedures.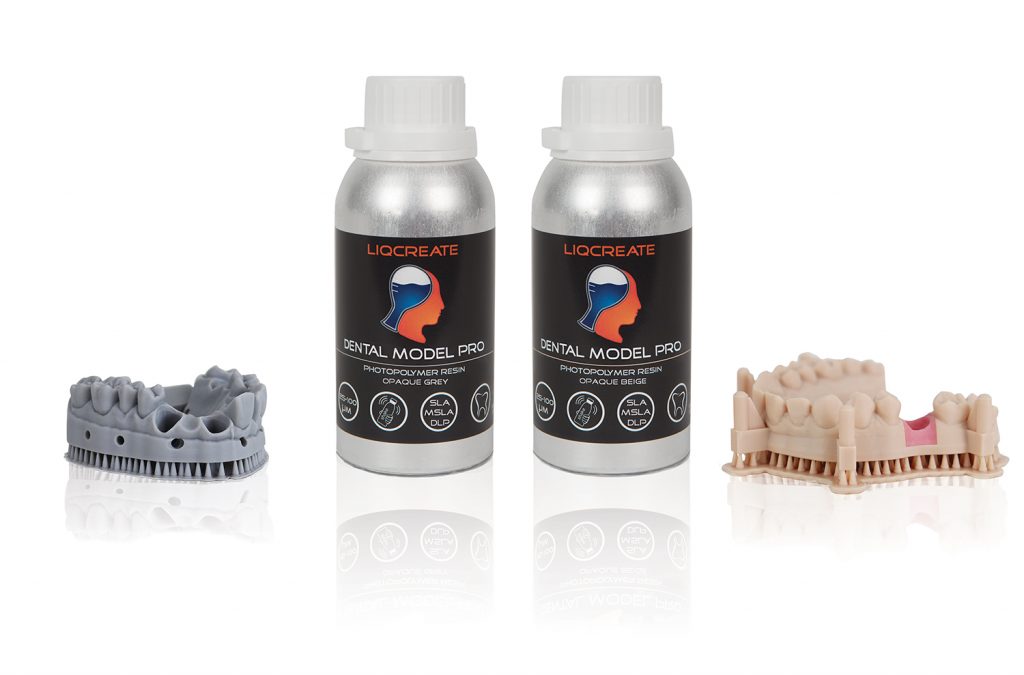 High-resolution dental modelling resin
Designed to meet the lofty demands of the dental industry, Liqcreate's Dental Model Pro Grey and Beige resins have been extensively validated by industry experts prior to their release.
Already, adopters of the Grey material have found that it's well-suited to producing dental models with depth and detail due to its opaque color, which provides them with an ideal view of undercuts, in addition to a matte surface that's great for impression scanning while being aesthetically appealing for both dentist and patient.
Liqcreate's Beige resin, by contrast, is not just capable of yielding dental models, but enabling the creation of crown and bridge build-ups with very low shrinkage, lending it added functionality. With regards to compatibility, both materials can be used with DLP Asiga Max, Ackuretta Dentiq, Photon UnionTech, Shining and Phrozen systems amongst others when operated in the 385 – 420nm range, while producing minimal odour in the process.
In terms of properties, the two resins have been launched in 250g and 1kg bottles with the same viscosity of 700 cps at 25°C, but the Grey iteration features a slightly higher tensile strength of 49 MPa. Likewise, the Grey version's flexural strength of 89 MPa is comparatively greater than that of the Beige, thus the resins have slightly different qualities, yet their end-usage remains the same.
Both Liqcreate's Dental Model Pro Grey and Beige materials are now available to order. Those interested in acquiring either of the new resins can find out more by visiting the company's website or those of its distributors.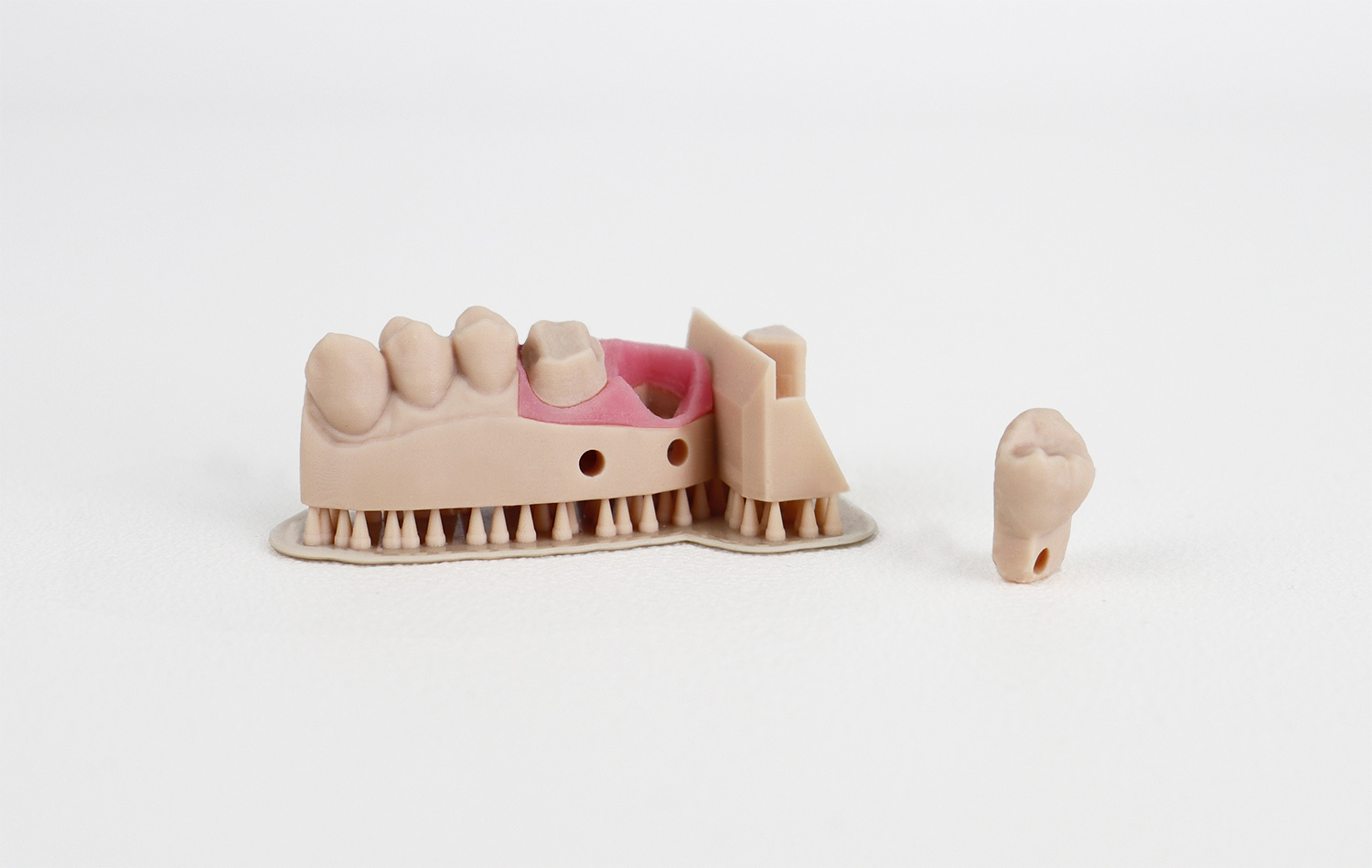 An SLA 3D-printing partnership 
Elsewhere, alongside the launch of its Dental Model Pro resins, Liqcreate has also provided an insight into its newly-announced partnership with SLA 3D printer manufacturer UnionTech. First revealed at TCT Asia 2021, the collaboration has seen the firms working together on application-specific 3D printing material R&D, and by combining their expertise they ultimately aim to "upgrade AM to the next level."
In the course of their partnership so far, the companies have qualified several of Liqcreate's resins for use with the Cute 300 3D printer, including its medical-focused Premium White and jewelry and industrial-minded Wax Castable resins, with its Dental Model Pro Beige expected to be compatible upon release, and related parameters can now be found directly via UnionTech's software.