Peopoly started out as a personal project between 2 friends enjoy building 3D printers in 2015. They built a few FDM 3D printer based on RepRap, Ultimaker and other open source designs and enjoyed the experience.  After that, they focused on SLA printers to get better quality parts. While there were many DLP SLA printers, there weren't many laser-based SLA printers on the market, let along a kit designed for professionals and makers alike. With a self-developed laser/galvo based SLA resin printer, they developed and sold the Peopoly Moai about in late 2015. After that, developments in large resin based MSLA 3D-printers started. In this article you can read all about the different Peopoly printers, their technology and compatible materials.
Table: Peopoly resin 3D-printer offering in price and specifications.
The Peopoly Moai laser based SLA resin 3D-printer
The Peopoly Moai is a SLA 3D-printer with a 70 micron Laser spot size, 140 mw Laser power and 405 nm light source (Laser wave length). This 3D printer is completely open for 3rd party resins and is available as a kit or as an assembled printer. The advantages of a laser based printer are:
– More powerfull light source
– Bigger platform size without losing accuracy
The technology dates from 2015 and is mostly replaced with monochrome MSLA printers like the Peopoly Phenom Prime. Settings for several Liqcreate resins are available in this link.
Peopoly Phenom, Peopoly Phenom L and Peopoly Phenom XXL
A few years after Peopoly launched the Moai, it focused on developing and offering LCD-based 3D-printers in the Peopoly Phenom series. All printers were based on RGB-type (first generation LCD''s which need long exposure time and regular maintenance) and had an incredible big platform size for its price.
Few Liqcreate resins have been tested by partners on these 3D-printers, settings are available here. Other materials are expected to be compatible as well, send an e-mail to info@liqcreate.com to receive starting settings.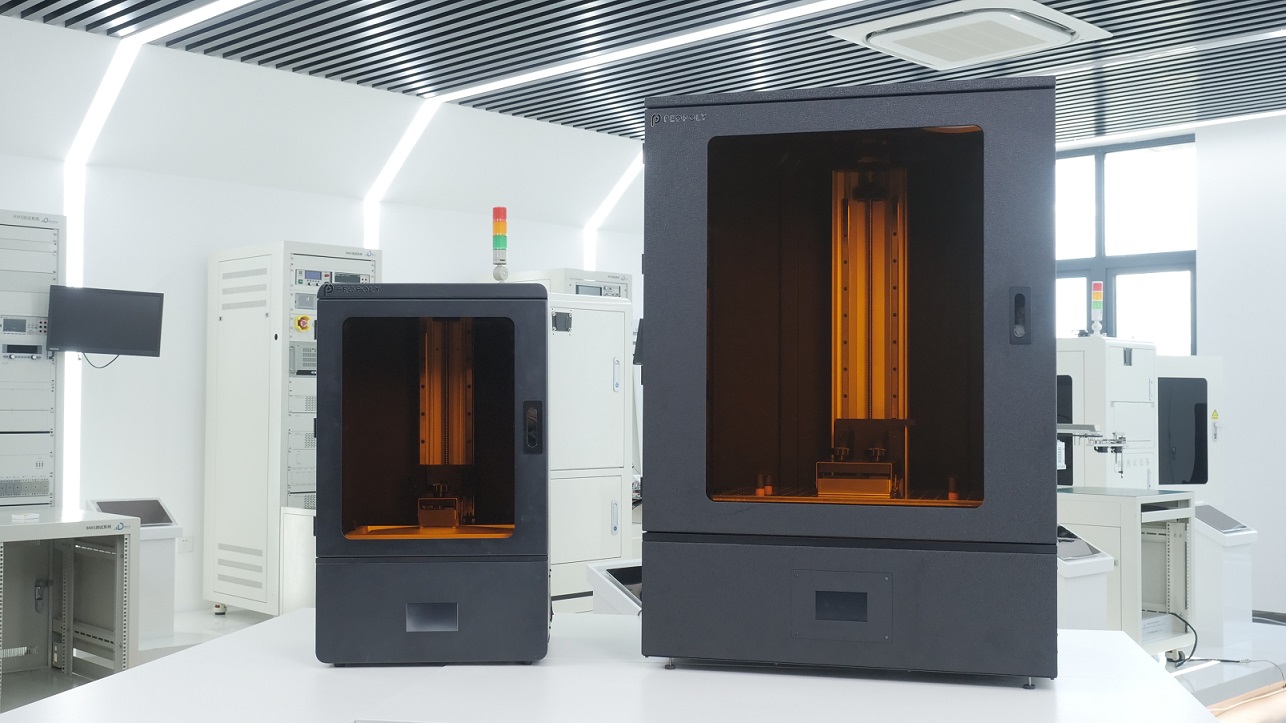 Image by Peopoly and 3Dprintingindustry.com: The Phenom XXL on the right side compared to the Phenom on the left.
Peopoly Noir & Peopoly Prime, large format monochrome MSLA 3D-printers
After launching the Peopoly Phenom, Phenol L and Phenom XXL, the monochrome LCD technology became standard in resin 3D-printing. With the in between model, the Peopoly Noir (settings of some resins available here), the new flagship, the Peopoly Phenom Prime is available in the lab at Liqcreate. Settings of Liqcreate materials are available here.
The Peopoly Prime is built around a 405nm light source and monochrome LCD screen, reducing exposure time of fast resins to a matter of seconds. Due to the powerful light source, even slower engineering photopolymer resins like Liqcreate Tough-X can be printed with acceptable curing times of 10 seconds for 0,05 mm layer thickness.
Image by Peopoly and windowscentral: The new Peopoly Prime resin 3D-printer
Contact us if you have any questions or when you need help with settings for the Peopoly Prime other resin based 3D-printers.
Support
Do you need any help with 3D printing our SLA, DLP or LCD resins? We can help you! Just look for the question you have below. If you can't find it, let us know by contacting us!