UnionTech has over 20 years of leadership in globally sourced stereolithography and resin based 3D-printing systems. The UnionTech brand brings a new dimension of SL equipment supply to market. With almost 50% of UnionTech's growing professional team dedicated to R&D and product development, there is a strong focus on developing new 3D-printing hardware. Last year UnionTech released the Cute300, an industrial 4K DLP resin 3D-printer. Several Liqcreate resins are compatible on the UnionTech Cute300. Now UnionTech is entering the LCD based MSLA 3D-printing space with two professional resin printers named Matrix190 and Martrix520.
About the UnionTech Martrix520 7K resin 3D-printer.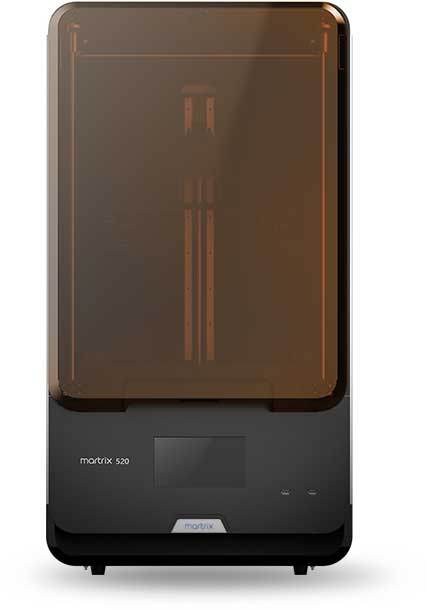 Image by UnionTech: The 7K professional MSLA resin 3D-printer, Martrix520 by UnionTech.
UnionTech Martrix520, 7K professional resin 3D-printer technical specifications.
UnionTech reveiled the first technical specifications of this printer. When comparing the UnionTech Martrix520 and Martrix190, some differences can be found.
| | | |
| --- | --- | --- |
| | Martrix190 | Martrix520 |
| Build Volume | 192x 120 x 280 mm | 298 x 165 x 320 mm |
| Print Speed | Printing Efficiency up to 50 mm/h | Printing Efficiency up to 50 mm/h |
| LCD Screen | 4K – 3840 x 2400 pixels | 7K – 6480 x 3600 pixels |
| Pixel size | 0,050 mm | 0,046 mm |
| Screen size | 8,9 inch | 10-13 inch |
UnionTech Martrix520 compatible resin for 3D-printing.
At the time of writing, it is not known if the UnionTech Martrix520 is compatible with 3rd party resins. The Martrix printer technology (405nm MSLA), is compatible with Liqcreate 3D-printing resins. If the software is open to modify settings like the exposure time and more, then there is a good chance that Liqcreate resins will work on this printer. Send us an e-mail at info@liqcreate.com if you are interested in working with Liqcreate resins on the Martrix520 resin 3D-printer.
Support
Do you need any help with 3D printing our SLA, DLP or LCD resins? We can help you! Just look for the question you have below. If you can't find it, let us know by contacting us!