Although not always visible, flame retardant plastics are used in a wide range of applications. From machine parts, to train parts. From parts for aviation to parts in household electronics and equipment. In many cases you would not know that a special plastic is used in that part. In the basics a very few amount of plastics – often exotic types- are flame retardant, like some grades of polyetherimide (PEI). Other thermoplastics like PP, PA, PC, ABS and HIPS can achieve a good flammability rating when packed with additives.
The most important flammability tests for instance the UL94 and the aviation standards require that the material should self-extinguish within a certain amount and that there are no (burning) drops of plastic fall off the part within a certain time. The last one can be tricky, as a the temperature of a yellow and blue flame will easily rise above 1000°C / 1832°F. At these temperatures all thermoplastics will be melting. Thus the additives have to cool the plastic long enough until the test time of often 20 – 60 seconds passes.
With thermosetting plastics, like all 3D-printing resins are, it is different. These types of resins do not melt. They will straight go to the burning phase at above 400°C. As they will not melt, the parts won't drip and there is no hazard for flaming drips. Of course the temperature of the flame is above the temperature that a resin can handle. The additives do have a slightly easier job as the degradation temperature of the plastics are higher compared to their thermoplastics counterparts.
Looking for a UL94 V0 Flame Retardant 3D-printing resin, perhaps our Liqcreate Flame Retardant HDT material can be of interest for your project.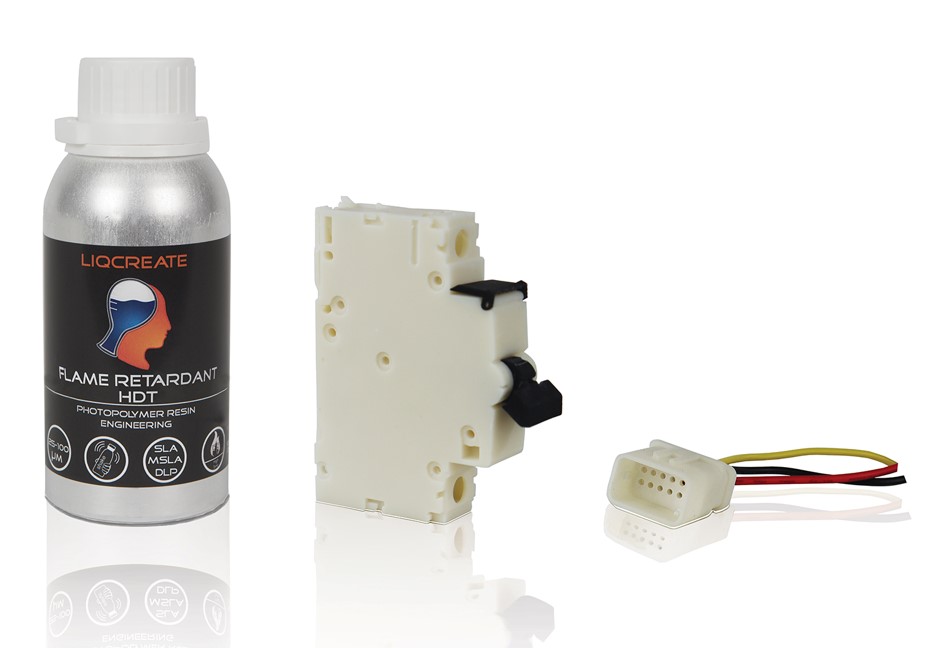 Support
Do you need any help with 3D printing our SLA, DLP or LCD resins? We can help you! Just look for the question you have below. If you can't find it, let us know by contacting us!
find 3D-printing resin for UL94 V0 compliant 3D-printing parts
Liqcreate Flame Retardant HDT
Liqcreate Flame Retardant HDT is a rigid off-white photopolymer resin and can be processed on most open resin based 3D-printers. 3D-printed parts from this material can withstand high temperatures without posing a fire hazard due to its self-extinguishing capabilities. This material is perfect for creating parts that need to comply with UL94-V0 test standards. Such as interior parts in cars, airplanes, trains and electronic devices. In addition, it can be excellent for tooling manufacturing aids, connector housings and covers.
| | |
| --- | --- |
| Key benefits | 3D-Printer compatibility |
| ·        Self-extinguishing resin UL94 V0 | ·        Asiga UV series |
| ·        High temperature resistance | ·        Nexa3D XiP (open license) |
| ·        Extremely rigid resin | ·        Phrozen, Elegoo & Anycubic series |
| ·        Fast printing | ·        And many more |