Most people would think about 3D-printing resins as brittle, easy to fracture resin. From the "old" SLA 3D-printing industry, you might be right. Resin developers like Liqcreate are pushing the boundaries with new 3D-Printing resin technology. Developing flexible, elastomeric and composite resins, but what are composite resins?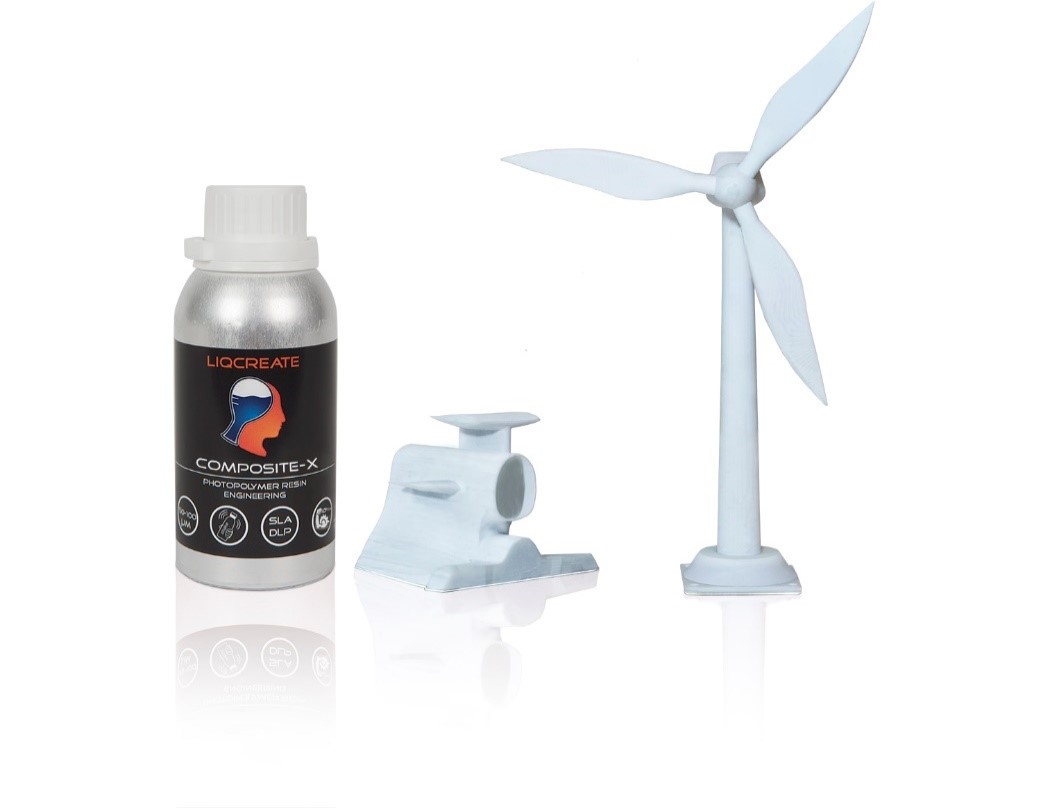 What are composite 3D-printing resins?
The name composite is used in the plastic industry for a hybrid polymer-filler material. In most cases within 3D-printing resins, the filler is a natural or modified mineral. Minerals like Silica, Zirconia, Calcium Carbonate are used to strengthen a polymer or resin matrix. It often also provides extra strength, stiffness and wear resistance. The down-side of using these minerals, is that they are heavy. Heavy particles can sag to the bottom of the resin tank over time, if the resin is not stabilized. On the upside, this class of materials can increase properties significant.
Why use composite 3D-print resins?
It is good to keep in mind the composite materials when selecting the right material for your application. With un-filled resins, you could reach to a flexural strength of around 135 MPa, like our Strong-X resin and a stiffness of roughly 3,5 GPa. You can boost the strength and/or stiffness to 170 MPa and/or 10 GPa when using composite resins. With this increase in strength and stiffness, a low elongation and impact strength is to be expected. These materials excel for applications that require  super rigid materials, with parts that endure a lot of structural force and no impact.
Which composite resins are available?
In our last article we spoke about the great amount of "tough" resins available. With composite resins the choices are quite limited. In this blog, resins without a technical data sheet (TDS) were not taken into account. This brought the Liqcreate engineers to the following list of composite resins for 3D-printing anno January 2021:
| | | | |
| --- | --- | --- | --- |
| | Flexural Strength (MPa) | Flexural Modulus (GPa) | Ultimate Tensile Strength (MPa) |
| Liqcreate Composite-X[1] | 150 – 170 | 8,5 – 9,5 | 60 – 85 |
| DSM Somos Perform[2] | 146 | 9 | 80 |
| Formlabs 10K[3] | 103 | 10 | 53 |
| 3D-systems Accura HPC[4] | 137 – 157 | 8,7 – 10,0 | 66 – 89 |
There are some minor differences between the four materials. The main difference lies in the strength of the materials and the printer compatibility. 3D-systems and Formlabs developed their material specifically for their own hardware and compatibility with other machines is not mentioned or wanted. For DSM Somos Perform there are no compatible machines listed. We assume Somos Perform is compatible with big laser based SLA machines like UnionTech and RPS, as this technology is known for its 365nm lasers. Liqcreate Composite-X is compatible with a broad range of DLP, SLA and MSLA/LCD 3D-printers as long as these are open platforms with a light source in the 385 – 405 nm range.
About Liqcreate Composite-X
Liqcreate Composite-X is one of the stiffest and strongest material available in the market. With a flexural modulus over 9000 MPa and a flexural strength of 150 – 170 MPa it is superior to almost all photopolymer resins currently available. Liqcreate Composite-X is easy to use on all open SLA, DLP and MSLA 3D-printers in the range of 385 – 420nm. The material can be used after UV-post curing, or the properties can be boosted with a thermal cure. This material has features like excellent chemical resistance, high strength and high stiffness which makes it ideal for wind tunnel testing, fluid flow components, automotive and heavy duty industrial applications.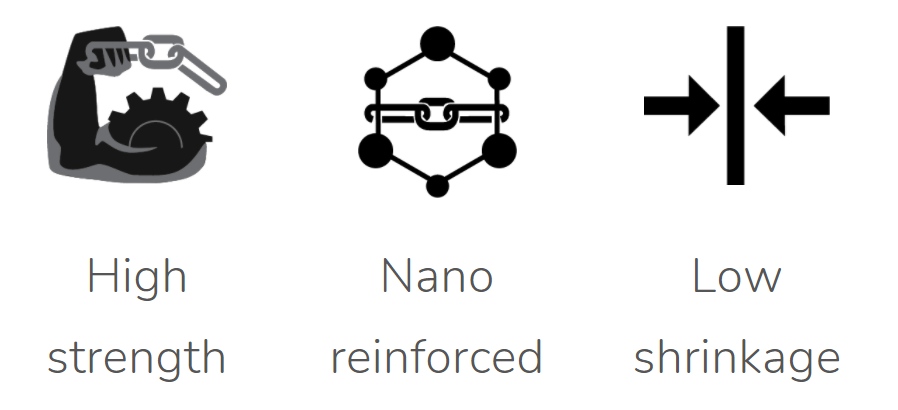 And these mechanical and physical properties will be reached when post-processing Composite-X properly: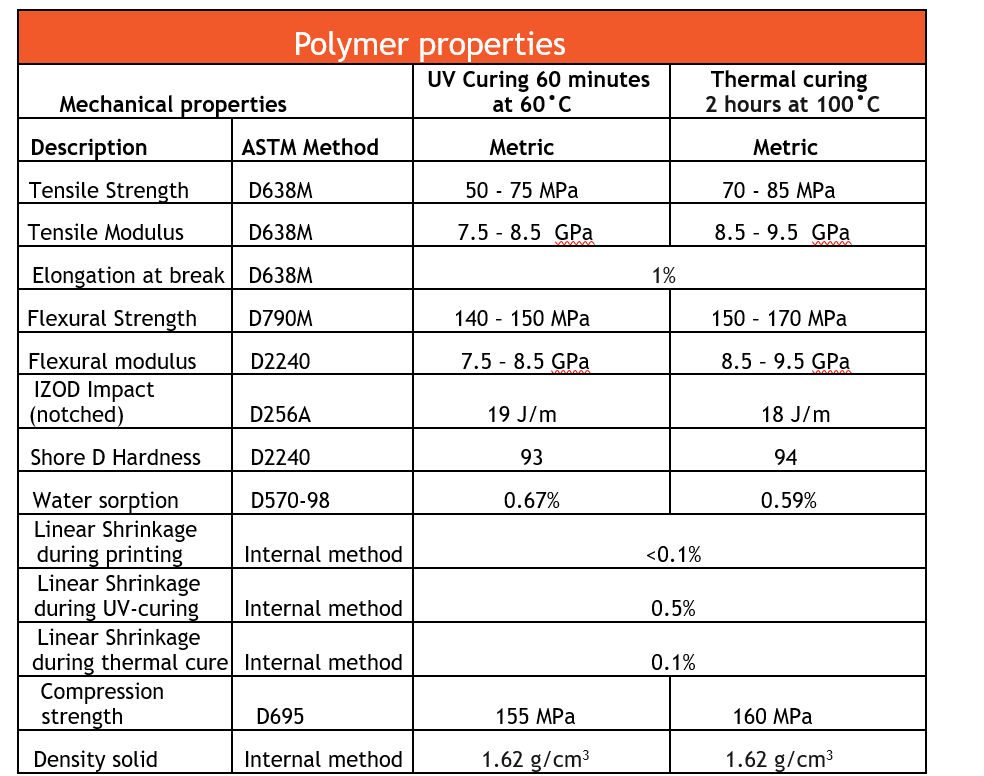 Parts were post-cured in a Wicked Engineering Curebox for 60 minutes and at 60°C prior to testing. Thermal cured parts were cured for 2 hours at 100°C in an conventional oven after being UV-curing. These values may vary and depend on individual machine processing and post-curing.
Tips and tricks on working with Liqcreate Composite-X can be found here. Printer compatibility and settings can be found here.
Team Liqcreate wish you happy printing. If there are any questions or remarks, feel free to contact us at info@liqcreate.com any time.
Support
Do you need any help with 3D printing our SLA, DLP or LCD resins? We can help you! Just look for the question you have below. If you can't find it, let us know by contacting us!