With the introduction of the LCD based resin 3D-printer, a lot of affordable resin 3D-printers were introduced. The first printers were based on RGB-LCD screens and needed quite some maintenance and longer exposure times. Currently the technology evolved and monochrome LCD screens were introduced. This reduced the maintenance and print times significantly making it an attractive technology for hobbyists and professionals.
Image by 3Dprint.com: comparison of different Elegoo entry-model resin 3D-printers, the Elegoo Mars on the left from 2018, the bigger Elegoo Saturn from 2020 and its biggest printer yet, the Elegoo Jupiter announced in 2021.
Best price and cheap entry-model resin 3D-printers
Within the entry-model resin 3D-printers, there is a lot of difference in specifications and price. The cheapest resin printers often have a small build platform with acceptable resolution and a less sturdy Z-axis. The medium segment in the entry-model resin 3D-printers have often a similar resolution, but a bigger build plate and in general a sturdier machine. Which one of the cheapest resin 3D-printers is best?
Which one of the cheap resin 3D-printers is best?
If you search online, you can find a lot of lists comparing cheap resin 3D-printers. Like the All3DP The Best Budget Resin 3D Printers of 2022. Or Aniwaa's Cheap resin 3D printer: 9 best options in 2022. Another source can be 3DSourced "10 Best Resin 3D Printers 2022 (Every Price Range). Before following their advice blind, it is good to check if they are affiliated with the brands they advise or if they do any testing themselves. The reason to check this is because:
1) If they are affiliated, their opinion is not objectively
2) You can't just compare specifications and decide on that as there are more underlying factors that can influence how good a 3D-printer is.
At Liqcreate, we have quite some printers and brands tested in our laboratory and can give a objective opinion as an open resin supplier to all these brands. Of course we can't test every machine and see what the benefits or drawbacks are, but some general flaws or positive points can be derived from these test. If you need any help with this, feel free to send us an e-mail at info@liqcreate.com. Below you can see the list of printers, price ranges and specifications. Below the table we can talk in more detail what to focus on when buying a budget, cheap entry-model resin 3D-printer.
Table 1: resin 3D-printers and specifications, update April 2022.
Best price, cheap budget resin 3D-printers
There are a few things to check when buying an budget entry-model resin 3D-printer. First is that if it is within your budget, chose the newest model. The reason for this is that the LCD screens are under constant development and we noticed that it is getting much better in the latest released machines. Additionally, with some brands you will have an LCD screen with glass protector on top of it and on most other machines the resin tank is placed directly on the bare LCD screen. It is always advised to put your own protective film on it, in case the FEP, nFEP or PFA film leaks. A build-in glass protector is handy as it eliminates issues with ruined LCD's, but increases your curing times with maybe a few seconds. Two machines that have this glass protector are the Creality Halot-One and the Phrozen Sonic Mini 4K. Both machines are tested at Liqcreate and settings are available here. Most budget printers do not have a double z-axis, if you would need more accurate parts in time and in taller builds, it is worth to increase your budget slightly and go for this. You can see in the pictures of the machines if it has a single z-axis or a double one, like in the picture below.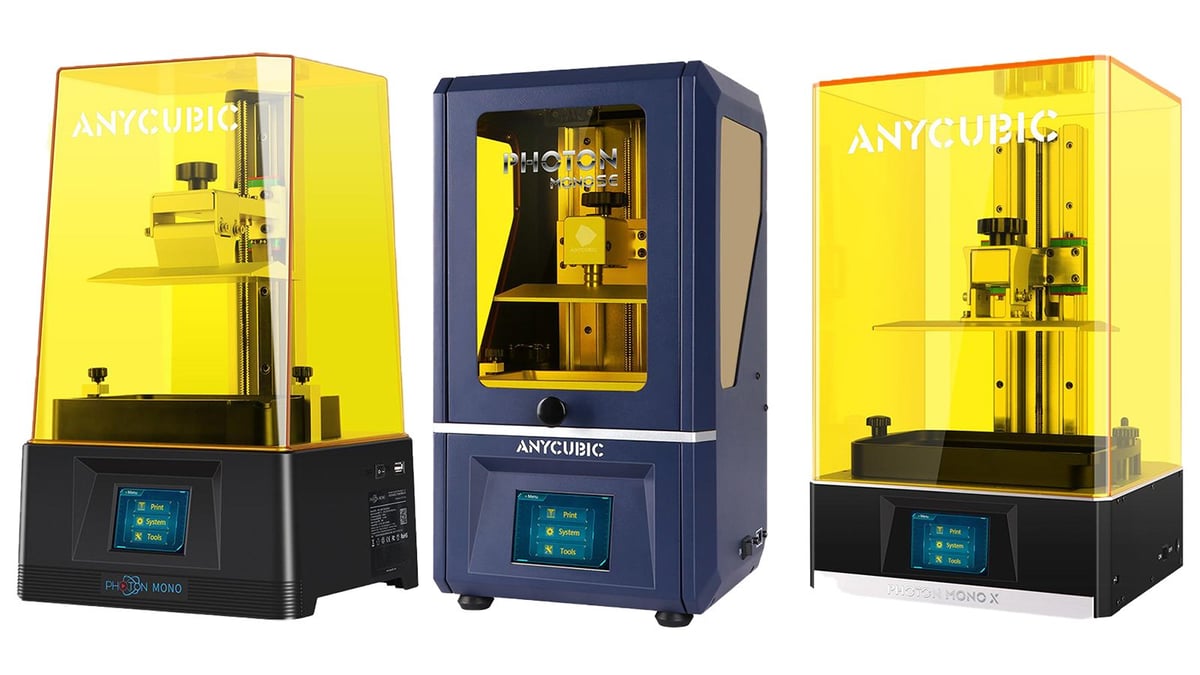 Image by All3DP and Anycubic: Anycubic Photon Mono vs Mono SE vs Mono X: The Differences between these cheap budget entry-model 3D-printers
You can see on the left machine a thin z-axis and on the machines in the middle and right a wide double z-axis. The wide double z-axis is known to be more sturdy and gives better results, but is generally more expensive to build.
Large resin 3D-printers with the best price
Previously, it was difficult to get a large resin 3D-printer for an affordable price. With more competition in this market segment, the prices are significantly lower than a few years ago. Entry-model 3d-printer manufacturers Anycubic, Elegoo and Phrozen developed printers with build sizes up to 330*185*400mm based on MSLA technology. Previous this was only available by Photocentric and Peopoly. It is worth to compare all printers with the new released Anycubic Photon M3 Max and Elegoo Jupiter. These two printers are equipped with the latest technology and a low price.
Best budget DLP resin 3D-printer
DLP 3D-printers were originally developed and patented by EnvisionTec, recently re-named to ETEC. Parts from DLP printers, like the DMD chip and DLP module were originally quite expensive and machines started at above €20.000 for a small machine. With recent developments from Miicraft and Texas Instruments, prices dropped significantly. Background information about DMD chipsets, DLP technology and a comparison from what is available in the DLP sector can be found here. For larger DLP, the Miicraft Alpha is an excellent machine for a good price. But the cheapest entry-model resin DLP printer ever released is the recent announced Anycubic Photon Ultra. Offered just below €600, it is made possible with a low-cost, also lower resolution 720P chipset from TI.
Image by Market research telecast: The new Anycubic Photon Ultra, cheap budget DLP resin 3D-printer.
Resin compatibility with cheap budget resin 3D-printers
When selecting a resin 3D-printer, it is important to check which resins are available and compatible with it. With closed systems like 3D-systems, EnvisionTEC and the latest Formlabs models, you are tied to their resins, availability and pricing. When choosing an open platform in the range of 385-405nm, it is likely that Liqcreate resins are compatible. Check the 3D-printer compatibility here or send an e-mail to info@liqcreate.com if you have any questions or if your printer is not listed.
Support
Do you need any help with 3D printing our SLA, DLP or LCD resins? We can help you! Just look for the question you have below. If you can't find it, let us know by contacting us!