A 3d-printed plastic part can be exposed to different environments in its life-cycle. For some applications, the part is exposed to cold or even freezing conditions. For engineers it is important to know how the 3d-printed material behaves in these conditions when selecting the right material for the application. Recently a company active in cooling elements wanted to learn more about how Strong-X resin responded to freezing environment in dry conditions and soaked in ethylene glycol. The data from this test cycle is published here. In earlier studies, it was found that Strong-X resin has a good chemical stability. The unknown factor for the 3D-printed part was the low temperature in combination with ethylene glycol.
Test specimen for Flexural Strength and Flexural Modulus according to ASTM D790 and were 3d-printed in Strong-X resin and post-processed and post-cured according to the advised settings in a Wicked Engineering Curebox. A reference was 3d-printed with the set and measured at the same time as the other parts. Parts were exposed for 3; 30 and 168 hours in a freezer at -18°C / -0,4°F without solvent. Mechanical data was recorded by a universal tensile tester.
Strength and Modulus of 3d-printed Strong-X  resin after exposed to freezing conditions
The flexural strength and flexural modulus were recorded after the given time. The specimen were measured quickly after taking them out of the freezer to have the data recorded when the specimen were still cold.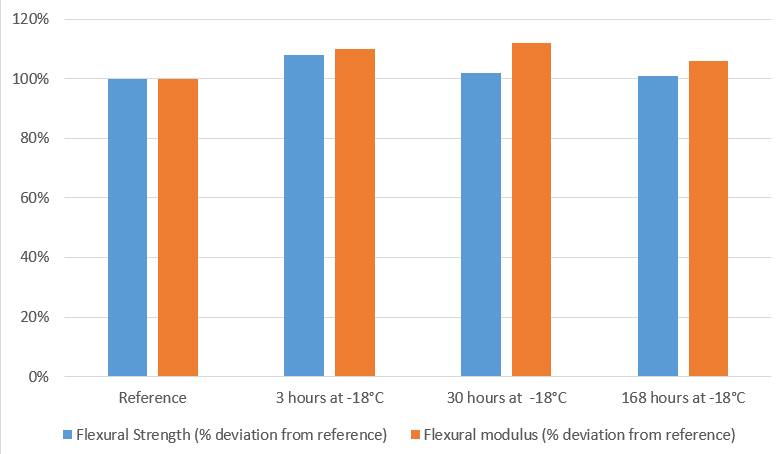 All data was benchmarked against the reference, measured at room temperature (21°C / 69°F). A short period of up to 168 hours at freezing conditions, makes the material slightly harder and more rigid, but do not have a significant effect on the flexural properties of the material.
Strength and Modulus of 3D-printed Strong-X resin soaked in ethylene glycol after exposed to freezing conditions
As seen earlier, freezing conditions up to 168 hours did not do much to the flexural properties of 3D-printed Strong-X resin parts. In some applications, a 50% Ethylene Glycol solution in water is used as a transfer medium. Flexural specimen of Strong-X post-processed and soaked in 50% Ethylene Glycol solution at room temperature for four days, and at -18°C / -0,4°F for four and seven days.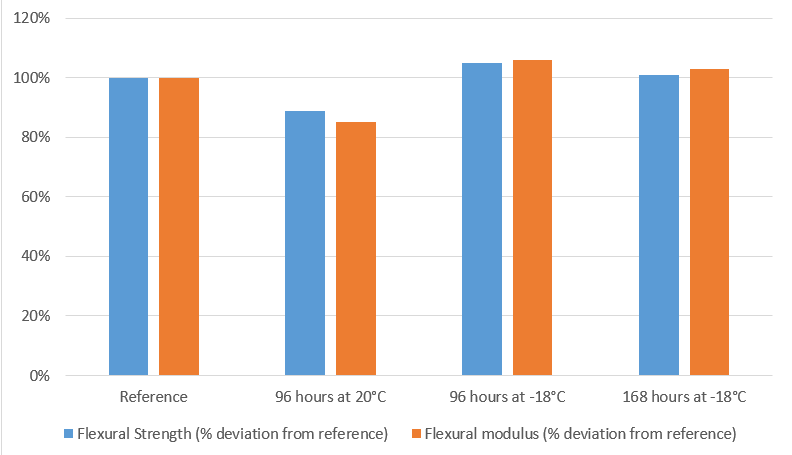 At room temperature, Ethylene Glycol does soften the material slightly. After 4 days of exposure, a modulus drop of 15% and drop in Strength of 11% was detected. As seen in the earlier tests, the freezing conditions make this material slightly harder and more rigid. The reduction in properties caused by the Ethylene Glycol is compensated with the increase expected from the low temperature. The end result is that the flexural strength and modulus after four and seven days of exposure in 50% Ethylene Glycol at freezing temperatures are quite similar to the reference.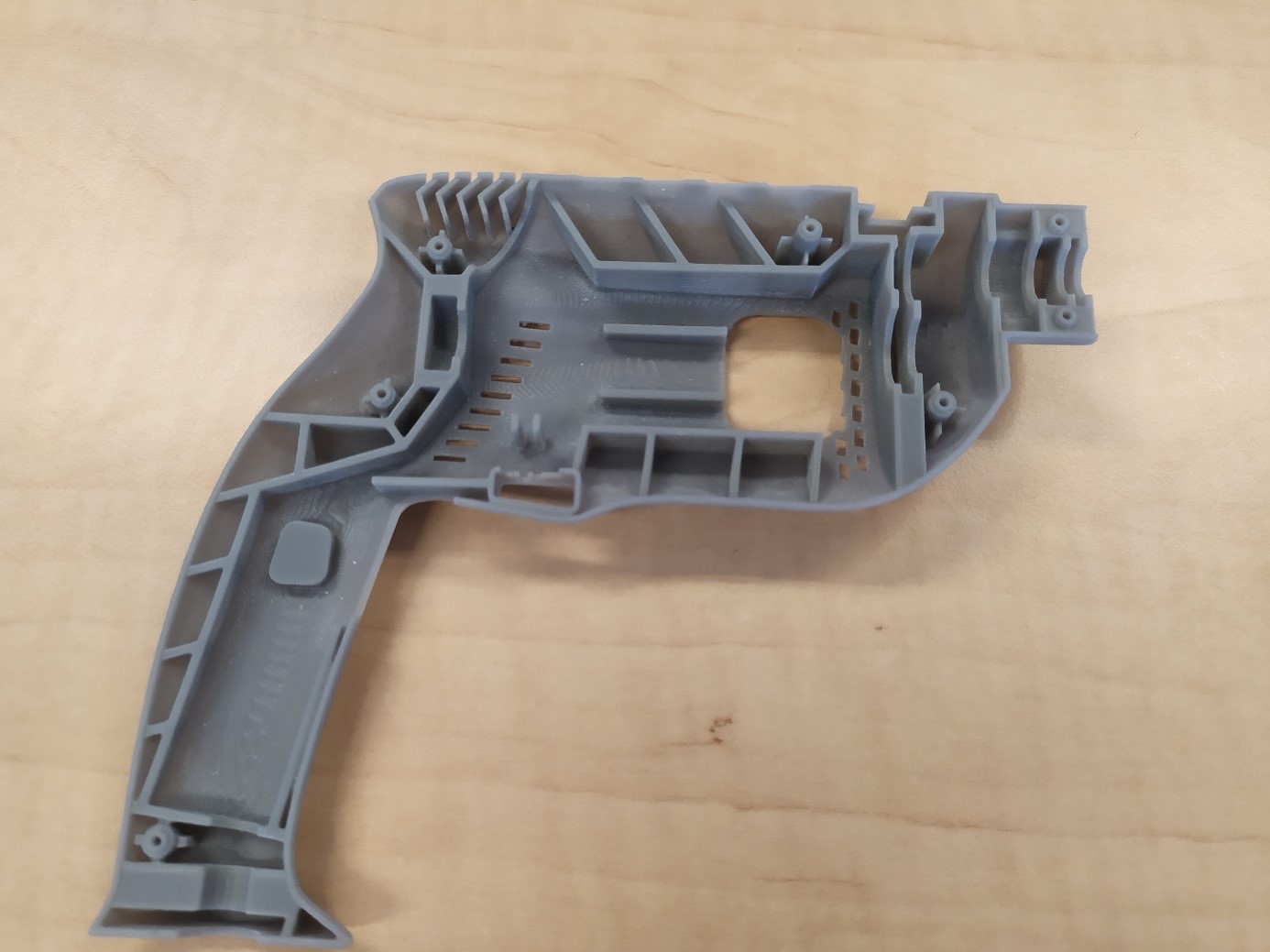 Figure 1: Drill shell 3D-printed in Liqcreate Strong-X resin and exposed for 168 hours to freezing conditions when soaked in ethylene glycol.
As an extra test, some complex designs were printed and the structural integrity of the parts was examined. Unfortunately the parts can not be shown due to confidentiality reasons. The parts did not show any cracks, deformations or weak spots even at 7 days exposure to freezing Ethylene Glycol. From this data it can be concluded that Strong-X can be used for cold applications and is also resistant to Ethylene Glycol.
Team Liqcreate wish you happy printing. If there are any questions or remarks, feel free to contact us at info@liqcreate.com any time.
Support
Do you need any help with 3D printing our SLA, DLP or LCD resins? We can help you! Just look for the question you have below. If you can't find it, let us know by contacting us!
About Liqcreate Strong-X
Liqcreate Strong-X is one of the strongest materials available in the market. Its flexural strength of 135MPa is comparable to industry's leading dual-cure cyanate ester resins. Liqcreate Strong-X is easy to use on all open source SLA and DLP 3D-printers in the range of 385 – 405nm and only requires UV post-curing. This material has excellent features like high strength, high stiffness and high temperature resistance which makes it ideal for injection molding and heavy duty applications.
| | |
| --- | --- |
| Key benefits | 3D-Printer compatibility |
| ·        High strength | ·        Epax3D Series |
| ·        High temperature resistance | ·        Formlabs Form2 |
| ·        Low odor | ·        Asiga & Anycubic series |
| ·        Low shrinkage | ·        And many more |