Post-processing is an essential part of resin 3D-printing to reach the final photopolymer properties. Printed parts need to be cleaned, (bench)dried and post-cured. The washing and drying steps are explained at the support article 'how to post process SLA, DLP & LCD printed objects'. Advice on post-curing settings can be found in this link. In this article we focus on post-curing of biocompatible 3D-printing resin.
Post-curing of resin 3D-printed parts
Post-processing is necessary to get the optimal properties out of your prints. If you use a stereolithography (SLA) 3D printer or a digital light processing (DLP) 3D printer, including LCD projectors, it's essential to know how to post-process. Post-curing is an important post-process step.

Image of the Wicked Engineering Curebox post-curing unit with Liqcreate photopolymer resins
During 3D-printing, the resin is polymerized to a degree that it has exact dimensions and is solid enough to withstand peeling forces. This means it has reached a polymerization degree of 50 to 85%, depending on the resin and type of 3D-printer. Usually the best physical and mechanical properties are reached with a polymerization degree of > 95%, meaning that the printed parts have not reached their full potential and need some extra UV-light and/or temperature to get there. Several post-curing units are tested in this article, The Wicked Engineering Curebox, the Mercury X wash & Cure Bundle and the Anycubic Wash & Cure 2.0.
Post-curing Bio-Med Clear – Biocompatible 3D-printing resin – in the Elegoo Mercury X.
With most resins we can advise multiple post-curing units to reach somewere near the maximum properties. This is different for Liqcreate Bio-Med Clear as the biocompatibility testing has been executed on samples cured in the Wicked Engineering Curebox. Changing this can lead to parts that do not pass this biocompatible criteria anymore.
Our standard post-curing unit is the Wicked Engineering CUREbox. This curing device has 4 x 9 watt light output in the form of 365nm and 405nm LED's. Time and temperature are the two variables to set. The high power output in this specific wavelength, and additional temperature help to get proper post-curing. If you have read this article, you can read that we are often not a big fan of entry-level curing units as they rarely reach maximum properties in engineering resins.
Similar as with the previous materials we tested a range of post-curing devices and cycles. In most enginieering materials it can be found that the entry level curing units do not yield good results. Surprisingly for Liqcreate Bio-Med Clear, the mechanical properties after curing in the Elegoo Mercury X were similar, if not better compared to the professional Wicked Engineering Curebox. It seems that this curing unit can work well with Bio-Med Clear from the mechanical properties perspective. That said, there is no evidence in biocompatibility testing that this curing unit will also yield biocompatible end parts.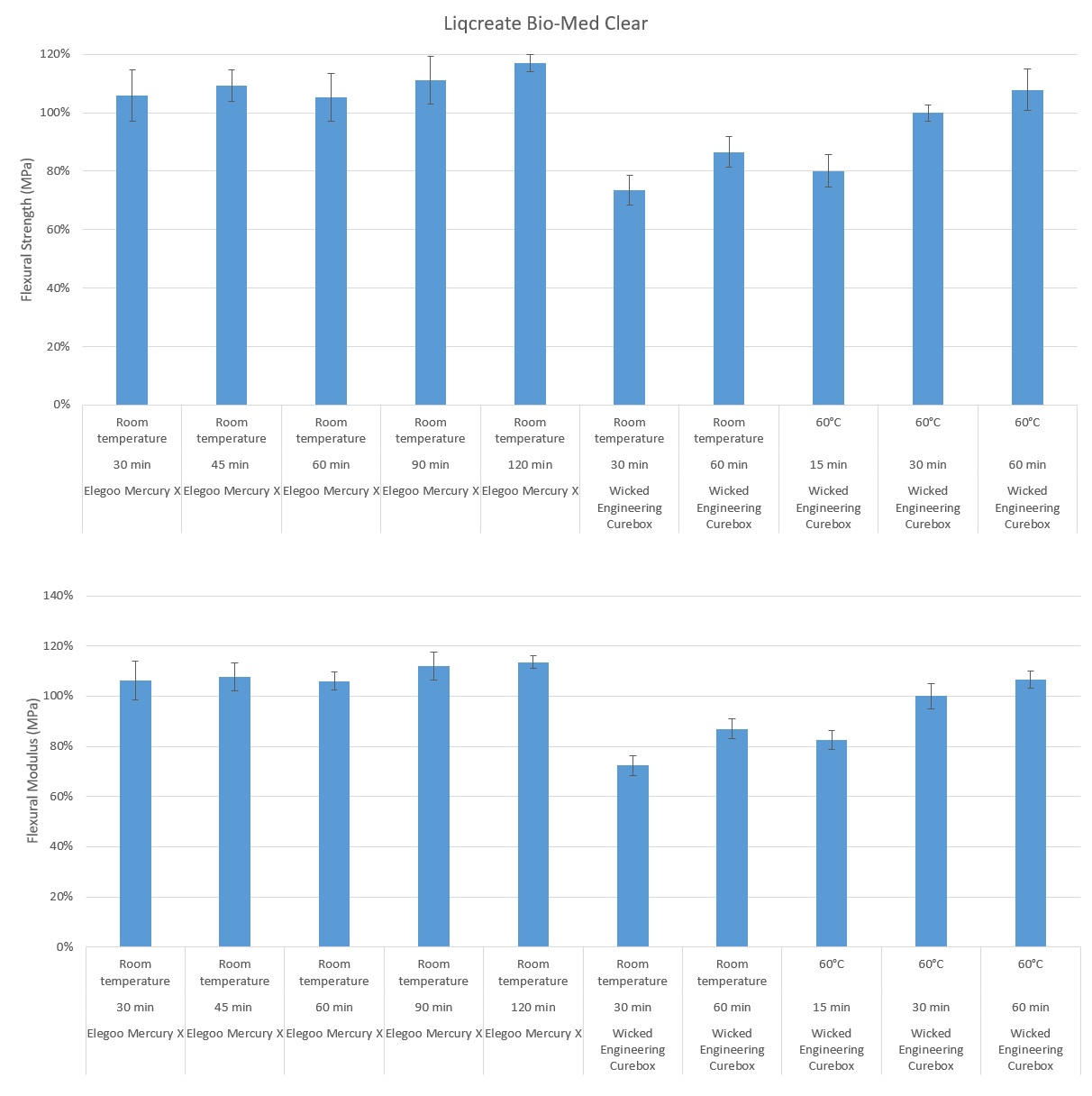 Post-curing Liqcreate Bio-Med Clear, post-curing settings vs. mechanical properties with the Wicked engineering curebox at 30 minutes and 60C as reference at 100%.
Hope this was an educational and interesting read. All that remains is to wish you good luck with the post-curing of your 3D object. If there are any questions, please contact Liqcreate at info@liqcreate.com.
Support
Do you need any help with 3D printing our SLA, DLP or LCD resins? We can help you! Just look for the question you have below. If you can't find it, let us know by contacting us!
Liqcreate Bio-Med Clear
Liqcreate Bio-Med Clear is a rigid clear biocompatble photopolymer resin and can be processed on most resin based 3D-printers. 3D-printed parts from this material exhibit biocompatible properties when post processed according to the processing instructions1. After washing and post-curing according to the instructions, printed parts from Liqcreate Bio-Med Clear pass the biocompatibility tests of:
| | |
| --- | --- |
|      ○   Cytotoxicity | ISO 10993-5:2009 |
|      ○   Sensitization | ISO 10993-10:2021 |
|      ○   Irritation | ISO 10993-23:2021 |
Printed parts from Bio-Med Clear can be disinfected with commonly used disinfectants and sterilized by steam sterilization using an autoclave.
| | |
| --- | --- |
| Key benefits | 3D-Printer compatibility |
| ·        Biocompatible | ·        Asiga series |
| ·        Steam sterilization possible | ·        Phrozen series |
| ·        High accuracy | ·        Elegoo & Anycubic series |
| ·        Dimensional stable | ·        And many more |