Prusa 3D is well known in the FDM market, manufacturing FDM printers and filaments in its facility in Czech Republic. It was founded in 2012 by Josef Prusa, focused on open-source 3D-printing technology. During the years after founding, Prusa became one of the market leaders in consumer FDM 3D-printing. Just in 2018, Prusa Research has acquired a Czech company called Futur3d with the intention to bring a brand new open-source SLA 3D printer to the masses. Since August 2019 the Prusa SL1, MSLA / LCD based 3D-printer was announced. Click on the link to learn more about the newest Prusa SL1S 3D-printer.
According to Prusa: "SLA industry was always focused more on professionals and corporations. With plenty of smart functions, safety features, connectivity options and an affordable price, the SL1 is designed to change that and bring this technology to makers and hobbyists worldwide."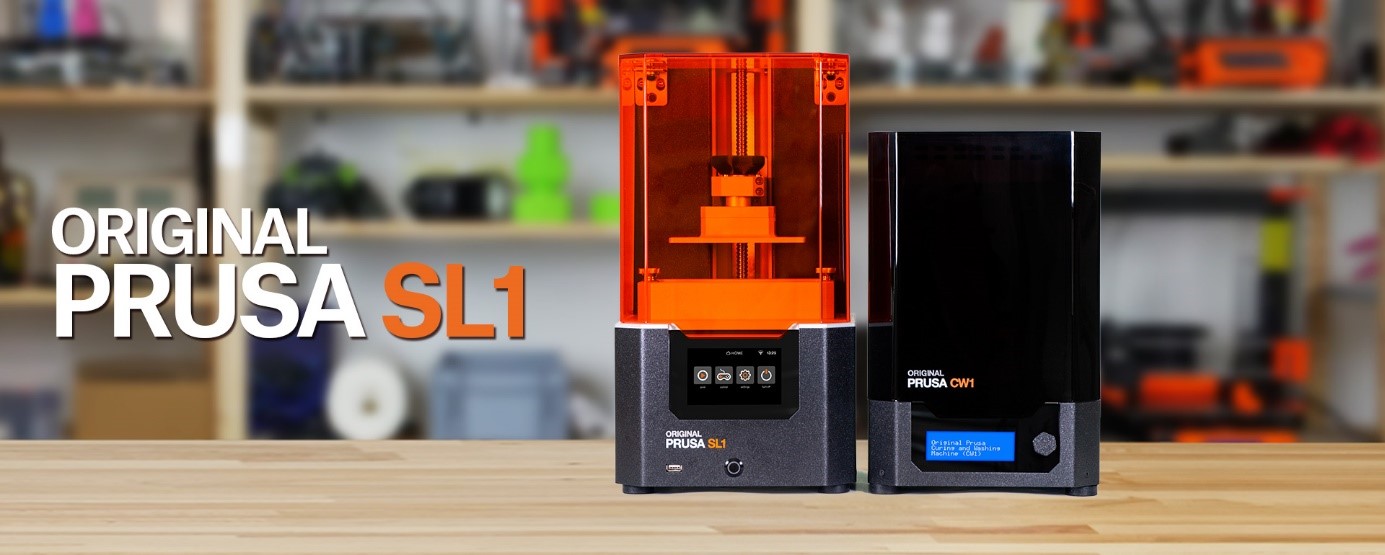 Source picture:  Prusa3D: The Original Prusa SL1.
There are plenty of written and video reviews about the Prusa SL1 resin 3D-printer. For instance by 3D-printing news website All3dp.com: Original Prusa SL1 Review: The MK3S for resin? And Techradar: Original PRUSA SL1 review.
Next to the these reviews, our partner and beta-tester De3DPrintman made videos with tips, tricks and sharing his knowledge.
How to work with Liqcreate resins on the Prusa SL1 MSLA 3D-printer?
Our partner and Beta-tester De3DPrintman has been optimizing Liqcreate resins on the Prusa SL1. It is advisable to only use our Premium resins on the Prusa SL1. The Premium resin range is designed to cure 2x faster compared to our SLA resin range, making it the go-to resin for MSLA 3D-printers. The list of settings can be found here.
What other printers are available in the field of entry-level LCD MSLA resin 3D-printers?
The number of available entry level 3D-printers has been exploded in the last years. There are a lot of new-comers and well-known FDM brands that start building a MSLA 3d-printer. Due to the many brands available, it is impossible to list them all. Five of the main competitors of the Prusa SL1 are Zortrax, Anycubic, Phrozen3D, Elegoo and EPAX3D.
Phrozen3D entered the resin 3D-printing market long before Prusa and recently launched more affordable, competitive printers with its line of Sonic 3D-printers. Next to the sharper pricing, Phrozen3D is one step ahead of Prusa by offering 4K and monochrome technology in its product.
Zortrax is well-known as a manufacturer of FDM equipment and filament. Early 2019 it entered the resin 3D-printing space with the launch of the Zortrax Inkspire. With almost the same technical specifications and pricing, it is an important competitor of the Prusa SL1.
Elegoo is making entry-level 3D-printers for a few years. Next to Anycubic it was driving down the price of a resin 3D-printer, which eventually made it possible to own one for less than $200. After these years, Elegoo still offers affordable products and yet improved its product performance by launching its new series of monochrome printers and also a bigger 4K MSLA printer, named the Elegoo Saturn.
EPAX3D was already offering high quality MSLA printers, for a competitive pricing compared to the Prusa SL1. These printers were made from high quality materials and more robust. Not too long ago, EPAX3D is also offering a more affordable printer the E10, competing with all printers mentioned above.
Next to their offering in FDM printers, Anycubic also released a new range of LCD / MSLA printers end of 2020. These printers are the successors of the successful Anycubic Photon. With the release of these new printers, Anycubic is expanding its offering with affordable, faster and bigger 3d-printers, addressing an important need in the current resin printing market.
Only time will tell who will be the winner in the competitive MSLA 3D-printer market. Innovation with new ≥ 4K monochrome technology, seems to be one of the ways to be ahead of the competition.
Team Liqcreate wish you happy printing. If there are any questions or remarks, feel free to contact us at info@liqcreate.com any time.
Support
Do you need any help with 3D printing our SLA, DLP or LCD resins? We can help you! Just look for the question you have below. If you can't find it, let us know by contacting us!