3D-printing resins are known to be brittle materials. It can be experienced that objects break easily. This brittleness comes from the many cross-links and stiff back-bone of the photopolymers. During exposure, the polymerization process starts and is linking all monomers together, forming a highly cross-linked and stiff network. Tougher materials are required for a lot of applications, making resin manufacturers like Liqcreate push the boundaries and creating new chemistries to develop 3D-printing resins suitable for demanding applications. The search for suitable applications is not only focused on SLA and DLP but also on LCD / MSLA 3D printing technology. In this blog we are providing an overview of the different commercial available tough resins and explain Liqcreate engineer's vision on ABS-like materials. All data is obtained from the official manufacturers datasheet and the sourced are copied below.
What are the toughest 3D-printing resins?
When searching through the internet, you can find a lot of resins called tough resin. In this blog, resins without a technical data sheet (TDS) were not taken into account. It is important to note that this is not a top-down list with the best materials on top. All materials have different characteristics, where one material has a higher impact strength, another material excels in the higher elongation and a third material could have the most balanced properties. It is important to assess all properties before selecting a material that fits your application best. This brought the Liqcreate engineers to the following list of toughest resins for 3D-printing anno November 2020:
| | | | |
| --- | --- | --- | --- |
| Brand | Notched IZOD Impact [J/m) | Flexural Modulus [GPa] | Elongation at break [%] |
| Liqcreate Premium Tough[1] | 43 | 1,0 | 20 |
| Liqcreate Tough-X[2] | 72 | 0,4 | 150 |
| Liqcreate Clear Impact[3] | 29 | 1,7 | 25 |
| Formlabs Tough 2000[4] | 40 | 1,9 | 48 |
| Formlabs Tough 1500[5] | 67 | 1,4 | 51 |
| DSM Somos Taurus[6] | 47,5 | 2,0 | 24 |
| EnvisionTEC ABS Tough[7] | 15,5 | 2,5 | 3,5 |
| Carbon3D RPU 70[8] | 15 | 1,5 | 100 |
| Carbon3D UMA 90[9] | 30 | 1,2 | 30 |
| 3D-Systems Figure 4 Tough BLK 20[10] | 27 | 1,65 | 36 |
| 3D-Systems Accura ABS White[11] | 24 – 57 | 2,1 | 8 – 14 |
| BASF Ultracur3D ST80[12] | 17 | 1,7 | 21 |
| Henkel Loctite 3172 [13]                            (HDT40 High Impact Clear) | 43 | 1 | 141 |
Looking for a thermoplastic ABS-like 3D-printing resin?
Almost all resin manufacturers are trying to mimic ABS and some market their material as ABS-Like. Why is ABS material the benchmark and how does its properties compare to best in class tough resins?
ABS (Acrylonitrile Butadiene Styrene) plastic is a thermoplastic polymer often processed by injection molding and FDM 3D-printing. It is one of the most common plastics used in part production and 3D print manufacturing[14].
ABS is relatively safe to handle as it cools down and hardens, making it one of the easiest plastics to handle, machine, paint, sand, glue, or otherwise processed. Other benefits of products made of ABS plastic include:
– Excellent Impact resistance
– Good heat resistance
– Good Tensile Strength
– Scratch resistant
– Low Cost
Just like 3D-printing resins, there are many different blends of ABS available, making it difficult to give one set of properties to the group of ABS materials. In this case the properties listed are from the technical data sheet of LG Chem's HF380[15] general purpose injection molding grade ABS:
Tensile Strength                 44 MPa                ASTM D638
Tensile Modulus                 2,1 GPa                ASTM D638
Elongation at break           10%                      ASTM D638
Izod Impact Notched         245 J/m                ASTM D256
HDT       (at 1,82 MPa)       85ׄC                      ASTM D648
Matching these properties with the selection of tough 3D-printing resins displayed above, you can find materials with similar or even exceeding strength, modulus (stiffness) and elongation, but the impact strength of 245 J/m is still far from matched. As resin technology moves into a more mature phase, we expect that these properties can be reached within a couple years.
For the engineers among us, this is an interesting read, were you can see how the properties of ABS change when parts are 3D-printed with FDM technology.
What is the difference between Liqcreate Clear Impact, Tough-X and Premium Tough 3D-printing resins?
At Liqcreate, we regularly get the question what the difference is between the 3 tough photopolymers we offer. Focused on reactivity, Premium Tough is more suitable for low-powered DLP and MSLA / LCD 3D-printers, while Tough-X and Clear Impact have a lower reaction speed, ideal for laser based and high power DLP printers. With the recent advancements in monochrome LCD displays, Tough-X and Clear Impact are easier to print in MSLA printers as well.
If you look at the mechanical properties, these three materials are completely different. Clear Impact is a more rigid kind of tough materials, also with the lowest impact strength among the Liqcreate tough resins. This material is ideal if your application requires still some temperature resistance and should be fairly hard. Premium Tough is softer and less stiff compared to Clear Impact. This material exhibits a great balance in impact strength and stiffness, ideal for use below 48 degrees Celsius. Tough-X is an even softer and less stiff material compared to both earlier mentioned resins. With an elongation of up to 150% and exceptionally high impact strength, it is the go-to material for extreme impact applications. This material is less suitable in warm environments or applications were a certain modulus / stiffness is required. The property differences are explained by the graphs below.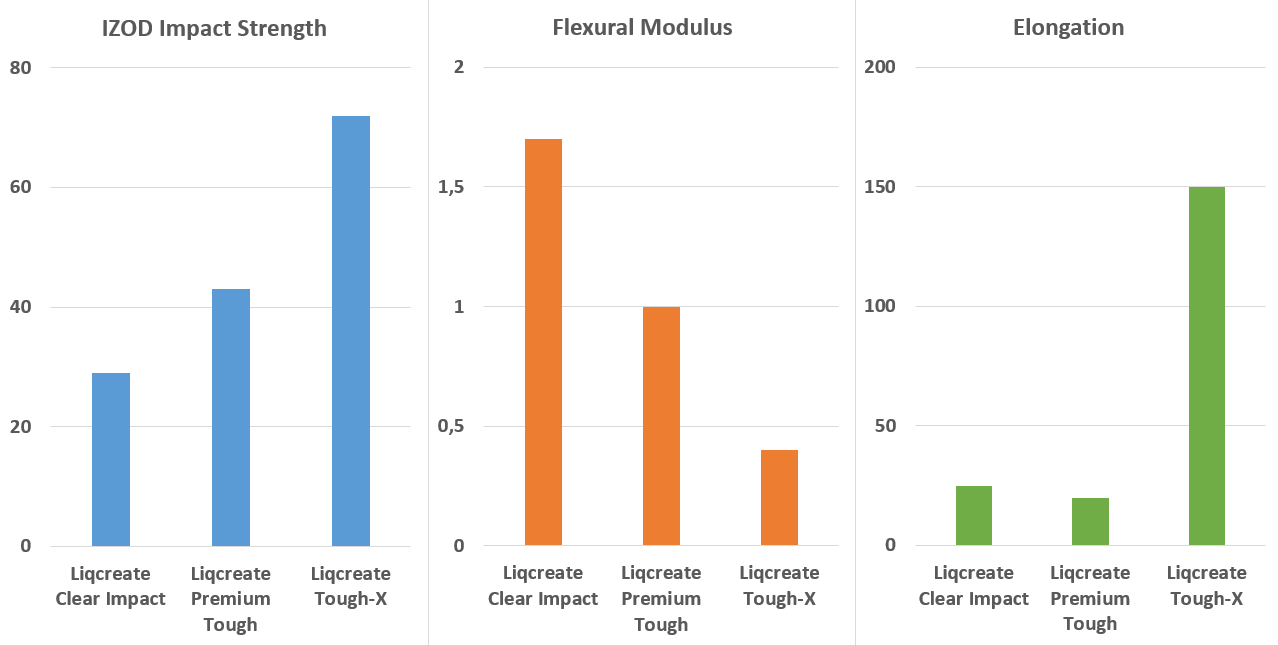 Send an e-mail to info@liqcreate.com if you have additional questions about the Liqcreate materials.
Are these tough resins compatible with my resin 3D-printer?
Let's talk about 3D-printer compatibility of the above mentioned tough resins. Hardware manufacturers like 3D-Systems, Carbon3D, EnvisionTEC and Formlabs focus on selling their hardware with their materials and their resins are not known to be compatible with other 3D-printers. To our best knowledge the DSM Somos materials are compatible with (huge) laser based SLA 3D-printers brands like UnionTEC[16], RPS[17] and Stratasys[18]. While Henkel is an open platform, mainly working with high-end brands like Asiga[19], RapidShape[20], Genera3D[21], Origin[22], Nexa3D[23] and NewPro3D[24]. At the time of writing the only public information on BASF is that they are working together with Photocentric[25]. Time will tell how all these manufacturers move forward. For those who follow Liqcreate, know that the resins formulators at Liqcreate aim for a wide resin compatibility with 3D-printers in all segments. More information regarding machine compatibility can be found here. Just to name a few Liqcreate compatible 3D-printer brands:
– Sprintray Moonray S & D[26]
– Formlabs Form 1+ and 2[27]
– Atum3D DLP Station 5[28]
– Asiga series[19]
– Miicraft 125[29]
– Anycubic Photon series[30]
– Elegoo series[31]
– Phrozen series[32]
– Peopoly series[33]
– And many more
Send the team of Liqcreate  an email at info@liqcreate.com for any questions or more information and in behalf of Liqcreate we wish you happy printing!
Support
Do you need any help with 3D printing our SLA, DLP or LCD resins? We can help you! Just look for the question you have below. If you can't find it, let us know by contacting us!