With the ongoing developments in afforable desktop resin 3D-printers, Anycubic and Elegoo – just one week from each other – announced the next leap in resin 3D-printing with their new 12K resolution LCD screens! Online you will find a lot of information on both printers, comparing specifications or reviewing the printers itself. As an independant resin provider, working both with Anycubic, Elegoo and most other brands in resin printing hardware, we try to compare both printers. With hundreds hours of printing time on both machines, optimizing 17 Liqcreate resins, we hope to give a good view on how these machines operate and what results can be expected from their 12K resolution LCD screens. Learn more about Saturn 3 vs. Photon M5s
Please note: since we are making a big article with plenty of tests and printing hours, it is not done yet and will be updated regularly.
Print time at last update:
25-08-2023: Anycubic Photon M5s – 84 prints completed, 59054 layers printed.
25-08-2023: Elegoo Saturn 3 – Unknown, likely similar compared to the M5s as both printers have been running full-time
Printer specifications of the Anycubic Photon M5s vs. Elegoo Saturn 3 – 12K resin 3D-printer.
The available specifications of the Elegoo Saturn 3 Ultra vs. the Anycubic Photon M5s are listed below.
| | | |
| --- | --- | --- |
|   | Elegoo Saturn 3 | Anycubic Photon M5s |
| LCD screen | 12K | 12K  |
| Pixels | 11520* 5120  | 11520 * 5120  |
| Print size (L x W x H) | 218 x 123 x 250 mm | 218 x 123 x 200 mm |
| Pixel size | 0,019 in X and 0,024 in Y | 0,019 in X and 0,024 in Y |
| Light intensity* | 4,05mW/cm2 (~9,4% dev) | 4,52mW/cm2 (~7,1% dev) |
*Light intensity measured on the machines when printing a full white area. Measured on 12 different spots across the platform. 
Light intensity of the Anycubic Photon M5s vs. Elegoo Saturn 3 – 12K resin 3D-printer.
Measured with the Chitubox UV intensity meter for 405nm resin 3D-printers on 12 spots on the platform during actual printing of a full white exposed area.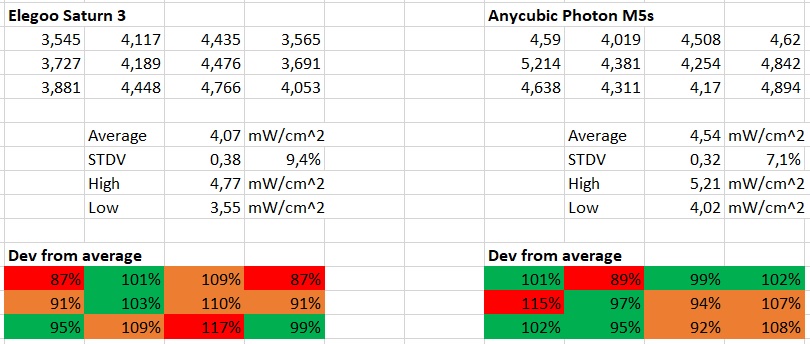 From the results above, what is a bit worrying for both machines after the 4th generation of printers, is the light uniformity. To be clear, both are purchased printers when they were just launched, measured at the same time in our lab. With professional printers we would like to have an uniformity of 95-105% around the average (average is 100%). With both printers there are some weak and strong spots on the platform. How this translates to other entry level printers you can find here. What this usually means in operations; you want a print to succeed at the lowest power on the platform, meaning that you will likely over-expose a bit for the parts that are on the higher end. Some resins are more sensitive with this compared to others. Let's see in the long-term testing if this is anything to worry about
Resin compatibility & printing times Saturn 3 vs. Photon M5s.
Our engineers have dialed in 8 resins already on the Elegoo Saturn 3 and 7 different Liqcreate resins on the Anycubic Photon M5s. Exact settings and latest updates can be found in the links. If you compare the resins that have been optimized on both the Saturn 3 and the M5s, it seems that the UV power is not the only factor. Some resins need slightly less exposure time on the Saturn 3 while others have that effect on the Photon M5s. Roughly it can be said that on average it is quite similar. The data is presented below to form your own conclusion:
Resin
Layer thickness
Saturn 3

Exposure time (seconds)

Photon M5s

Exposure time (seconds)

Bio-Med Clear
100 µm
3,0
50 µm
2,5
Strong-X
100 µm
8,0
50 µm
6,0
Stone Coal Black
100 µm
50 µm
Premium White
100 µm
3,5
50 µm
2,5
Premium Black
100 µm
3,5
50 µm
3,0
Premium Model
100 µm
4,5
4,5
50 µm
3,5
4,0
Premium Tough
100 µm
50 µm
Wax Castable
100 µm
6,0
3,5
50 µm

Thin parts

3,0
3,0
50 µm

Reg. parts

4,0
4,0
25 µm

Thin parts

2,5
2,5
25 µm

Reg parts

3,0
3,5
Premium Flex*
100 µm
50 µm
Clear Impact
100 µm
50 µm
Deep Blue
100 µm
50 µm
ESD
100 µm
50 µm
Tough-X*
100 µm
50 µm
Flexible-X*
100 µm
14,0
50 µm
10,0
Elastomer-X*
100 µm regular
100 µm thin
Hazard Glow
100 µm
9,0
9,0
Composite-X
100 µm
50 µm
Dental Model Pro Beige
100 µm
5,5
6,0
50 µm
4,5
5,0
Dental Model Pro Grey
100 µm
4,0
4,7
50 µm
3,5
4,1
Gingiva Mask
100 µm
12K screen resolution, and straight lines.
It is reported multiple times in several reviews that both the Elegoo Saturn 3 and the Anycubic Photon M5s have weird straigth lines on the surface. some say that it is only visible when zooming in with a microscope or camera. but we found that it is easily visible by the naked eye when printing surfaces have flat surfaces parallell to the z-axis. for organic shapes this is not really visible. Most people blame the ACF liner (new type of FEP film) which are in the machines when they are send to customers. In the next weeks we are going to test this.
ACF liner vs. FEP film
Currently we are running both machines with the stock ACF liner and after hundreds of hours we are still using it. the Mono M5s machine tells to change the film, but we are running it until the film is damaged. After replacing the film for a regular FEP film, we will print the same models again and make a comparison. When just using the ACF liner and a print failed (many fail when dialing-in new resins), we noticed that the parts did not stick that much to the film. But after a week of intense usage, it seems to behave more like regular FEP. Let's see when these films need to be replaced and test it with FEP!
Extra functions on the Photon M5s
the Anycubic Photon M5s has a few extra functions. There is a resin detection function which, a print failure function and the build plate can't be calibrated anymore as it is fixed.
With the Anycubic Photon Mono M5s in our laboratory we feel that after hundreds hours of printing, the platform calibration is fine and doesn't show any issues (yet). For the resin detection and print failure detection function we have to test more to see if it has a benefit, or is just one extra function that can be a source of issues. To be continues in the coming weeks…
Anycubic Photon M5s and Elegoo Saturn 3 issues.
Both printers in our lab are working quite well and giving expected results from these type of entry level machines. Since we launched our settings, several of our customers are verifying our settings. With the Elegoo Saturn 3 we have not heard any complaints yet. With the Anycubic Photon M5s we are trying to support our customers that have issues with the automatic platform calibration and lower light-output compared to our printer.
Anycubic Photon M5s & Elegoo Saturn 3 for dental applications.
Some of our dental partners are pioneering with the Photon M5s and Saturn 3 and asked help to dial in resins. Next to the standard settings like exposure time etc, for dental applications it is also important that dies fit exactely in the model. After dialing in the M5s, the following settings in the advanced tab worked for die fitting: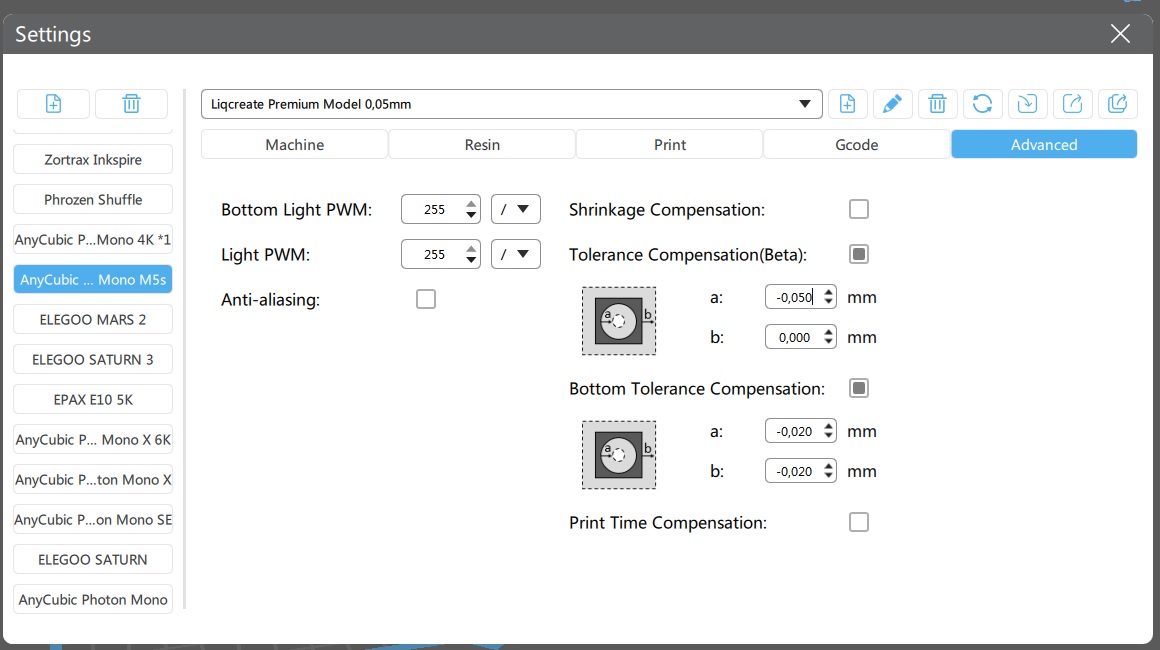 How does this work? With normal exposure of the LCD, the dies don't fit nicely and are way too tight. this will cause the model to break if you push the die in completely. by adding an offset / tolerance compensation of -0,05mm at the a setting only (see above). the die gets extra room in the model to fit nicely without changing the outer dimensions of the die. on the right picture below the die doesn't fit with the standard settings while the the offset is applied to the model on the left.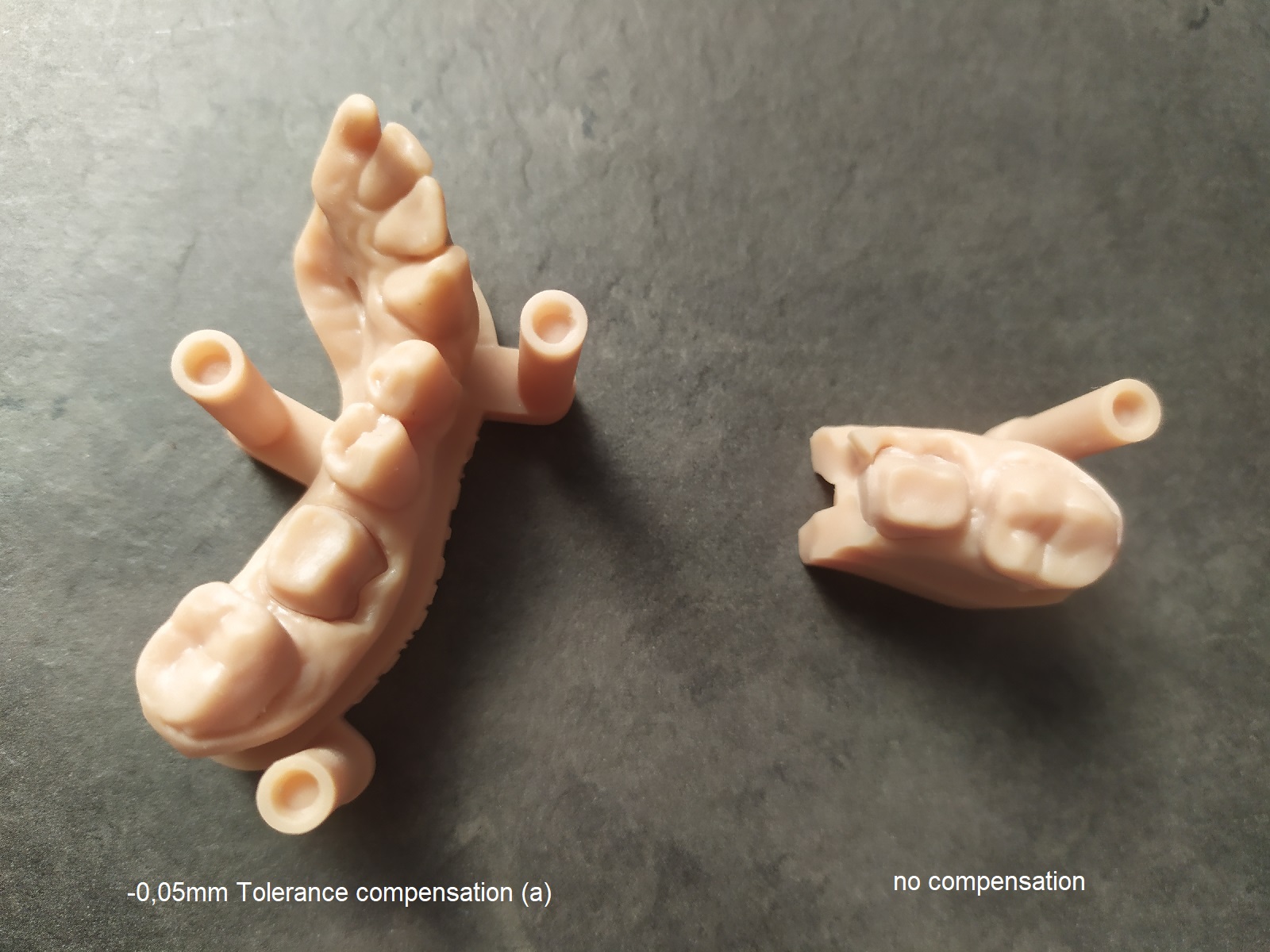 When printing a crown in Liqcreate Wax Castable resin without any offset or shrinkage settings, it fits nicely on the die.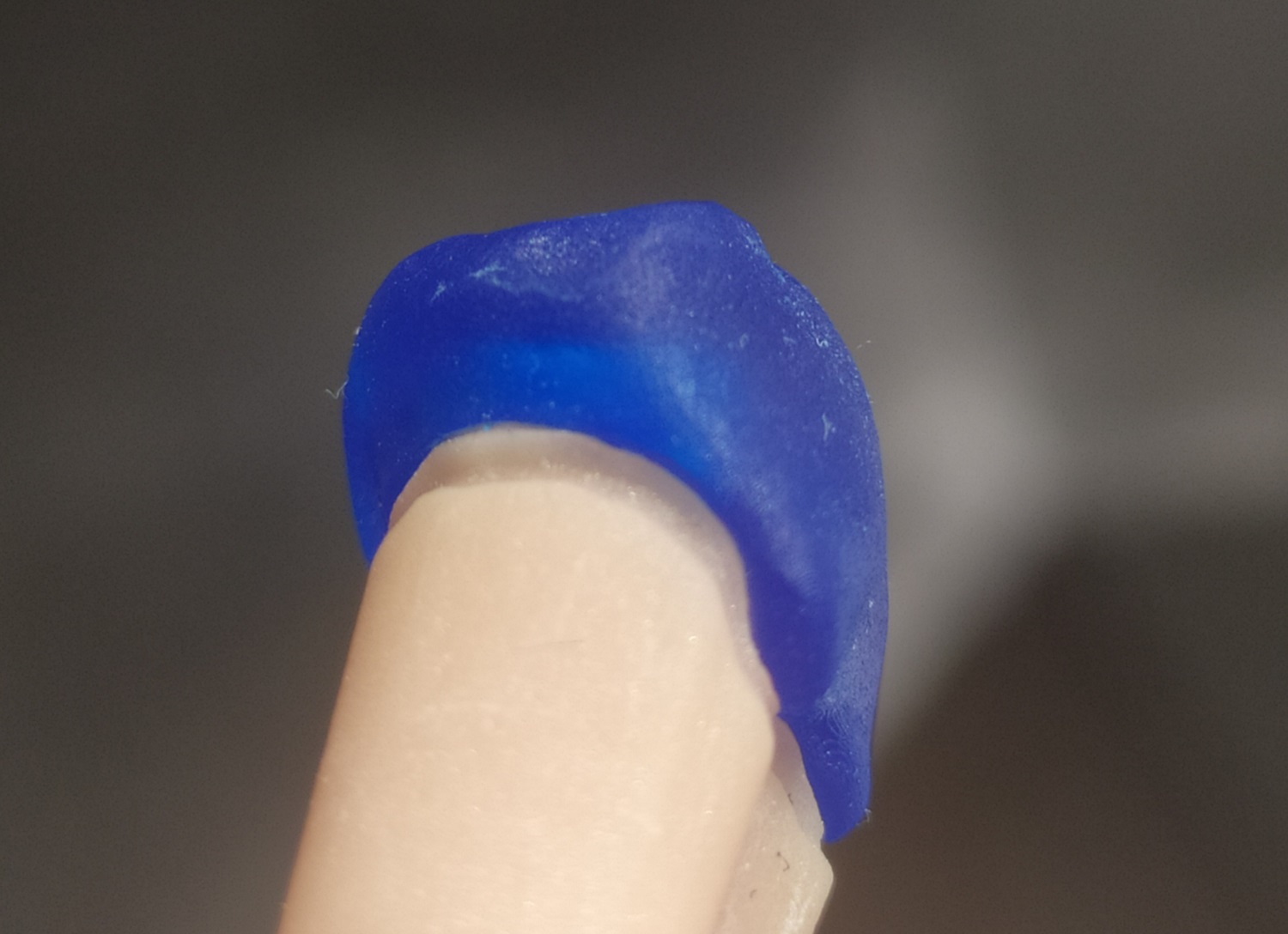 Printing dental models on the Elegoo Saturn 3 will follow in a few weeks.
Print performance after hundreds hours Saturn 3 vs. Photon M5s.
Comparison following in a few weeks after all Liqcreate resins are dialed in.
Print Speed Saturn 3 vs. Photon M5s.
Comparison following in a few weeks after all Liqcreate resins are dialed in.
Any other comparisons requested? let us know at info@liqcreate.com
Support
Do you need any help with 3D printing our SLA, DLP or LCD resins? We can help you! Just look for the question you have below. If you can't find it, let us know by contacting us!