Shining3D and Liqcreate work together on resin 3D-printing
At Liqcreate we recently received an Shining3D AccuFab-L4K / AccuFab-L4K in our testing laboratory. The Liqcreate resin engineers are collaborating with Shining3D to optimize resins and add these resin profiles for our customers in the AccuFab database. Currently Strong-X, Deep Blue and Stone Coal Black are optimized. The dental resins and engineering resins will follow shortly.
About Shining3D
Shining3D was founded in 2004 and focuses on the research & development, manufacturing, and application of high-precision 3D digital products. Shining 3D  is committed to becoming a 3D digital technology company with global influence, promoting the popularization and application of 3D digital technology, offering accessible efficient high-tech solutions.
Image by Shining3D and 3Dprintingindustry.com: The new Shining3D AccuFab-L4K and AccuFab-L4D resin 3D-printers
As a scientific and technological innovation enterprise, Shining3D is focusing on high-precision 3D digital software and hardware technology based on computer vision. It is mainly engaged in the research & development, production & sales of digital dental and professional 3D scanning equipment & software. Additionally by using an intraoral 3D scanner and software as the first step of the end-to-end digital dentistry workflow. The  digital dental business is committed to providing oral visualized consultation and oral digital solutions such as restoration, orthodontics, and implantology. The main product is the intraoral 3D scanner (mainly used at dental clinics to directly obtain 3D data models of  teeth), the dental lab 3D scanner (mainly used in denture factories to scan dental silicone impressions or plaster models), and an engineering and dental resin 3D printer (mainly used to print tooth resin models).
About the Shining3D AccuFab-L4K and AccuFab-L4D
At Formnext 2021, Shining3D launched its new AccuFab-L4D for dental applications and AccuFab-L4K for engineering customers. Both Shining3D AccuFab printers are equipped with a 4K monochrome LCD screen. The 4K resolution of 3840×2400 pixels is covering a build size of 192 * 120 mm, resulting in a 0,05mm pixel size. The Shining3D AccuFab-L4D and AccuFab-L4K stand out with the large printing platform in relation to its compact body structure and ultra-light weight. With AccuFab-L4D you can easily get started in the efficient manufacturing of all kinds of 3D prints at large scale for dental applications. Both printers are powered by 405nm LED's of 3 mw/cm2 , resulting in a good print speed. Liqcreate engineers are currently working to get all resins optimized on the Shining3D AccuFab-L4K and AccuFab-L4D.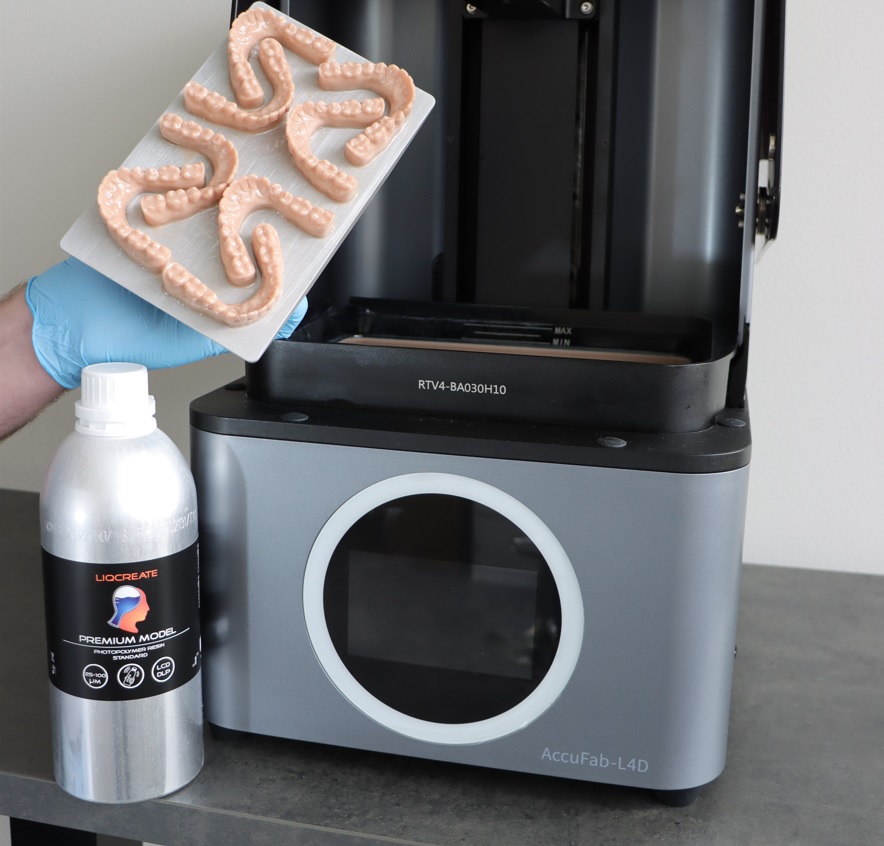 Image by Liqcreate: testing Liqcreate Premium Model for aligner manufacturing on the Shining3D AccuFab-L4D resin 3D-printer.
Please send us an e-mail at info@liqcreate.com if you have any questions, comments or remarks. We wish you happy printing with Liqcreate resins on the Shining3D printers!