In the earlier days of resin 3D-printing, producing a large product was only possible on a legacy SLA 3D-printer with 3D-System as market leader. Large format resin 3d printers simply did not exist. A few medium sized DLP systems were available, but the resolution was not too great. With Formlabs opening the possibilities of larger prints with its Form 1 in 2014 and Form 2 in 2016, other companies start to follow with large desktop 3D-printers. With the recent advancement in technology it is possible to get a large format build area and great accuracy in a desktop 3D-printer. In this article we compare the currently available and upcoming medium and large DLP, MSLA and LCD 3D-printers.
Peopoly's large resin printer
Peopoly was one of the first to offer a medium to a large format resin 3D-printer. In recent years they developed several machines; Peopoly Phenom, Peopoly Phenom L, Peopoly Noir and the upcoming Peopoly Prime are examplesof the large printers they offer. The newest Peopoly Noir and Prime are especially interesting, as these 3D-printers have monochrome LCD screens. Monochrome LCD screens make it possible to 3D-print with Liqcreate DLP resins with decent print speeds. According to the manufacturer, the new Peopoly Prime boasts an all-new 5448 × 3064 resolution (5.5K HD) panel with a best-in-class 51 μm pixel pitch. With a build volume of 276 × 155 x 400 mm parts can easily be printed at an affordable price of $2799 or €2699. Liqcreate and partners have provided settings for some of the Peopoly 3D-printers. Learn more in this link.
Photocentric resin 3D-printer
Photocentric started right after Peopoly with offering large MSLA 3D-printers. With its flagship resin printer the LC Magna, Photocentric offers a 3D-printer with a build plate of 510 x 280 x 350 mm and a pixel size of 137 μm. At the time of writing it is unknown if this printer has a monochrome LCD screen possibility and also resin compatibility with 3rd party engineering resins like Liqcreate is not mentioned. The machine is currently available at a price of approx. €17.491 or ~$20.615. For recent pricing it is advised to visit the Photocentric website.
UnionTech resin 3D-printer
UnionTech's large format resin printer, the Cute300 3D-printer is developed around an industrial 4K DLP system, realizing a large build envelope with high efficiency. Its build envelope of 249,6 x 140,4 x 240 mm with 65 micron pixel size, is made possible by its well-engineered 4K DLP processor. With this partnership, Liqcreate resins can be used on UnionTech's new range of DLP and MSLA 3D-printers. Our Dental Model Pro Beige is also compatible with the UnionTech EvoDent S300 dental 3D-printer. More information about our partnership with UnionTech can be found here.
Asiga Pro 4k resin 3D-printer
Asiga's desktop 3D-printer, the Asiga Max UV (385nm) is widely used. With the new large Asiga 4K, it is competing with large DLP 3D-printers like the UnionTech EvoDent S300 and Cute 300 resin 3D-printers. The Asiga 4K is available in three sizes and three wavelengths. Its version with 65 micron pixel size is similar to the UnionTech printers, only the platform is with 176 × 99 × 200mm smaller due to a different 4K projector. Resin 3D-printing settings with Liqcreate resins are published here.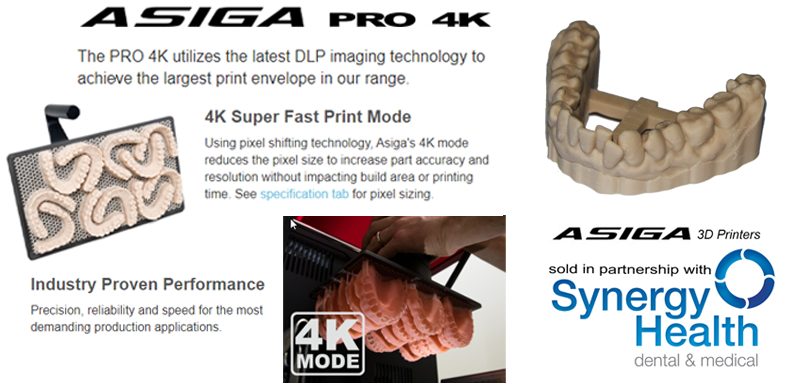 Phrozen Sonic Mega 8K, large format resin 3D-printer
The Phrozen Sonic Mega 8K is released in 2021 just before the release of  the Phrozen Sonic Mighty 8k. It is a large MSLA 3D-printer compared to the earlier released Phrozen Sonic Mini 4K and Sonic Mighty 4K. Phrozen was the first company releasing a commercial 8K resolution. Competitor EnvisionTEC released an the Xtreme 8K DLP, which is actually using multiple 4K projectors. With its reasonable price < $2000, 43 micron pixel size and 330 x 185 x 400mm build volume, it can be used for many applications. Settings will be available soon. Send an e-mail to info@liqcreate.com for more information. Plenty of Phrozen resin 3D-printer settings are available here.
Epax3D resin 3D-printers
Epax resin 3D-printers are already on the market for some time. Recently Epax3D started development and commercialization of its large resin 3D-printers. With the Epax X156 it is currently offering a large MSLA printer with a monochrome LCD screen. Monochrome LCD screens make it possible to print faster. Additionally DLP resins resins like the Liqcreate DLP resins can be printed with decent print print speed. The Epax X156 offers a 15,6 inch monochrome LCD screen and large format build plate of 34,5 x 194 x 400 mm (L x W x H). It is currently offered at $2700. Visit the Epax website for actual pricing. Epax and Liqcreate worked together to develop print settings for a Liqcreate resins. Find your Epax resin 3D-printer settings here.
Future trend and development in large format resin 3D-printers
The 3D-printing space continues to invest in larger, faster, more precise and more affordable 3D-printers. Currently announced are the following 3D-printers.
New resin 3D-printer from Anycubic, The Photon Mono-X Pro 5K
Starting from a small, yet popular 2K MSLA / LCD 3D-printer back in 2017. Anycubic is expanding its resin 3D-printer offering with large machines. Currently available is the medium sized Anycubic Photon Mono-X. With announcement of a new DLP Printer (Anycubic Photon Ultra) and large MSLA 3D-printer. The Anycubic Photon Mono-X Ultra 5K, it is competing in prosumer segment with the brands mentioned above. Currently it is not known what the price and build size of the newly announced Photon Mono-X Pro 5K 3D-printer is. It is expected that the build size and price are slightly higher compared to its earlier released Photon Mono-X 4K. Read more about the recent announcement here.
Elegoo Jupiter 5K resin MSLA 3D-printer
Elegoo is exploring a similar path compared to Anycubic. Starting with a small and affordable 2K resin 3D-printer. Followed-up by the Elegoo Saturn, it is now offering a medium sized 4K resin MSLA 3D-printers. With the announcement and kickstarter campaign it is already gathering funds to deliver a 5K desktop resin MSLA 3D-printer to the market.  The Elegoo Jupiter resin 3D-printer offers a large build size of 277,8 x 156 x 300 mm (L x W x H) at a price point of $1300. The delivery time-line for the kickstarter funded machines is planned for march 2022. It is yet unknown when the regular 3D-printer sales is expected. Plenty of Elegoo resin 3D-printer settings are available here.
Team Liqcreate wish you happy printing. If there are any questions or remarks, feel free to contact us at info@liqcreate.com any time.
Support
Do you need any help with 3D printing our SLA, DLP or LCD resins? We can help you! Just look for the question you have below. If you can't find it, let us know by contacting us!